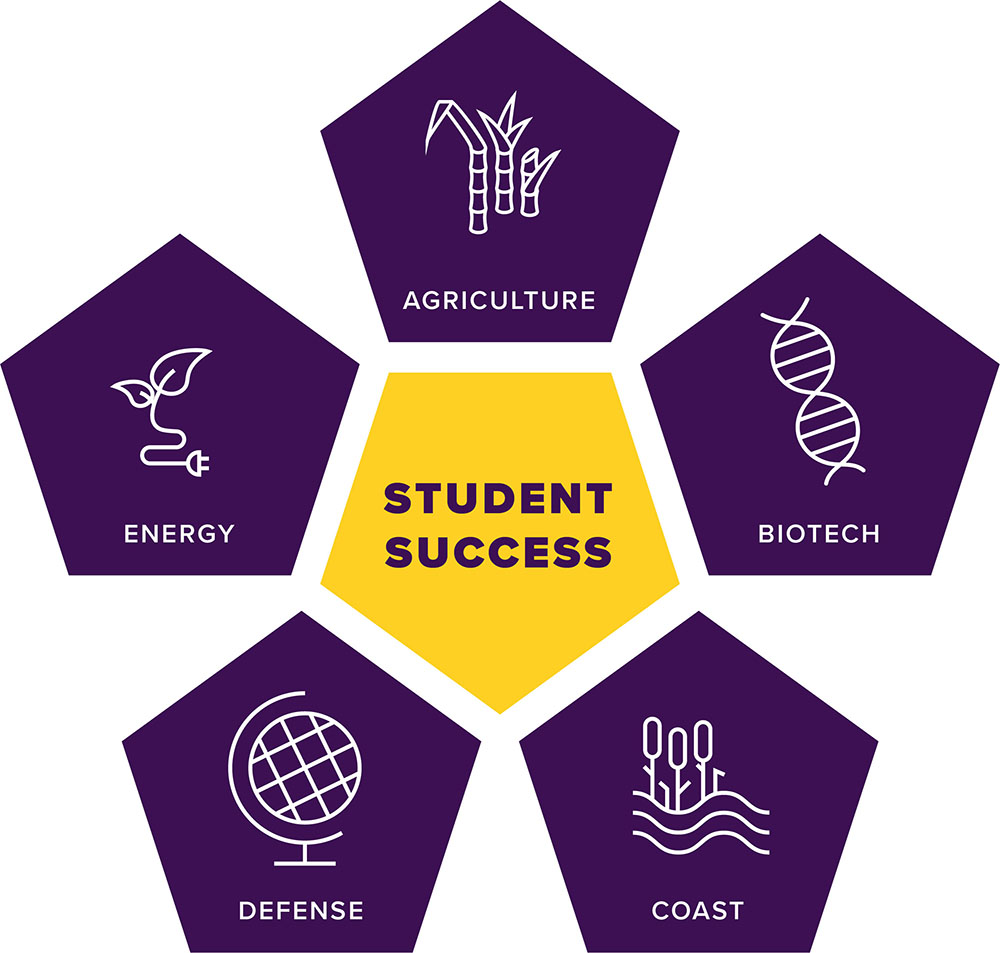 President Tate's Scholarship First Agenda
LSU's fierce drive for excellence is rooted in our mission to impact and serve Louisiana—providing pathways to higher learning, addressing critical problems through ground-breaking research and discovery, and bettering the lives of citizens in every parish.
Louisiana is at the center of many of our nation's core challenges and opportunities because of our geography, culture, and economy. LSU— through the collaborative teamwork of all of our campuses—will create solutions essential to the future of our state and nation. As identified by President Tate during a state-wide listening and learning tour, we have the people and expertise to solve problems related to food and fiber production, health, our coast, defense, and energy, and to realize the many opportunities they present. But our commitment doesn't stop here.
Our vision is aspirational, and we embrace the responsibility of ascending to our potential. In service to our state, LSU is committed to achieving excellence in all areas—for our students' success and to elevate Louisiana for the benefit of all.


Agriculture

LSU will merge traditional practices in agriculture with advancing technology and modern tools to improve outcomes for Louisiana farmers, ensure food security for every person in our state, and establish LSU AgCenter and Agricultural College as the leading providers of agricultural innovation and education for the nation. Learn more.
---
Biomedical

Every endeavor we undertake is contingent upon our health. With eight institutions spanning Louisiana and all levels of higher education and research, LSU is well poised to help meet the challenge of improving the state's health outcomes head-on. We will bring together top talent and resources, ranging from clinical research to artificial intelligence. Together with our partners, we will pursue National Cancer Institute designation to ensure that sustained, premier cancer care and research are accessible for every Louisianan close to home. Learn more.

---
Coast

Consistent with our charge as the state's Sea Grant university, LSU will strengthen its position as a global leader in collaborative coastal research. We will find solutions to pressing problems experienced by Louisianans today, with a focus on hurricanes, flooding, land loss, and sea-level rise. Our success in overcoming these challenges today will provide a roadmap for global decision-making in the future. Learn more.

---
Defense

Through bold investment, partnerships, and building on strong platforms, such as our applied cybersecurity program and proud history of military service, LSU will produce the leaders and cyber warriors who are essential to protecting our economy, critical infrastructure, people, and borders. We will reimagine the defense of our future, by building cybersecurity, ROTC, and technical leadership programs that are the best of their kind in the United States. Learn more.
---
Energy

LSU is uniquely positioned to partner with industry to find new ways to fuel our nation. By building a research platform for energy resilience, aimed at reducing carbon emissions and reusing and recycling carbon, we will translate existing resources and expertise into new opportunities and jobs to power Louisiana and protect the vitality of Louisiana's energy industry. Learn more.