Welcome to the Center for Freshman Year
The University College Center for Freshman Year (UCFY) is the academic unit for most new freshmen and some transfer and re-entry students. It exists primarily to prepare incoming students for success at LSU and to help define their academic and career goals. Students typically exit the Center at the conclusion of the freshman year and enter one of the degree-granting senior colleges at LSU. Some students may be granted additional time for enrollment if they have not yet declared a major.
Important Fall 2018 Dates
| | | |
| --- | --- | --- |
| Monday | 8/20/2018 | Fall classes begin |
| Tuesday | 8/28/2018 | Final date for dropping courses without receiving a 'W' by 4:30 p.m. |
| Wednesday | 8/29/2018 | Final date to meet with a counselor to complete paperwork to implement grade exclusion policy, and final date for adding courses and making section changes by 4:30 p.m. |
| Monday | 9/3/2018 | Labor Day holiday |
| Friday | 11/2/2018 | Final date for resigning or dropping courses with a 'W' by 4:30 p.m., and final date to request rescheduling a final examination when three examinations are scheduled in 24 hours |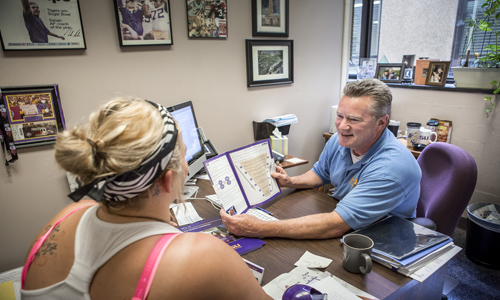 Academic Advising
UCFY Academic Counselors are here to serve you. Make it a point to contact us by:

---
Students will be seen on a walk-in basis in 150 Allen Hall from 8 a.m. - 3:45 p.m. -

August 13 - 29, 2018

October 29 - November 2, 2018

When you arrive in 150 Allen Hall, please check in with the front receptionist area. After we verify your information, you will sign in with the first available counselor using computers in the front counter.

2. Students will be seen on an appointment basis only from -

August 30 - October 26, 2018

November 3 - December 21, 2018

Click here to schedule UCFY appointment

If you are unable to schedule an appointment, please check the appointment system at 8:00 a.m. for same day appointment availability. If you are more than 10 minutes late for the appointment, you will need to reschedule. Please contact us at 225-578-6822 if you have trouble scheduling an appointment online.

3. Students may send an email -
You can send an email inquiry to ucfy@lsu.edu and a counselor will respond to you within two business days. Alternatively, you can send an email to a specific counselor by clicking on Staff Directory under Academic Advising on this webpage and finding their email address.
Meet with an Advisor
Phone: 225-578-6822
Office Location & Hours:
150 Allen Hall
Monday–Friday
8:00 am–4:30 pm
LSU CARES
At LSU, we're family and care deeply about the well being of our students. LSU CARES is an initiative dedicated to helping students access the resources they need to thrive here.