mfa in acting
The LSU MFA in Acting Program provides rigorous physical, vocal, emotional, and critical actor training approaches. The MFA acting students are the primary acting pool for the LSU Equity resident theatre company, Swine Palace. To promote holistic actors, candidates create and perform a 20-minute solo work of theatre as their thesis, concluding with an oral presentation on the creative process. A traditional written thesis option is also available.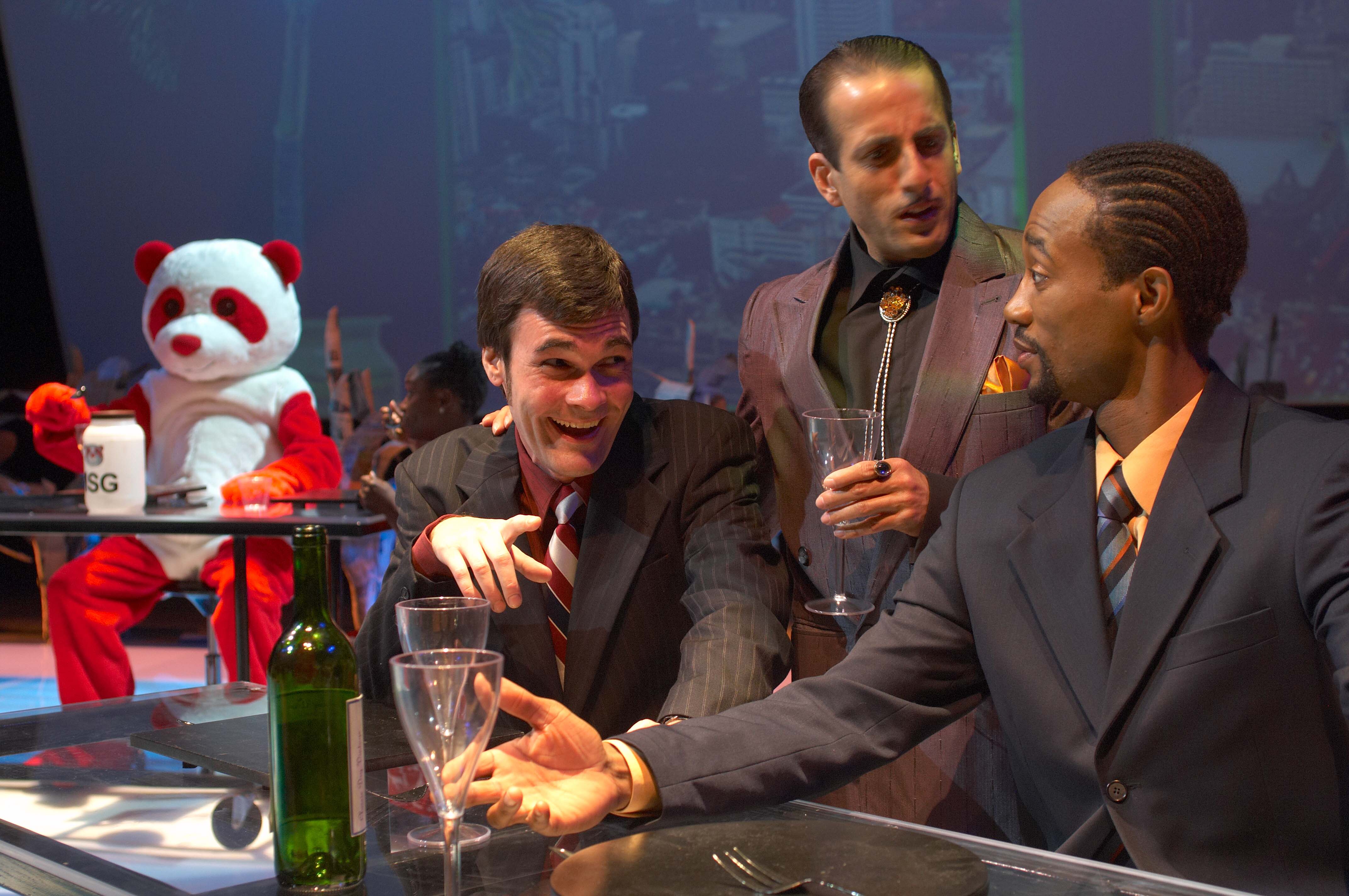 Beginning in August 2023 and graduating in August of 2025, the program comprises six consecutive semesters of training for the professional actor. The program recruits a new cohort every two years.
The training offers daily practice and seeks to develop the actor's body, voice, imagination, and critical thinking, all of which enables actors to live truthfully and playfully within given circumstances. Actors are encouraged to free themselves from unnecessary tensions and to be responsive to the full range of internal and external impulses for action with boldness and courage.
The program provides in-depth actor training in contemporary and classic texts with a focus in both theatre and film. The LSU School of Theatre is the central home of Seven Pillars Acting, a modern and comprehensive acting technique based in Meisner and Stanislavski teachings. MFA acting students study Seven Pillars Acting in their first year and progress in their second year to focus on application skills, style, and heightened text. Graduate students may have the opportunity to earn a Seven Pillars Acting Teaching Certification.
Movement instruction is informed by techniques such as T'ai Chi, Alexander Technique, Laban, neutral mask work, stage combat, fitness training, contact improv, Viewpoints, and dance. For those interested in a unique physical specialization, the program offers aerial silk courses and workshops. Voice instruction is informed by techniques such as Knight-Thompson Speechwork, Fitzmaurice Voicework, Estill Voice Training, and classical rhetoric. Students who have an interest in voice and accent coaching often have the opportunity to serve in productions as a vocal coach or as an assistant.
Acceptance into the MFA Acting Program is strongly encouraged before any formal application to the LSU Graduate School.
This program distinguishes itself with several features:
Accelerated Program Geared Toward Professional Actors: The LSU MFA Acting Program provides an accelerated, two-year training program designed for professional actors who generally have two to four years of professional experience after earning their undergraduate degree.
Assistantships and Tuition Waiver: The program offers assistantships of $15,500 annually, along with a tuition waiver. Required fees and medical insurance still apply. Graduate students on assistantship become half-time employees of the university, working 20 hours per week, often in a combination of teaching, production, and administrative duties. At specific points in the term, graduate students may be required to accomplish their assistantship hours in addition to rehearsing and performing in productions and completing their academic coursework. Candidates become eligible to teach an undergraduate course after they have earned 18 hours of graduate credits
Professional Equity Resident Theatre, the Swine Palace: The MFA cohort is eligible for competitive casting in all Swine Palace productions. There is no guaranteed casting. All roles are earned. All roles are earned through a professional audition and callback process.
International Diversity: The acting program is committed to recruiting students locally, nationally, and internationally to promote global citizenship and diversity in casting. Graduates include students from Taiwan, India, Uganda, Kazakhstan, Brazil and others.
Louisiana Film Industry: Louisiana is one of the top states for film production in the nation. Professionals who are active in the Louisiana film industry often teach on-camera acting courses. Louisiana is a "right-to-work" state, so actors may work in professional film and television without joining the Screen Actors Guild (SAG). Alumni of our program who have taken advantage of the local industry are Joe Chrest, Donald Watkins, Yohance Miles, Jenny Ballard, Jason Bayle, among many others.
Influential Guest Artists: Students are provided with multiple opportunities to work alongside professional theatre artists and scholars with international reputations of excellence. In the last decade, guest artists have included Tectonic Theatre, Robert Wilson, Anne Bogart, Ping Chong, and Adam Rapp.
Professional Reentry Focus: In the last semester, the emphasis is on retooling photo/resumes, an actor's reel, auditioning, and other strategies for entering a new market upon graduation. Historically, alumni widely relocate to Atlanta, Chicago, New York, Seattle, Minneapolis, Los Angeles, New Orleans, and others.
The following are the guiding principles for the LSU MFA Acting Program:Simplicity: Strive to do one thing at a time. Be direct and concise in communication. Search for a single path within complex options, for every moment of work and life.
Authenticity: Strive to be genuine. Find comfort and confidence in being true to yourself. Present yourself openly and truthfully to others. Actively revise and define the values which best reflect your identity and beliefs.
Humanity: Strive to be kind, gracious, and accommodating. Be slow to judge and quick to forgive. Strive to find perspective and humor. Strive to take your work seriously, but do not take yourself too seriously.
Autonomy: Strive to be independent. Solve problems on your own before seeking help. Cultivate self-discipline to set and meet personal goals.
Mastery: Strive for a command of acting technique and its foundational knowledge. Regularly work on self-improvement with focus and enthusiasm. Know that risk-taking and failure make you stronger. Building on your weaknesses yields more significant benefits than repeating our strengths.
Purpose: Strive for an exact reason for your work—a determination, a resoluteness to define the subject at hand, the point at issue. As an artist, what is your goal: personal, social, political, philosophical, etc.?
Courage: Strive to stay strong, resolute, and determined in the face of fear and the unknown. Dive deep into your heart and imagination. Speak up and claim your rights. Know that the cost of personal freedom is sometimes a respectful confrontation. Stand up for what you believe.
Simplicity: Strive to do one thing at a time, to be direct and succinct in communication, to search for a single path or choice within the complex of options and circumstances for every moment of our work and lives.
All classes are held in the newly renovated LSU Music and Dramatic Arts (M&DA) building in state-of-the-art rehearsal and teaching spaces. The M&DA complex also houses the beautiful art-deco proscenium Shaver Theatre and a flexible black box Studio Theatre. Those spaces and the Reilly Theatre (a larger flexible space most often used as a thrust) are all used in the Swine Palace season and offer an opportunity to play in various theatre configurations. Learn more about the facilities.
The LSU School of Theatre endeavors to provide all students, both graduate and undergraduate, with multiple potential casting opportunities in both theatre and film throughout each school year. Graduate students are a primary source of casting for our professional theatre, Swine Palace, and the School of Theatre attempts to secure at least one theatrical or film casting opportunity for every graduate student each academic year. Nevertheless, all casting is competitive; it is conducted on a show-by-show basis without guarantees. All graduate students are required to audition for each Swine Palace production, but graduate students should see School of Theatre casting as a potential opportunity, not an expectation.
The Faculty and Staff of the LSU School of Theatre are comprised of talented and dedicated theatre professionals. Read their bios.
Applicants are admitted into the program only through an audition and interview with the program heads. One can audition and interview through the University/Resident Theatre Association (URTA) auditions in 2023 or by direct submission. Offers to selected applicants will begin February of 2023 or earlier if a non-URTA applicant.
If you wish to apply directly to the MFA program rather than attend URTA, please contact Nick Erickson, the program head, and send the following:
a professional actor headshot
an acting resumé
a statement of purpose detailing why you are pursuing graduate training at LSU
three letters of recommendation
A link to a YouTube audition video no longer than 3 minutes. Please perform a minimum of two contrasting monologues of one minute each. After your pieces, take some time to speak about your career goals and how LSU is key to your plans.
Please submit all of the materials listed above as a single digital file, PDF, or printed materials via regular mail. If you are a non-URTA applicant, please submit by January 1st, 2023, to be considered for the next cohort starting in the fall of 2023. Once we receive all applications, we will invite select applicants to an initial interview/audition online. We will conduct a final callback online for all shortlisted applicants in February. Offers soon to follow.
Once accepted into the LSU MFA Acting Program through the audition/interview process, students must then apply to the LSU Graduate School. The GRE is not required. Official transcripts verifying an accredited undergraduate degree will be required before formal acceptance.
Any further inquiries about our program can be sent to:
Nick Erickson
Head, MFA Acting Program
School of Theatre
Louisiana State University
105 Music and Dramatic Arts Building
Baton Rouge, LA 70803
Email: Nick Erickson
225-578-4331
Questions? Contact Us!
School of Theatre Office
105 Music & Dramatic Arts Building
Attn. Nick Erickson
Louisiana State University
Baton Rouge, LA 70803-2504
Email: nickwe@lsu.edu