LSU Eunice Puts Louisiana's Future Farmers on the Fast-Track
April 06, 2022
Transforming Agricultural Education in Acadiana
Through a new skills-based and stackable certificate program—Sustaining Future Farms in Louisiana—and a brand-new Associate of Science in Agriculture degree, LSU Eunice (LSUE) will produce the next generation of technologically advanced farmers in two years or less.
With $846,000 in support from the Delta Regional Authority—the largest grant LSUE has received in recent years—students will be able to take a free Introduction to Agriculture class and combine it with skills-based training in one of four areas: beginner cattleman, master farmer, crop analyst, or FAA drone certification, in combination with a business management certification. Drones and data analytics are increasingly used by farmers to optimize inputs and harvests.
LSUE's agriculture focus and partnerships with nearby farms aren't entirely new, however. They also bridge modern with traditional technologies. Professor Emeritus Malcolm Vidrine (pictured with his wife Gail below) has spent decades restoring Louisiana land as traditional Cajun prairie, including for cattle grazing. Cajun prairies support biodiversity with native flora and fauna, provide more carbon credits than forest, and prevent flooding. Vernon and Justin Fuselier, father and son of Fuselier Farms in Eunice, Louisiana, used Vidrine's approach to make their entire operation—cattle, fowl, rice, crawfish, and pigs—chemical-free, sustainable, and more profitable.
"For years, Vernon would drive by on the way to his house and see me and Gail out here, working," Vidrine recalled. "Then, one day he stopped. 'What the heck are you all doing?' That's how it started."
Louisiana Life selected Vidrine as Louisianan of the Year for Conservation in the January-February 2022 issue. He's technically retired, but still teaches five days a week at LSUE.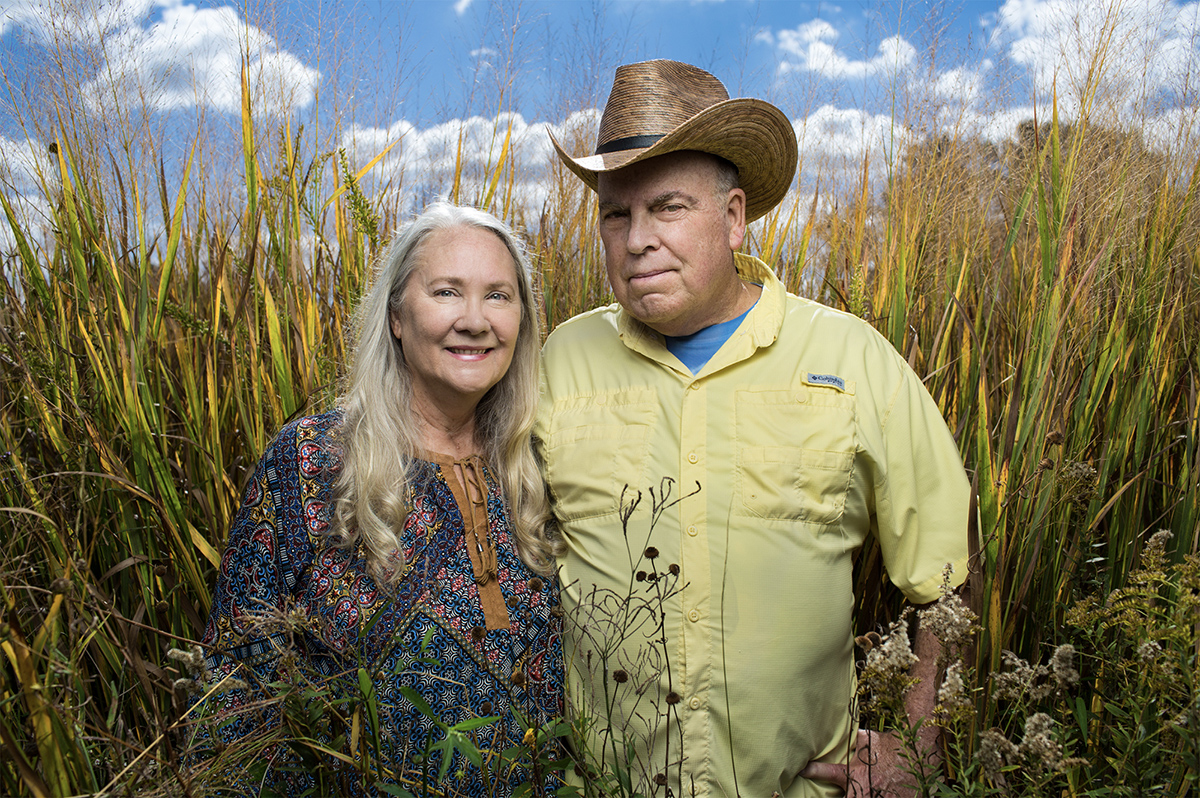 "If you look at the average age of our farmers, it's about 50 years old, and each year, that age increases. So, we have aging owners with children who might not want to farm, but this is an opportunity for younger entrepreneurs to come out of a certificate program or two-year degree to run that farmer's operation, run that business, and help localize our food supply chain in Louisiana. And with LSU, we can do it here, at home, through our own universities."

- Chip Perrin, co-founder of Coastal Plains Meat Company and U.S. Marine Corps veteran