LSU Tiger Marching Band Receives Grammy Nomination
November 17, 2022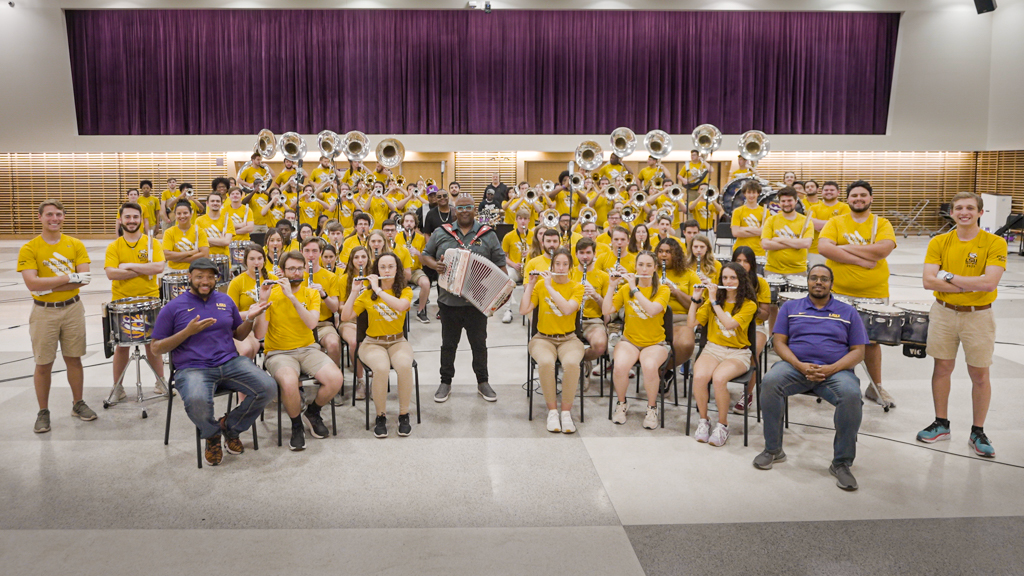 Four-time Grammy-nominated zydeco musician and LSU alumnus Sean Ardoin's new album, "Full Circle," which featured a historic collaboration with LSU's Tiger Marching Band, has been nominated for a Grammy award for Best Regional Roots Music Album, the Recording Academy announced Tuesday.
Released in September, "Full Circle" features Ardoin's band, Kreole Rock and Roll, accompanied by the Tiger Band on every work, and was the first time that a marching band and a popular genre band have collaborated for a full album, according to Ardoin, who is himself an alumnus of LSU and former member of the Tiger Band.
"This album is historic because it's the first time that a marching band and a band have collaborated for a full album ever in the music business," Ardoin told The Advocate. "So, it's another firstborn for Louisiana."
The Tiger Marching Band, known as "The Golden Band from Tigerland", is one of the largest and most visible organizations on LSU's campus, with an auditioned membership of 325 students. Band members come from a variety of degree programs across the university; over 75% percent of the band's members are majoring outside of music.
Members of the band spent three intensive days in April 2022 recording arrangements and contributions to the album. Students at all levels of study within the program composed and arranged Tiger Band's contributions to the album's music, working directly with Ardoin, according to Kelvin Jones, Assistant Director of Bands and Director of the Tiger Marching Band.
"To be recognized by the Recording Academy is such a tremendous honor and testament to our hard-working staff, faculty, alumni, and fans," Jones said. "I am so proud of our students for their work in bringing this project to life and being one of the first marching bands to receive a Grammy nomination in the lifespan of the Recording Academy."
"This collaboration is unprecedented, and only further demonstrates the skill and flexibility of the students in the Tiger Band," said James Byo, Director of the LSU School of Music. "Their dedication to our program and state, as well as a deep appreciation of Louisiana's musical culture, are no doubt apparent on this album."
"Full Circle" includes versatile music elements, including funk, jazz, hip-hop, and the traditional Louisiana zydeco style Ardoin is known for. The album is available on all streaming services, with a special purple and gold double-album commemorative vinyl available in limited quantities. Ardoin has committed to donating 15% of the vinyl proceeds back to the Tiger Band in the form of a scholarship.
"This nomination is a testament to the constant hard work the members of this organization constantly display as well as to the standard past members have set for us to follow," said Landon Chambliss, Political Science major ('23) and Drum Major of the Tiger Marching Band. "Working with Mr. Ardoin was an absolute honor, and we are proud to be a part of such a historic moment. This was no easy task, but the Tiger Band is always up for a challenge."