Alumni Spotlight: Austin Richardson
July 06, 2022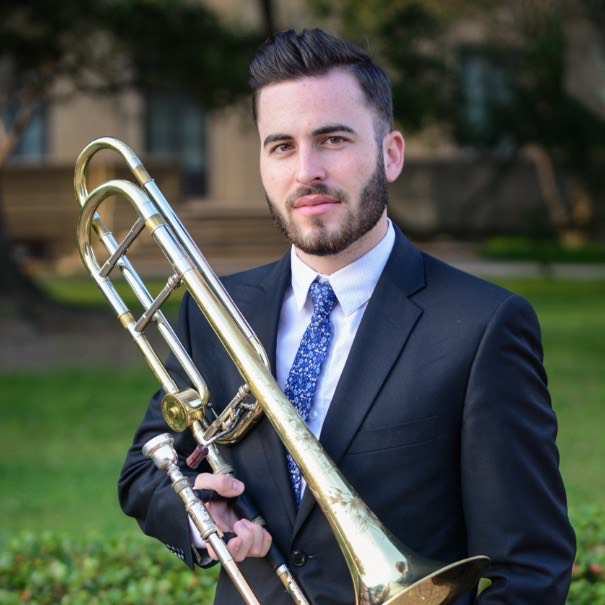 Recent School of Music graduate Austin Richardson, from the studio of Dr. Hana Beloglavec, has accepted a one-year position as Acting Principal Trombone in the Louisiana Philharmonic Orchestra.
Richardson will join the orchestra for the final season of longtime music director Carlos Miguel Prieto and a schedule packed with thrilling and challenging repertoire, including Mahler's Symphony No. 1, Mussorgsky's Pictures at an Exhibition, and Copland's Symphony No. 3, among many others. Richardson credits his time in the LSU School of Music with preparing him for this exciting new chapter in his professional music career.
My master's degree at LSU was integral in my development as a musician and in acquiring the professional experience needed to start building a career. The graduate teaching assistantship that I was given made it possible to focus on my craft and gain valuable leadership experience within the School of Music, while also building my portfolio with freelance work outside of school. Whether in the Wind Ensemble, Symphony Orchestra, or Graduate Brass Quintet, I was constantly playing a variety of musical styles and also expected to be a leader in that ensemble.

Studying with Dr. Beloglavec during those two years was perhaps the most important aspect of my studies. There was rarely a time over those two years that we weren't focused on an audition list for a professional orchestra or military band job. I would not have been able to successfully further my career and ultimately win my position with the LPO if it were not for my time at LSU.

–Austin Richardson (MM, 2018)
Richardson was a student of Hana Beloglavec and a graduate teaching assistant from 2016 to 2018, earning a Master of Music degree in trombone performance. While at LSU, he performed with the LSU Wind Ensemble, LSU Symphony Orchestra, Trombone Choir, and Graduate Brass Quintet. After being named a prize winner in the LSU School of Music's Concerto Competition, he performed as a soloist with the LSU Philharmonia in 2018.