Molly Redfield Joins LSU Music
March 22, 2022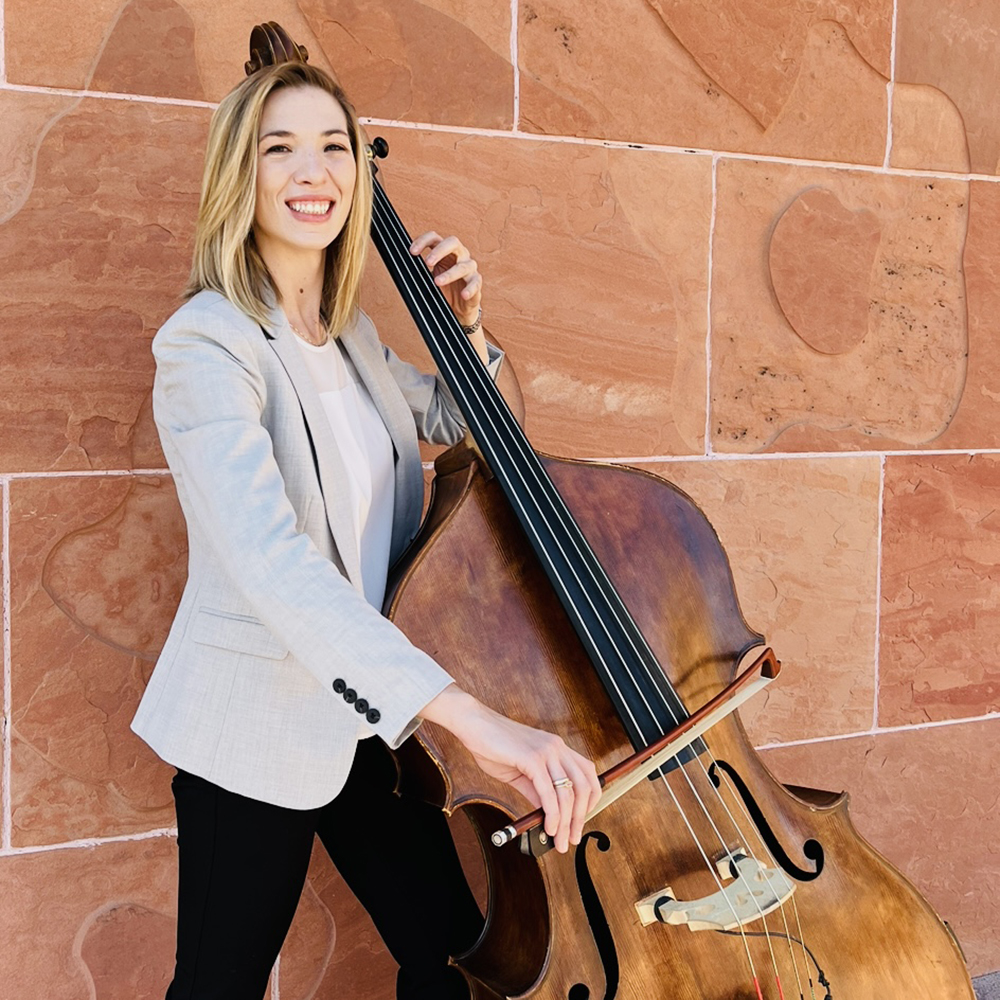 We are pleased to announce Molly Redfield will join the LSU School of Music faculty as Assistant Professor of Jazz Studies, beginning in Fall 2022.
Redfield is currently a Doctor of Musical Arts candidate at the University of Nevada, Las Vegas where she is the Graduate Teaching Assistant for the School of Music, Division of Musicology. She anticipates graduating in May 2022. Redfield earned her Master of Music degree in Jazz Studies from UNLV where she was a Graduate Teaching Assistant for the Division of Jazz Studies and Commercial Music and the Division of Wind Band Studies. Prior to attending UNLV, she attended California State University, Sacramento where she graduated Summa Cum Laude and earned dual degrees: Bachelor of Music Education, with an emphasis in Classical Bass Performance, and Bachelor of Music, Jazz Bass Performance. She has studied with Katie Thiroux, Jim Widner, Chris Davis, Thomas Derthick, and Gerry Pineda.
Some of Redfield's academic achievements include being the first Leadership Intern to the UNLV College of Fine Arts under Dr. Nancy J. Uscher, Dean of the UNLV College of Fine Arts. Additionally, she was selected as one of seven students chosen for the first CSUS President Student Ambassadors under Dr. Robert Nelson, President of CSUS. As a bassist, Redfield was chosen for the 2022 Jazz Education Network, Sisters in Jazz Collegiate Combo, awarded the 2017 Outstanding Festival Soloist at the Monterey Next Generation Jazz Festival, and the 2016 Outstanding Collegiate Rhythm Section Performer at the Reno International Jazz Festival. As an arranger, Redfield received a 2021 DownBeat Magazine, Student Music Award for her vocal arrangement of "Moonglow." As a music educator, she serves as a mentor for the Las Vegas Youth Jazz Orchestra and secretary for the JEN Nevada Area Unit.
As the bassist for various groups including Palm Springs Women's Jazz Festival All-Stars Women Combo, Las Vegas Jazz Orchestra, UNLV, and CSUS, Redfield has performed with Gregg Bissonnette, Kenny Rampton, Butch Miles, Clint Holmes, Billy Drummond, Carl Allen, Bernie Dressel, Judith Hill, Gilbert Castellanos, Ingrid Jensen, Allison Miller, and more. She can be heard on recordings with Dr. Jennifer Bellor, Grammy-nominated and American Prize winning UNLV Wind Orchestra, UNLV Honors Quartet (selected 2019 JEN performers), and DownBeat Student Magazine, Student Award winning UNLV Jazz Ensemble I and CSUS 1'oclock Jazz Band.
Redfield looks forward to her new role as Assistant Professor of Jazz Studies at LSU, where she has been warmly received by her future colleagues and students. She is excited to share her passion of teaching jazz education both with the campus and the community.