Kris Lindsey Hall
Assistant Professor,
Department of Marketing
Contact
lindseyhall@lsu.edu
225-578-8321
2125 Business Education Complex South
Education
PhD Marketing, The University of Alabama, 2017
MS Master of Science/Marketing, The University of Alabama, 2013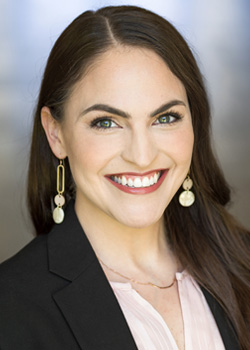 Abosag, Ibrahim, Thomas L. Baker, Kristina Lindsey Hall, Aliki-Dimitra Voulgari, and Xiaoyuan Zheng (2017) "Antecedents and Consequences of Liking in Service Relationships," International Business Review, 26(3), 566-578. http://dx.doi.org/10.1016/j.ibusrev.2016.11.003.
Baker, Thomas L., Paul Fombelle, Clay Voorhees, Kristina Lindsey Hall, and Blake A. Runnalls (2019), "Majority versus Minority Influence Associated with Online Reviews: An Eye Tracking Investigation," In Hollebeek, Linda & Sprott, David (Eds.) Handbook of Research on Customer Engagement. Edward Elgar Publishing.
Hood, Karen, Christopher Hopkins, Kevin Shanahan, and Kristina Lindsey Hall (2015), "The Influence of Interactivity on Visit and Purchase Frequency: The Moderating Role of Website Informational Features," Journal of Internet Commerce, 14(3), 294-315, DOI: 10.1080/15332861.2015.1084137.
Lindsey-Hall, Kristina, Susana Jaramillo, Thomas L. Baker, and Julian Arnold (2021) "Authenticity, Rapport, and Interactional Justice in Frontline Service: The Moderating Role of Need for Uniqueness," Journal of Services Marketing, 35(3), 367-380.
Lindsey Hall, Kristina, Thomas L. Baker, Tammy Hunt, Martha Andrews, and Adam Rapp (2016), "The Importance of Product/Service Quality for Frontline Marketing Employee Outcomes: The Moderating Effect of Leader-Member Exchange (LMX)," Journal of Marketing Theory and Practice, 24(1), 23-41.
Lindsey, Kristina K., Deborah Spake, and Mathew Joseph (2011), "Young Adults and US Healthcare Reform: Views and Marketing Strategy," Journal of Medical Marketing, 11(4), 312-319. (Published from undergraduate Research Thesis)
Lindsey Hall, Kristina K., Ji Qi, R. Glenn Richey, Jr., and Ripinka Patil, (2022) "Collaboration, Feedback, and Performance: Supply Chain Insights from Service-Dominant Logic," Journal of Business Research, 146, 385-397.
Michel*, Eric, Kristina K. Lindsey-Hall*, Sven Kepes, Matt Leon, Ji (Miracle) Qi, Laurence Weinzimmer, and Anthony Wheeler, (forthcoming, accepted 2022) "Bridging Two Tales of Engagement: A Meta-Analytic Review of Employee Engagement and Customer Engagement in a Frontline Service Context," Journal of Service Management, *Authors made equal contributions.
Richey, R. Glenn, Tyler R. Morgan, Kristina Lindsey-Hall, and Frank Adams (2016), "A Global Exploration of Big Data in The Supply Chain," International Journal of Physical Distribution & Logistics Management, 46(8), 710-739.
Teaching Interests: Marketing Management, Marketing Strategy, Services Marketing, Consumer Behavior
Research Interests: Organizational Frontlines and Service Marketing including research on: Frontline employee-customer interactions, service failure and recovery, customer and employee engagement, strategic collaboration, and the influence of technology integration on service management
E. J. Ourso College of Business Scholarship Committee, Committee Member (2017 - Present), Chair (2021-Present)
LSU Distinguished Communicator Program, Faculty Advisor (2020-2021)
AMA Retailing & Pricing SIG (RAPSIG), Officer, Vice President of Communications (2020-2022), Vice President of Outreach (2022-2024)
Journal of Service Management, Editorial Advisory Board Member and Mentorship Program Coordinator (2022-2025)
Ad Hoc Reviewer: Journal of Service Research, Journal of Services Marketing, Journal of Service Management, European Journal of Marketing, Journal of Business Research, and The Academy of Marketing Science Review
AACSB Accreditation Assurance of Learning Process, Faculty Evaluator
Dean's Initiative – Diversity, Equity, and Inclusion (DEI) Working Group, Member (2022)
LSU Gaining Resilience and Cultivating Empowerment (GRACE) Certification, Trainee (2022)
Core Curriculum Review Committee, Member (2017-2018)
Professoring Seminar Series, Faculty Mentor (2017-Present)
Trust-Based Relational Intervention (TBRI) Certification (2020-Present) and Together We Can Continuing Education Unit (CEU) Credits (2020, 2021) - 29.5 hours
Professional Memberships: American Marketing Association (AMA), SERVSIG, RAPSIG, Academy of Marketing Science (AMS), Society for Marketing Advances (SMA), National Center for Faculty Development & Diversity (NCFDD), Consortium for the Adv. of Research Methods & Analysis (CARMA)
Dean's Excellence in Teaching Award, 2022
Young Scholar Research (YSR) Award Finalist (Top 6), Organizational Frontline Research (OFR) 5th Annual YSR Competition, 2021
Best Paper in Services, Retailing, and Customer Experience Track, American Marketing Association, 2021
Tiger Athletic Foundation Teaching Award, 2020
Excellence in Research by a Doctoral Student Award, 2017
Baker, T. L, Fombelle, P., Vorhees, C., Lindsey Hall, K. K, and Runnalls, B. A (2019). The Impact of Customer Engagement Behaviors and Majority/Minority Information on The Use of Online Reviews In Linda Hollebeek; David Sprott (Ed.), Handbook of Research on Customer Engagement
Internet; WalletHub; WalletHub highlights the best car insurance companies in Louisiana.; 2021
Internet; LSU E.J. Ourso College of Business News and Events; LSU Department of Marketing faculty members and principal investigators, Kris Lindsey Hall and Dan Rice, have successfully secured a five-year, $461,000 research grant from the Louisiana Board of Regents Departmental Enhancement-Comprehensive Program. ; 2021
Internet; WalletHub.com; Provided insight into consumers' experiences with insurance companies during the COVID-19 pandemic as well as companies' usage of celebrity endorsers in their marketing efforts. ; 2021
Internet; WalletHub.com; https://wallethub.com/d/capital-one-savor-credit-card-3202c/#expert=kristina-kris-lindsey-hall
Provided insight into why bonus credit card rewards for dining and entertainment are becoming increasingly popular.; 2020
Internet; CSCMP's Supply Chain Quarterly; Invited publication for the Council of Supply Chain Management Professionals (CSCMP) discussing global supply chain managers' perceptions of "big data"; 2015