Professional Development & Career Services
LSU business students of all backgrounds benefit from a dedicated professional development team housed in the Office of Business Student Success. This supportive team works closely with academic counselors and the LSU Olinde Career Center. The result? Tailored professional development services that ensure our students are the most prepared internship and job seekers on the market.
Your Partners in Career Success
We were the first college at LSU to integrate professional development, academic support, and international experience into a single office. This intentional design sets us apart and puts our students ahead. Sure, some call us a one-stop shop, but we prefer to consider it a personalized, boutique experience. With unparalleled access to resources dedicated to their success, E. J. Ourso College graduates are thriving in their dream careers.
OUR SERVICES
Career exploration and assessment
Résumé review
Cover letter and job search correspondence review
Interview prep and practice
Elevator pitch practice
Internship search support
Networking guidance
Slack channel for career and internship opportunities
Mentoring Program
MAKE AN APPOINTMENT TO:

Sharpen Your Skills
Résumé reviews, interview prep, and networking guidance are just a few of the areas of expertise offered by the OBSS Professional Development team. We provide coaching to enhance your professional development skills, prepare you for career expos and interviews, provide ideas to grow your network, and point you to potential employers.
Build Your Experience
Internships are a great way to take your learning outside the classroom and get real-world experience. You have the opportunity to test your skills, learn more about potential career choices, and network with professionals within your chosen industry. OBSS can help guide you through all aspects of your internship experience.
Chart Your Path
Developing a career path during your time at LSU is essential for future career success. The OBSS Career Coach, in partnership with the LSU Olinde Career center, can advise you on valuable experiences to engage in, skills required for various fields, and professional connections to help you meet your career goals.
Internship Resources
Gaining experience in your chosen field of interest is essential to meeting your career goals, and internships are the best way to get hands-on knowledge. Internships are also a great way to confirm that your career aspirations are the right fit. Taking advantage of experience-building opportunities while attending school will give you a competitive edge upon graduation.
You can take a paid or unpaid internship. Not all companies can pay an intern, so if you find one that is unpaid, use your discretion in evaluating its merit. Understand what the company or organization must do for that experience to be considered a legitimate unpaid internship. Please review the U.S. Department of Labor guidelines on unpaid internships and make sure that the internship you are considering falls within these parameters if unpaid.
There is a difference between academic and non-academic credit internships. Learn more by reviewing the Olinde Career Center's internship information. If you would like academic credit, please talk with your departmental advisor.
The best time is summer after sophomore or junior year. You should take some major-specific classes and understand the primary subject matter of your major before moving into the field for your internship.
Internships allow students to try out a prospective employer and career path.
Internships offer hands-on experience in your chosen field.
Internships boost your confidence and your knowledge.
Internships mirror the expectations you will encounter in the workforce.
Through an internship, you have the opportunity to network for future employment, create relationships with other interns and young professionals, and establish rapport with other employers within that company. This can be invaluable when searching for full-time employment upon graduation.
Get an internship through the ways outlined above and with resources (résumé building, interviewing, etc.) from our office and the Olinde Career Center.
Decide if you want academic credit.

If you do not need course credit, go intern!
If you do need course credit, contact your specific department advisor for the next steps to gain that academic credit. Fill out the forms provided by your department and follow those specific instructions.
Professional Prep Resources
The OBSS Professional Development team is eager to help with topics like career exploration, résumés, cover letters, interview prep, and internship or job searches. We are not able to assist with academic advising needs. The OBSS Academic Advisors can help you navigate your academic needs. To make an appointment for career and professional development advising, use the Handshake website or download app.

Professional Prep Events
In addition to one-on-one appointments, the OBSS Professional Development team holds several events annually. Many include an opportunity to receive a free professional headshot.
Professional Development Course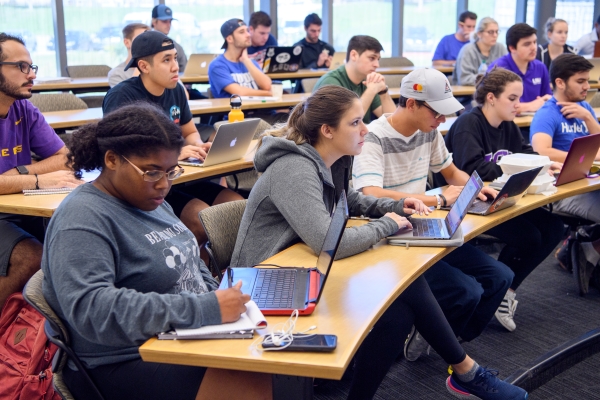 GBUS 3061: Business Communication & Professional Development will instill timeless communication skills needed to succeed in any environment. It is a certified Communication-Intensive (C-I) course, and it is recommended that students take it during their junior year.
Interview Rooms
The Office of Business Student Success has three interview rooms for students to take on-campus or virtual interviews. OBSS is here to make sure you shine to employers.
Networking Events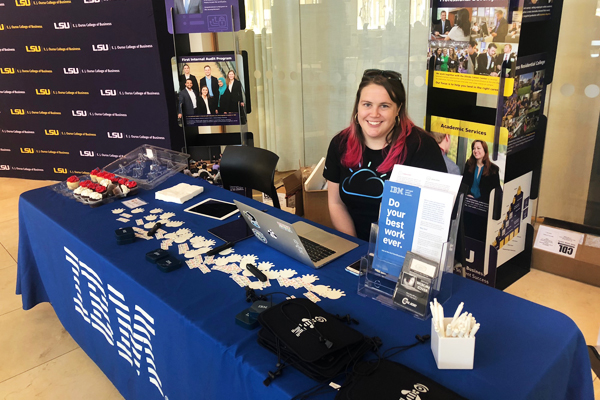 Connect with employers at the Career Expo, Business Networking Reception, or a table sit. Expand your professional network by joining a student org or attending a speaker event. This is your time to shine.
Career Resources
Mentoring Program
The OBSS Mentoring Program allows LSU business students to connect with alumni for a yearlong mentoring experience. This is an opportunity to sharpen your skills and grow your professional network.
Career Center
The LSU Olinde Career Center provides career services for students and employers. Our team is honored to work alongside the career center staff to help students reach their career goals. The career center executes the LSU Career Expo, Business Networking Reception, and many other career events. They also manage Handshake.
Stay Informed with Slack
OBSS hosts a college Slack channel to highlight business student-specific internships and full-time career postings. Join the conversation and stay on top of the latest opportunities.
Mentorship Impact
"The OBSS Mentoring Program was the most amazing experience. My mentor helped me improve through biweekly mentoring sessions on Zoom. Some topics we covered included résumé review, salary negotiation, how to handle workplace conflict, and stress management in sales. Going through this program enhanced my understanding of what happens post-graduation and what steps to take to be successful. His most impactful advice was, 'You are the CEO of your career.'"

- Sydney Brunson, BS Marketing