Innovation is our business.
The Stephenson Department of Entrepreneurship & Information Systems (SDEIS) develops students into leaders in entrepreneurial, IT, and analytics industries. With synergistic degree offerings, co-curricular activities, and innovative minors, students receive captivating classroom and experiential learning that prepares them to succeed in any technology-based or entrepreneurial career.
Entrepreneurship students develop an entrepreneurial mindset and gain the knowledge and skills needed to start a business or become an innovative leader within an existing organization.
Students of information systems and analytics build tech-based solutions to address complex strategic and operational challenges for all types of organizations. Developing a consulting mindset and project management skills are integral parts of each degree. While these paths are different, both are crucial to the industry and help position you at the forefront of the workforce.
Explore Our Degree Programs
---
Undergraduate
Entrepreneurship students learn to identify and pursue new businesses opportunities and adapt existing businesses for growth potential.

Information Systems & Decision Sciences students apply sophisticated analytics and business intelligence tools to solve complex challenges.
Graduate
The MS Analytics prepares students to use data-driven methods to contribute to organizational effectiveness and guide decisions. This STEM-designated program emphasizes computer science, statistics, operations research, and quality management through classroom instruction, hands-on exercises, and team projects.
PhD
The mark of highest achievement in entrepreneurship and information systems scholarship. The LSU PhD in Business Administration program within SDEIS prepares graduate students for successful careers as researchers and professors. Learn more about the two distinct areas for students to focus their studies.
Research
Researchers in entrepreneurship and information systems seek to improve the understanding of complex entrepreneurial issues and discover creative data-driven decisions that lead to operational efficiency and innovation. Learn about the ground-breaking research from the SDEIS faculty.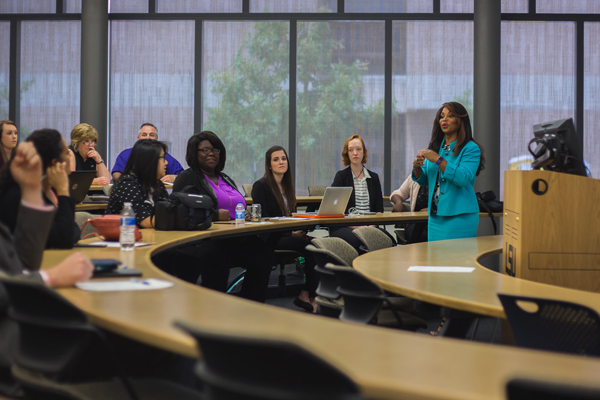 Faculty
Our faculty are elite researchers who combine current theories and methods with hands-on learning and projects in their courses. They publish articles in top academic journals, write textbooks, and are entrepreneurs, resulting in a well-rounded education from theoretical and real-world perspectives.
Stephenson Entrepreneurship Institute
The Stephenson Entrepreneurship Institute (SEI) fosters entrepreneurial practices through co-curricular activities and community outreach.
SEI seeks to inspire, innovate, integrate, and implement new ways of thinking to positively impact students and the regional economy. In support of its mission, SEI offers the J Terrell Brown Venture Challenge, Startup Weekend, Bootcamp for Entrepreneurs, and more.
Floating above the BEC Rotunda is the Mark and Judy Weaver Ideation Lab — a creative space for students running or starting a business while at LSU.
It is designed to meet the needs of entrepreneurship, venture development, mentorship, and engagement in the regional business community. In the lab, students can access innovative equipment, including a 3-D printer.
The Stephensons
In 2007 and 2017, LSU alumni Emmet and Toni Stephenson made generous investments in the E. J. Ourso College. Their vision and gifts enabled the establishment of the Bachelor of Science in entrepreneurship and the expansion of the Entrepreneurship Institute. Through their monumental investments, the Stephenson Department of Entrepreneurship & Information Systems and the Stephenson Entrepreneurship Institute were named in their honor. Entrepreneurial visionaries committed to education and opportunity, the Stephensons have left an indelible mark on LSU and the Louisiana entrepreneurial ecosystem. Learn more about these visionary entrepreneurs and philanthropists.
Learn more about these visionary entrepreneurs & philanthropists.
SDEIS News
Rollin' Yöggler's Turkey Durkeys won first place in the 2023 J Terrell Brown Venture Challenge for their quick-service food concept featuring fried turkey fingers and stuffing fries to be served from a fleet of vibrant food trucks. Their first-place finish came with a $20,000 award.
Three LSU student businesses have been selected to present in a live pitch competition for a share of $35,000 in the 12th annual J Terrell Brown Venture Challenge April 19 at the LSU Business Education Complex.
Sonja D. Wiley has been a vital part of the LSU community since accepting a joint appointment in the E. J. Ourso College of Business and the Center for Computation & Technology in 2002.
Contact Us
Stephenson Department of
Entrepreneurship & Information Systems
2200 Business Education Complex
501 South Quad Drive
225-578-2515
sdeis@lsu.edu
Invest in Us
Support entrepreneurship and technology scholarship, research, student experience, and more.