The business leaders of tomorrow.
The academic programs in the Rucks Department of Management will teach you to think critically about an organization's behaviors and make smart business decisions. The skillset gained in the management program can be applied to many different career paths and organizations that need well-trained and competent managers to keep them evolving. If you enjoy working with people and are a good listener, decisive, and calm while solving issues, a path in management may be right for you.
The mission of the Rucks Department of Management is to create and disseminate knowledge about how managers leverage resources—especially human resources—to achieve organizational goals, such as efficiency, effectiveness, and profitability. In pursuing this mission, we seek to build excellence through scholarly accomplishment, innovative instruction, and outstanding service to our students, profession, and the external constituencies we serve.
Explore our Management degree programs
---
Undergraduate
The Bachelor of Science in Management prepares students to evaluate an organization's competitive environment, resources, and capabilities, identify critical managerial and implementation issues, and effectively tackle various organizational situations.
PhD
The PhD in Management is the mark of highest achievement in the study of management theory. Our program is designed to produce scholars who will conduct top-tier, original research that makes a significant contribution to knowledge within the management discipline.
Research
The Rucks Department of Management is dedicated to understanding the behavior of organizations and how companies interact with their environments. Our faculty develop ground-breaking theories in management and bring their scholarly expertise to the classroom and beyond.
Faculty
Our internationally recognized faculty are leaders in their fields and are dedicated to sharing their knowledge and real-world experience with their students. The Rucks Department of Management faculty are actively engaged and accessible to students ensuring the tools needed for career success.
SHRM Academically Aligned
Our Human Resource Management (HRM) concentration within the BS Management degree is aligned with the Society for Human Resource Management, the national organization, and foremost expert, convener, and thought leader on issues impacting today's evolving workplaces. SHRM recognized that our curriculum prepares HRM students to meet the needs of today's businesses. Students enrolled in our aligned program are eligible to apply for the SHRM-CP exam, providing them with a career advantage. They also receive student pricing advantages when sitting for the exam and can enjoy favorable exam eligibility requirements.
Meet the Rucks Family
In 1996, William Rucks IV and Catherine Rucks made a generous investment in the E. J. Ourso College of Business' management department. The department was renamed the William W. & Catherine M. Rucks Department of Management shortly thereafter in their honor.
The Rucks' contributions have aided in the Rucks Department of Management being recognized for its outstanding research-driven faculty, student-affiliated organizations, and outstanding alumni. They have established the William W. Rucks IV Endowed Chair and Professor of Management, the Catherine M. Rucks Professor of Management, and the William W. and Catherine M. Rucks Professor of Management.
William W. and Catherine M. Rucks Endowed Scholarship
The Rucks scholarship was established to support high-achieving students majoring in management. Recipients of the Rucks Endowment Scholarship must be full-time undergraduate students enrolled in the E. J. Ourso College of Business, pursuing a degree in the Rucks Department of Management, and maintain a minimum cumulative grade point average of 3.0.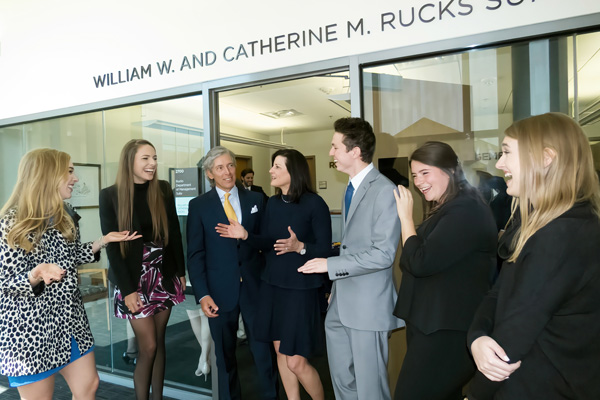 Rucks Management News
For years now, personal, work, and societal concerns about obesity and body fatness have sparked research efforts across multiple fields.
The E. J. Ourso College of Business Rucks Department of Management recognizes 10 students as Rucks Fellows each year. These students are selected by faculty and represent the highest level of academic achievement among senior management majors in any of the department's concentrations. To qualify, a student must have a grade-point average in the top 10 of all graduating seniors in the management curriculum.
Companies' "work from home" policies may be driving economic inequality. At the height of the Covid-19 pandemic, nearly 70% of full-time office workers left their offices behind to work from home.