Commander of the Corps of Cadets Receives LSU Leadership Award
May 20, 2023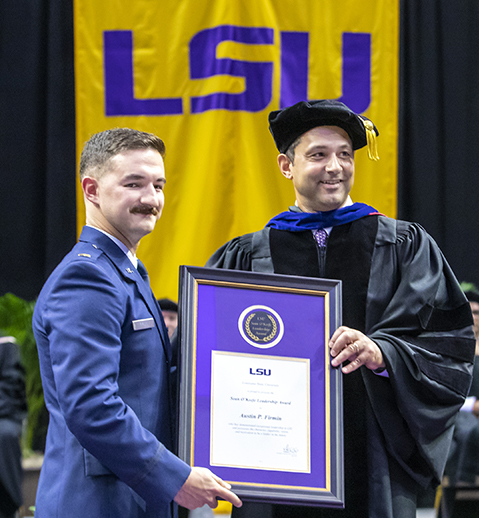 Austin P. Firmin, a May 2023 general business graduate and Commander of the Corps of Cadets, received the Sean O'Keefe Leadership Award during the E. J. Ourso College of Business graduation ceremony on Saturday, May 20, 2023.

The Sean O'Keefe Leadership Award is an annual award of $10,000. Nominees were selected from the elected presidential posts from various student organizations. Criteria for the award also included a cumulative grade point average of at least a 2.75.

At LSU, Firmin held leadership roles through Air Force ROTC and student government. In spring of 2022, he was selected as Commander of the Corps of Cadets. The Commander serves as the senior active member of the Corps and oversees the planning, organizing, and leadership for the LSU Corps of Cadets. Informed by his passion for the university's military tradition, Firmin played a critical role given ROTC's importance in the defense priority of the Scholarship First Agenda. Under his watch, the Corps developed cyber leaders, began a new game day tradition of marching down Victory Hill, initiated a 9/11 stair climb in Tiger Stadium, and enhanced the annual President's Day parade.