LSU Announces Strategy and Commitment to Become Leader in Cybersecurity, Military Studies
March 16, 2022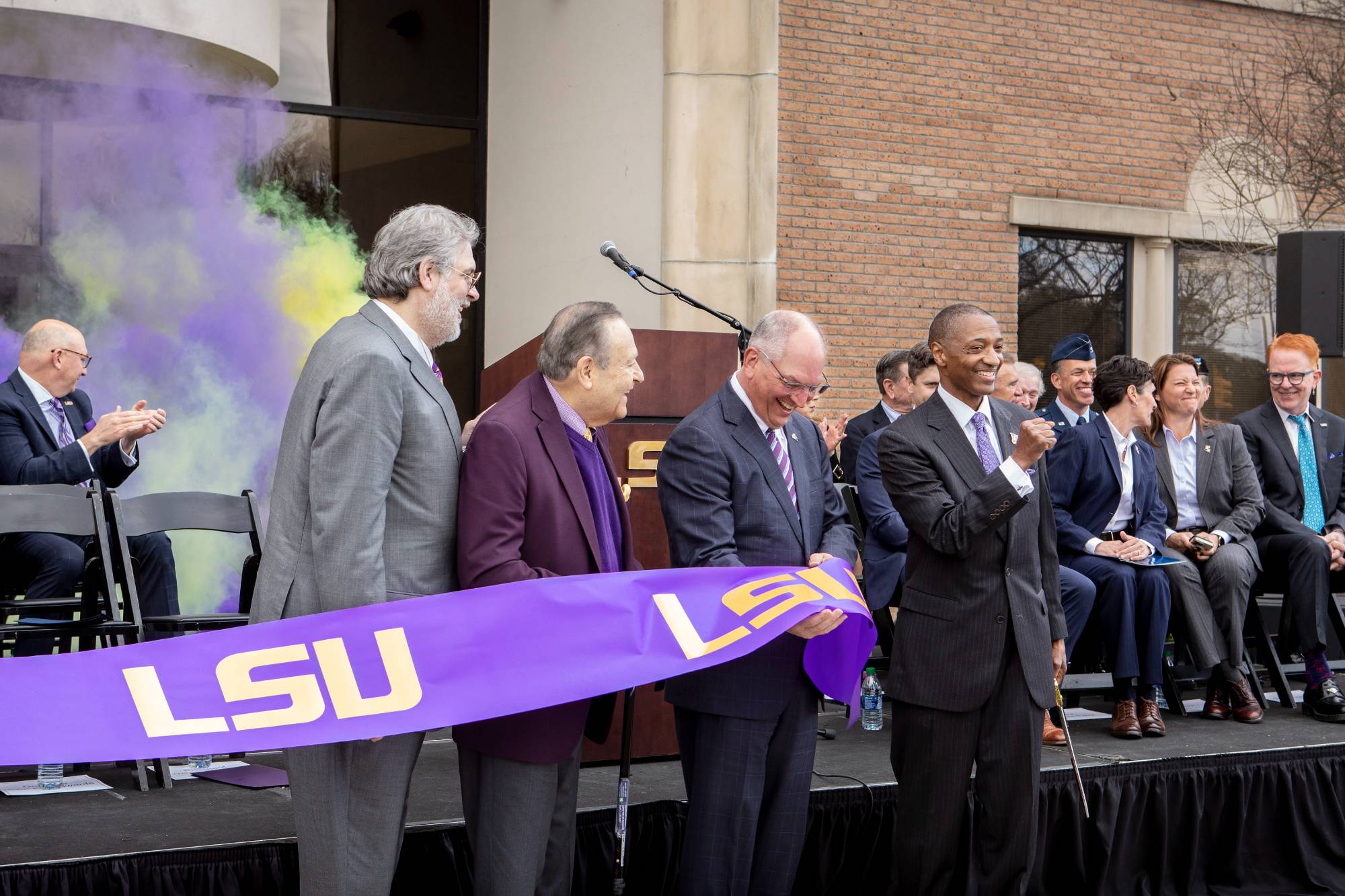 BATON ROUGE – Today, as part of its mission to serve Louisiana and the nation, LSU unveiled a broad and aggressive series of initiatives in cybersecurity and legacy of military studies that will involve all eight LSU campuses and have statewide impact on workforce, research and development, and economic impact. Building upon the university's existing strengths in these areas, the commitment will focus on aligning key areas from all LSU campuses and beyond to build new partnerships and explore novel approaches to talent and technology development.
"This is our 'Sputnik moment,' and we must be bold and visionary in securing the safety of our nation," said LSU President William F. Tate IV. "Just as Sputnik underscored the importance of technology and research, the world today underscores we urgently need the very best to protect everything from small businesses to our ports and manufacturers. With these initiatives, LSU is expediting the expansion of cybersecurity research and talent development for all, and we'll do it in exciting ways for our students and faculty. The winners will be the overwhelming demand for this education and firms who need this talent."
"This is a momentous leap forward not only for the Louisiana State University System, but for our state and our nation, and it comes at a time when the threat of a cyberattack on our national security has never been more apparent," said Louisiana Governor John Bel Edwards. "Strengthening cybersecurity in Louisiana while also developing the workforce needed to support the agencies, organizations and firms needed to carry out this critical work is one of the top focuses of my administration, and it aligns perfectly with LSU's research-based mission to serve our state and nation. I am thrilled that LSU has undertaken this effort statewide and I am heartened to know that the next generation of cybersecurity experts and leaders will be made right here in Louisiana."
This past year, LSU was the only university in the country invited by the National Security Agency, or NSA, to apply for its prestigious Center for Academic Excellence in Cyber Operations, or CAE-CO, which is a deeply technical, interdisciplinary, higher education program firmly grounded in computer science, computer engineering, and electrical engineering disciplines with hands-on applications via labs and exercises. Only 22 institutions nationwide hold the distinction, and LSU anticipates to be the next university designated by NSA as a CAE-CO institution, joining an elite network of cyber excellence that includes the Naval Postgraduate School and Air Force and Naval Academies.
To broaden LSU's scientific research capacity and ability to produce increasing numbers of highly technical graduates, LSU has combined its own resources with those of several key partners to recruit and hire leading cyber experts, with scholarships and professorships to support those new hires.
Guiding these new initiatives are two structures focused on growing LSU's expertise in cybersecurity, coordinating space and assets, and collaborating to explore the intersection between cybersecurity and military studies.
The Alignment for the Pursuit of Excellence in Cyber Security, or APECS, Initiative will serve as the university's principal new initiative for investment in cyber security. APECS reimagines how existing and new expertise, space, programs, and partners across all eight LSU campuses can be oriented for cyber talent and technology development, all brought to bear to prepare technically sound cyber warriors to proactively defend Louisiana's most critical assets.
"At LSU, our focus is on producing top-tier cybersecurity practitioners and researchers—essentially, cybersecurity superheroes," said Professor Golden G. Richard III, director of the LSU Applied Cybersecurity Lab. "We have several things already in place to support that effort, including a very successful Scholarships for Service (SFS) program, which provides full-ride scholarships to highly qualified students, and the FIREStarter cyber range, which helps us offer hands-on, practical education in both offensive and defensive cybersecurity. The APECS initiative will expand the cybersecurity faculty to give us additional room to grow and strengthen our relationships with state and industrial partners, opening up new collaborative opportunities for students."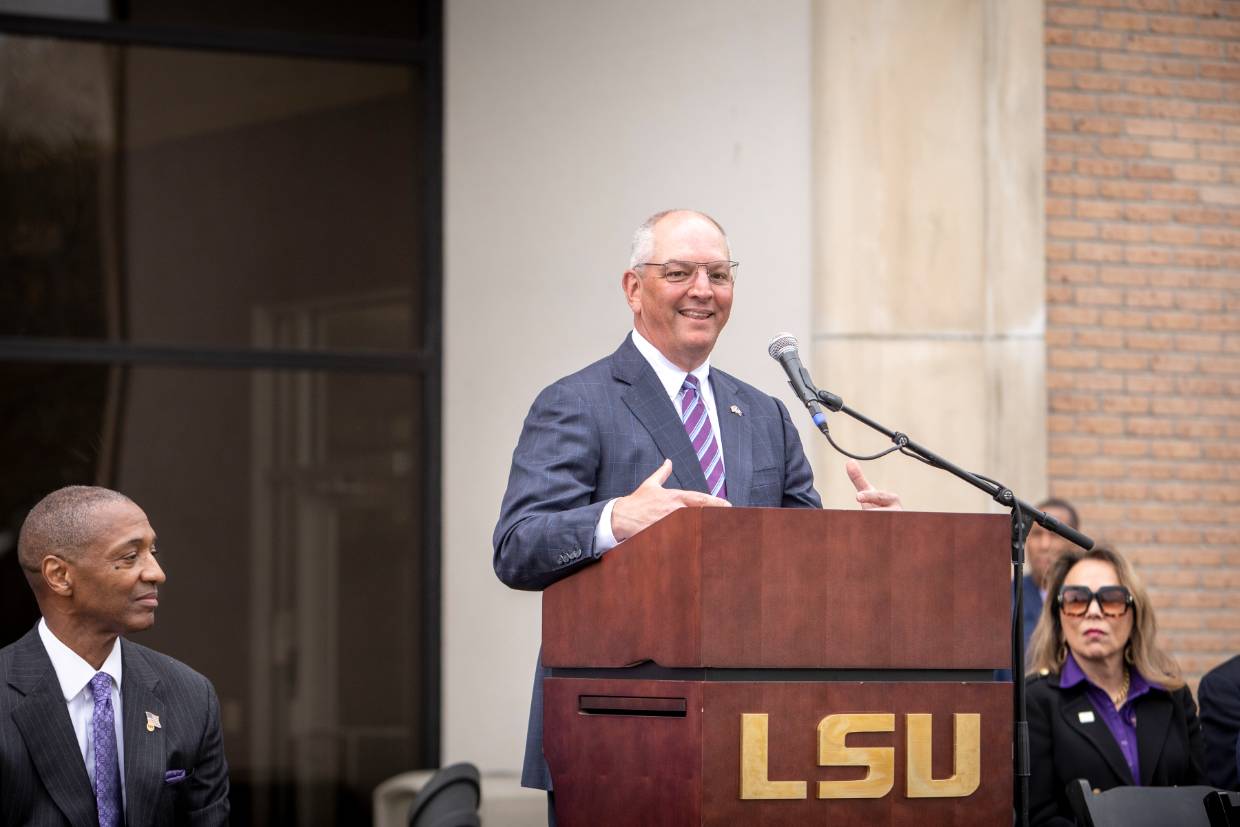 Next, the Institute for Advanced Military and Defense Studies will serve as the programmatic intersection of cyber and ROTC and enable a leadership development opportunity like no other in the nation, with the goal of reestablishing LSU as a national leader in military, defense, and security studies.
On the ROTC program, new efforts include:
Relocating the program to an existing state-of-the-art building with plans to improve and better integrate efforts across campuses and disciplines;
Enhancing recruiting efforts to attract the very best and brightest from across the state for participation in the ROTC program and future service to our nation;
Improving all elements of education and training from classrooms, to training laboratories to the physical fitness infrastructure; and
Elevating the LSU ROTC program to national prominence while continuing to value and respect the proud heritage and tradition of the Ole War Skule.
On the academic side, new efforts include:
Immediate hiring of up to 10 cyber security faculty to strengthen teaching and research and broaden LSU's talent development pipeline from undergraduate through doctoral education;
Developing a value-added leadership certificate program for military and civilian students alike;
Establishing programs beginning with a cyber bootcamp for incoming freshman interested in pursuing a career in cyber studies or cyber defense, to begin in fall 2022;
Integrating capabilities across the LSU system like LSU Shreveport's Cyber Collaboratory and the AgCenter's Extension as assets in a powerful statewide talent development effort; and
Creating novel approaches to cyber education like the FIREStarter program where Louisiana State Police Cyber Crime analysts teach undergraduate Computer Science courses.
"Along with its federal and state law enforcement and technology partners, the Louisiana State Police Cyber Crime Unit works on hundreds of cybercrimes across Louisiana every year," said Lt. Colonel Kenny VanBuren. "The scale of the threat demands new generations of problem-solvers, and programs like FIREStarter – where we're actively teaching cyber forensics to LSU undergraduates – is the kind of novel approach Louisiana needs to build talent and strengthen our communities."
On the engagement side, new efforts include:
Working closely through formal partnerships with the U.S. Secret Service and Louisiana National Guard to develop tools and technologies as well as engage directly with students for teaching, recruiting, and research;
Collaborating with industrial partners in telecommunications, healthcare, manufacturing, and energy in new student- and research-centered cyber security facilities and projects; and
Supporting defense partners like Radiance Technologies in emerging R&D, science, and talent opportunities.
"As a leading cyber and technology company for the defense, intelligence, and space communities, we consider universities as essential for research and talent development," said Heath Berry, vice president of electronic systems and cyber technologies at Radiance Technologies. "From our discussions with LSU leadership it is clear they are invested in becoming a great cyber and defense university. We are excited about the opportunity to partner with LSU, grow our Baton Rouge operations and laboratory, and work with their students and faculty to address technical challenges."
"Beyond protecting our nation's leaders, the United States Secret Service is also tasked with safeguarding the trusted financial infrastructure of our economic and ultimately national security. Finding the right expertise to help defend those assets is critical, and in our discussions with LSU it is evident the university is fully committed to cybersecurity and defense," said U.S. Secret Service Special Agent in Charge Leslie Pichon. "We are excited to work with their faculty and administration, find new ways to engage students on campus for training and teaching, and help talented students understand the incredible opportunities this partnership can offer."
"The Louisiana National Guard and LSU both have statewide missions and reach. This collaboration unites us like never before in service to Louisiana. Defending our critical infrastructure and strategic assets is an opportunity to develop creative solutions," said Maj. Gen. Keith Waddell, adjutant general of the LANG. "Our partnership with LSU focuses on training, talent, and tool development, and we are excited to have the university working with us to protect Louisiana. We're thrilled LSU has made us a key component of their vision for cybersecurity and defense, and we believe this partnership positions the Guard and LSU to serve as national thought leaders in how to protect the state and its citizens as well as the potential to grow our cyber mission."
In support of these initiatives, LSU has designated a new cyber-military corridor on its Baton Rouge campus, with the previously named Louisiana Emerging Technology Center as the cornerstone. The adjoining LSU's Center for Computation & Technology allows for future development and collaboration on one of the most highly visible corners of campus, and enables engagement between LSU's cyber experts, our military and ROTC programs, and our agriculture corridor to seed future collaborations and partnerships. The alignment has already generated deep interest from several industry, academic and military organizations, and additional announcements on all fronts are anticipated in the near future.
"You cannot become great by wishing your way to excellence," said Tate. "Bold decisions, strategic investments, industry partnerships like these are the only way to make the gains we need to in short order for the safety of our state and nation."
Today's announcement is the latest transformative investment in Tate's recently announced Scholarship First Agenda, focused on creating solutions that are essential to the future of agriculture, biotechnology, the coast, defense and energy within Louisiana and throughout the nation. LSU will ascend to its potential to lead the nation in these five key areas through a combination of private, state and federal support. Learn more about the Scholarship First Agenda at www.lsu.edu/president/priorities.