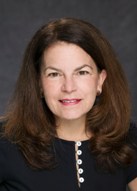 Adelaide Russo
Professor
Phone: (225)578-6627
E-mail: frruss@lsu.edu
Office: 403 Hodges
Biography
Dr. Russo was the Director for the LSU Program in Comparative Literature, 2009-2017.
Area of Interest
19th and 20th century poetry; literary theory; interdisciplinary studies; hybrid discourses; Belgian Francophone Literature and Culture
Awards & Honors
Chevalier des Palmes Académiques
2017-2021 Chair Department of French Studies
International Association of Comparative Literature – Treasurer for the Americas
Chaire Senghor de la Francophonie
2011 Phyllis Taylor Professorship in French Studies
2009 Chevalier Ordre des Arts & des Lettres France (Ministère de la Culture et la Communication)
Phi Kappa Phi
2008 Aldo and Jeanne Scaglione Prize for Outstanding Book in French and Francophone Studies, published in 2007 by the Modern Language Association for Le Peintre comme modèle: Du Surréalisme à l'Extrême contemporanin, Presses universitaires du Septentrion, 2007.

2008 Louisiana State University « Rainmaker » 100 Faculty whose contributions to LSU have been notable.

2007 Prix Debrousse-Gas-Forestier Académie des Beaux-Arts (Institut de France) for Le Peintre comme modèle: Du Surréalisme à l'Extrême contemporanin, Presses universitaires du Septentrion, 2007.

2007-2010 Delegate Assembly of Modern Language Association; 2010-2013 Delegate Assembly Organizing Committee
2009-2012 Executive Council of the ALSCW (Association of Literary Scholars, Critics, and Writers)

2007-to present Member CNRS ITEM
Selected Publications
« On continue », Poésie, Nº 183-184, pp. 227-241.
« Réminiscences: 'La poésie écoute fredonner le paysage » in Rue de fleurs , Rue du poème : Hommage à Jean-Michel Maulpoix, ed. Pierre Grouix, ENS. n.p.[19 à 28], Paris, Éditions du Bourg, 2023.
« Deguy en direct: Chroniques et Comme si, comme ça », Contemporary French and Francophone Studies, Vol 26: Nº 2, (2022) pp. 198-207.
 "La Revue de Poésie: ' La poésie faite par tous'" La Revue des Revues: Histoire et Actualité des Revues (Association Ent'revues et L'Institut Mémoires de l'édition contemporaine), Nº 67 (printemps 2022) pp. 12-37.
"Le Discours Antillais et les vestiges d'Acoma" in Édouard Glissant et Le Discours Antillais: La Source et le Delta," Sylvie Glissant, Loïc Céry, Hugues Azérad, Dominique Aurélia, Laura Carvigan-Cassin, Eds., Paris; Éditions de l'Institut du Tout-Monde, 2020, pp. 569-586.
Le Peintre comme modèle (Lille: Presses Universitaires du Septentrion, 2007).
« La Fidélité et l'amitié sans failles » chez Michel Deguy :Un Vœu en dépit de toute évidence » Poésie Vivante Hommage à Arlette Albert-Birot , Textes recueillis et présentés par Carole Aurouet et Marianne Simon-Oikawa, Honoré Champion. 2012.
« Malcolm de Chazal : De la réception à la déception, ou comment devenir émetteur mauricien » International Journal of Francophone Studies,Vol. 13, No. 3-4 (2010) : 551-571.
« Michel Deguy et le destin de nos villes sous l'emprise du « culturel » : penser les changements du paysage urbain » Formes Urbaines de la création contemporaine in Formules, eds. Jan Baetens et Bernardo Schiavetta, Nº14 (2010), pp. 113-124.
« Penser l'exception selon Michel Deguy », Contemporary French and Francophone Studies : Sites, Vol. 14, No. 3 (June 2010), pp. 279-287.
"Retour sans retour: Michael Riffaterre, chasseur de textes" in "Joys of Reading: Revisiting Michael Riffaterre," L'Esprit Créateur, Vol. 49, No.4 (2009), pp. 44-58.
« « Pourquoi je joue du tam-tam maintenant » : Forme et Informe chez Jean-Marie Gleize » in « Forme & Informe dans la création moderne et contemporaine » in Formules / Revue des Créations Formelles eds. Jean-Jacques Thomas et Bernardo Schiavetta, Nº13 (2009), pp. 185-198.
Lieux Propices: L'Enonciation des lieux/ Le lieu de l'énonciation dans les contexts francophones interculturels, co-editor, with Simon Harel. (Québec: Presses de l'Université Laval—Collection InterCultures, 2005).
Special Issue of Etudes Francophones: Dossier Thématique: Bande Dessinée Belge, co-editor, with Fabrice Leroy. Vol. 20/no.1 (Printemps 2005).
Recent Courses Taught
Probematics of the Avant-Garde : 20th Century French Journals
History of Criticism and Literary Theory
Belgian Francophone Literary and Culture
Symbolism and Surrealism
20th Century Novel and the Visual
20th Century French literature S 04
Women and Surrealism S 04 (WGS)
20th Century French novel F 03
WWII et après: Témoignage et Souvenir S 03