Scholarship First Tour Schedule: LSU Takes Its Mission and Message on the Road
March 06, 2023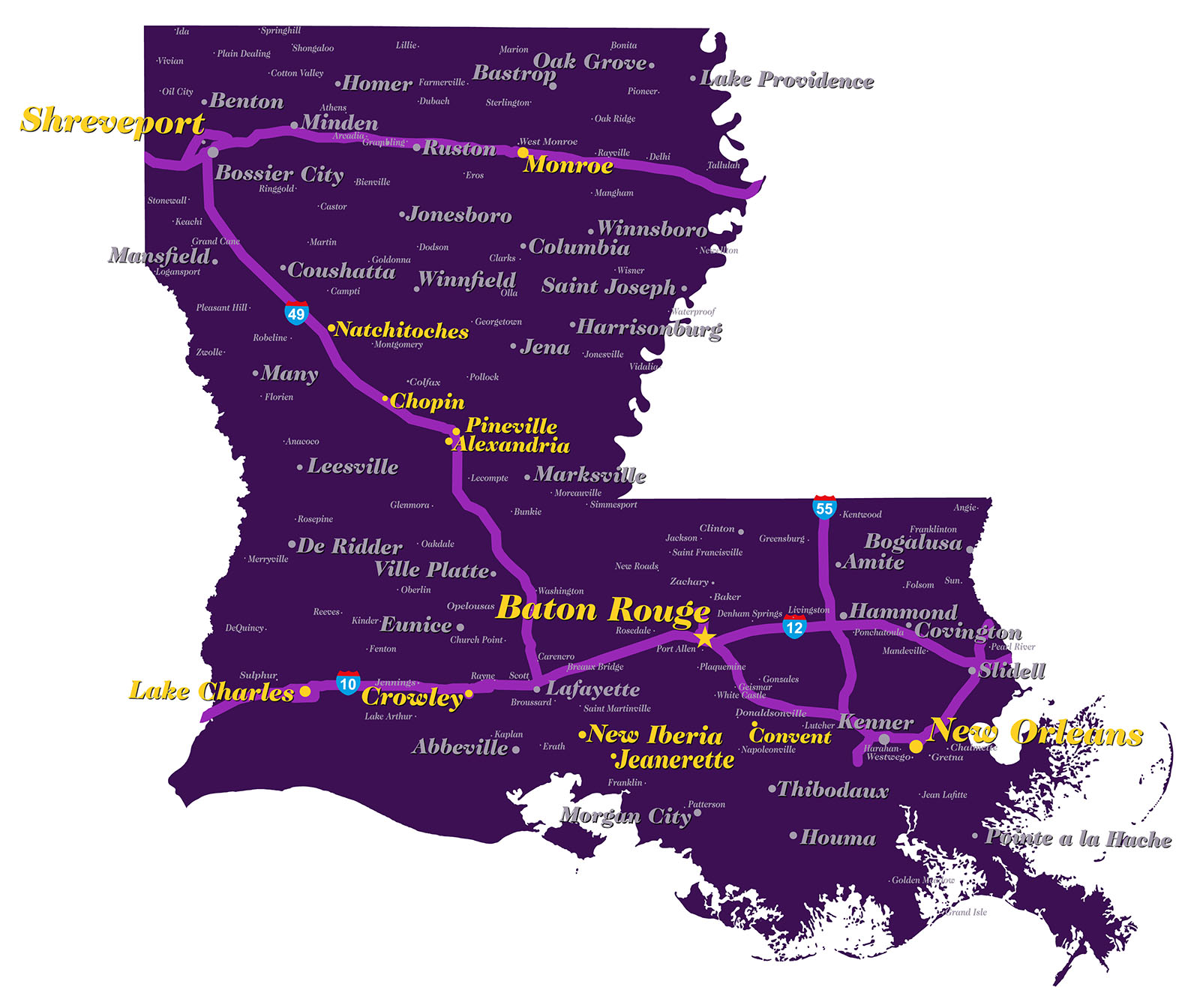 LSU's Scholarship First bus tour is visiting metros as large as New Orleans and Shreveport and as small as Chopin and Minden as LSU President William F. Tate IV captures the full perspective of Louisiana.
"This is going to be a listening tour and an awareness campaign all rolled into one. We've got a very aggressive itinerary and can't wait to meet our friends out on the road," LSU President William F. Tate IV said.
The tour runs from March 13-16, 2023. Event details are subject to change.
Monday, March 13
President Tate and the Scholarship First tour bus will depart from LSU's Memorial Tower bright and early, with a special send-off from Coach Kim Mulkey.
After a stop for boudin, the bus will head to LSU's original campus in Pineville for an important announcement, then roll through the meat pie capital of Louisiana, stopping in Shreveport for the evening.
6 a.m. Send-off from LSU's Memorial Tower (Baton Rouge, LA)
7:30 a.m. Pit-stop in Krotz Springs for Billy's Homemade Boudin & Cracklins
9:30 a.m. Unveiling of LSU's Economic Impact on Louisiana at the place where it all began (Pineville, LA)
11 a.m. Tour the Roy O Martin plywood factory, the nation's largest, and learn about the importance of the timber industry (Chopin, LA)
1 p.m. "Meat" and Greet with Natchitoches Alumni and Friends at Lasyone's Meat Pie Restaurant
6:30 p.m. Welcome Reception for new LSU Health Shreveport Chancellor, Dr. David Guzick
Tuesday, March 14
Tuesday will take Tate on a picture-perfect road trip through north Louisiana with stops in the "Friendliest City in the South" and "Sportsman's Paradise," giving way to glimpses of the state's agricultural past and its future.
After a lunchtime social with area supporters in Monroe, the bus will make its way back to Central Louisiana for a reception hosted by LSU alumnus Roy O Martin in Alexandria.
8:00 a.m. Breakfast at Strawn's Eat Shop, home of the ice box pie
11:30 a.m. Lunchtime social with Monroe area supporters
1:30 p.m. Special appearance on the LA Delta Crop Podcast (Monroe, LA)
5:00 p.m. CENLA celebration hosted by LSU alumnus Roy O Martin (Alexandria, LA)
Wednesday, March 15
After breakfast at Lea's Lunchroom, the bus will depart from Alexandria, making its way through New Iberia to the "Sugar City," Jeanerette, to tour sugarcane farms and processing plants and learn more about the importance of sugarcane to the Louisiana economy.
Then it's a mad dash to Cajun Country, reaching Crowley just in time to harvest crawfish with Lt. Gov. Billy Nungesser, before ending the day in Lake Charles.
7:00 a.m. Breakfast at Lea's Lunchroom, a Louisiana tradition since 1928
10:00 a.m. Visit to "Sugar City" to tour sugarcane farms and processing plants (Jeanerette, LA)
1:30 p.m. Crawfishing in Crowley with special guest, Lt. Gov Billy Nungesser
3 p.m. Resiliency Tour in Lake Charles – visit storm affected areas with elected officials, local leaders and LSU experts
6:30 p.m. Dinner social with Southwest Louisiana family and friends
Thursday, March 16
On the final day of the tour, the bus will hustle down to Convent to visit with Shell and discuss the future of the energy industry in Louisiana, then jaunt over to the Big Easy to sit down with the Cvitanovich family and oyster experts at Drago's and discuss the long legacy of oyster farming in Louisiana.
From there, the group will visit the Port of New Orleans to make an exciting announcement, then end the day celebrating on the Northshore with LSU family and friends.
12:00 p.m. Enjoy a taste of the Big Easy for lunch
3:30 p.m. Exciting Announcement at Port of New Orleans
6:00 p.m. Northshore celebration with LSU family and friends