Day 2 Tour Dispatches: Picture Perfect Road Trip, Connecting With Students, Friends of LSU
March 14, 2023
Day Two of the Scholarship First Tour took President Tate on a picture-perfect road trip through north Louisiana with stops in the "Friendliest City in the South" and "Sportsman's Paradise," giving way to glimpses of the state's agricultural past and its future.
After a lunchtime social with area supporters in Monroe, the bus made its way back to Central Louisiana for a reception hosted by LSU alumnus Roy O Martin in Alexandria.
Day 2 covered 200 miles of Louisiana highways and included visits with approximately 150 people in five cities, and even more appreciation for Louisianans' unique combination of joie de vivre, innovation, and grit.
8 a.m.
During a stop for breakfast at Strawn's Eat Shop, home of the ice box pie, President Tate engaged with LSU Shreveport students about their work in studying how medicinal plants produce anticancer compounds and methods to sustainably and economically produce these compounds.
"Those students were so impressive that I walked away feeling incredibly positive about the future of our campuses in Shreveport, which are helping to keep Louisianans here at home," Tate said.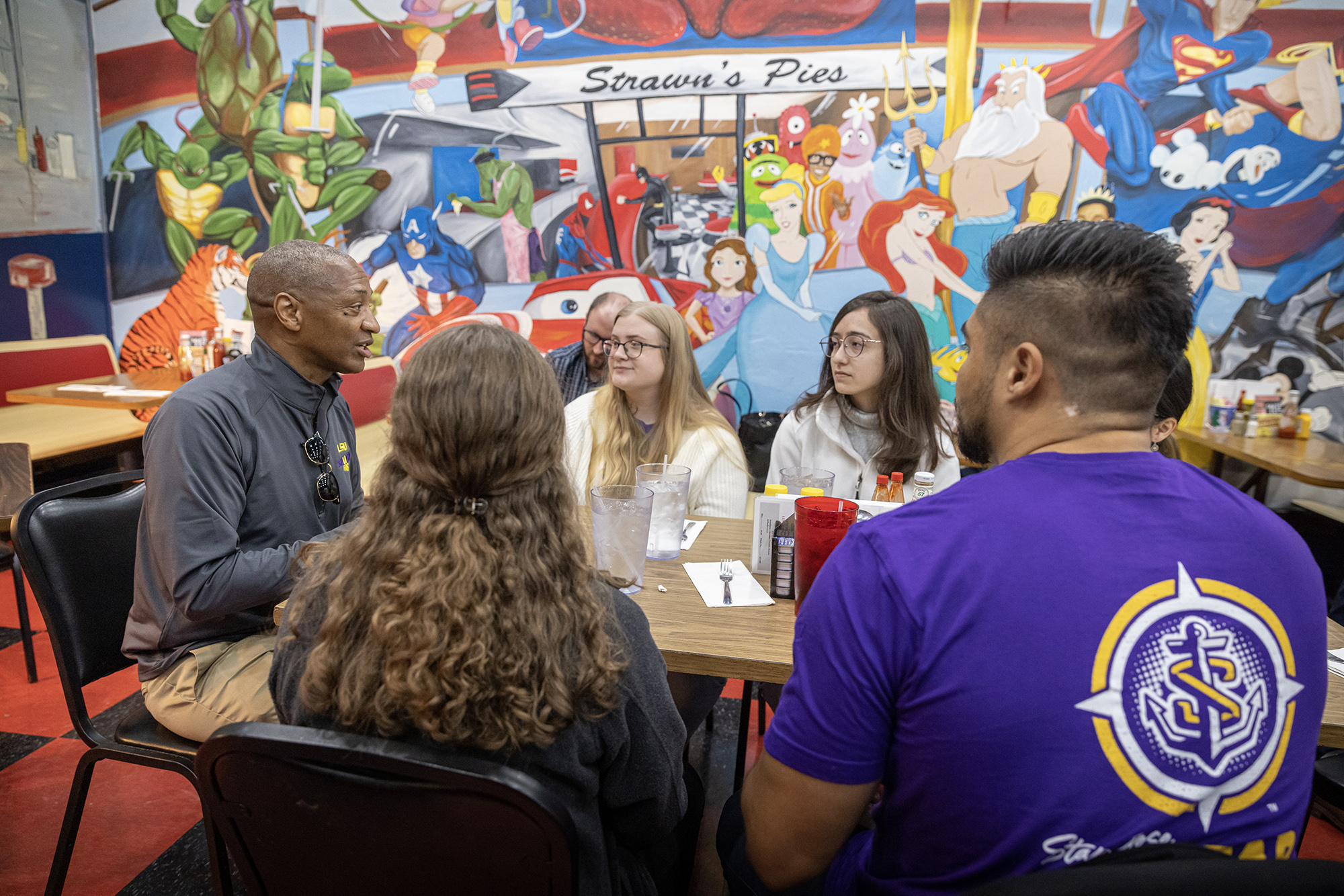 11:30 a.m.
After a quick stop in Minden, the friendliest city in the South, the bus rolled into Monroe for a lunch reception hosted by Randy and Cherry Morris. Area legislators and alumni wholeheartedly supported LSU's "Bring 'em Home" concept: locating Louisianans who left the state to find better opportunities and incentivizing them to come back.
1:30 p.m.
Next, President Tate sat down with several AgCenter Extension Agents to discuss the importance of agriculture on their podcast, the Louisiana Delta Crop Project.
"Their passion for the work is tangible and I hope you'll subscribe and engage," President Tate said.
3 p.m.
Then the bus headed to the Ochsner LSU Health Shreveport Monroe Medical Center in Conway, where President Tate highlighted the multi-institution collaboration necessary to address critical nursing shortages.
"The staff at this hospital are deeply committed to providing exceptional care — they truly are a special breed and it was an absolute privilege to spend time with them" Tate said. "Their willingness to work across boundaries and get the job done is admirable."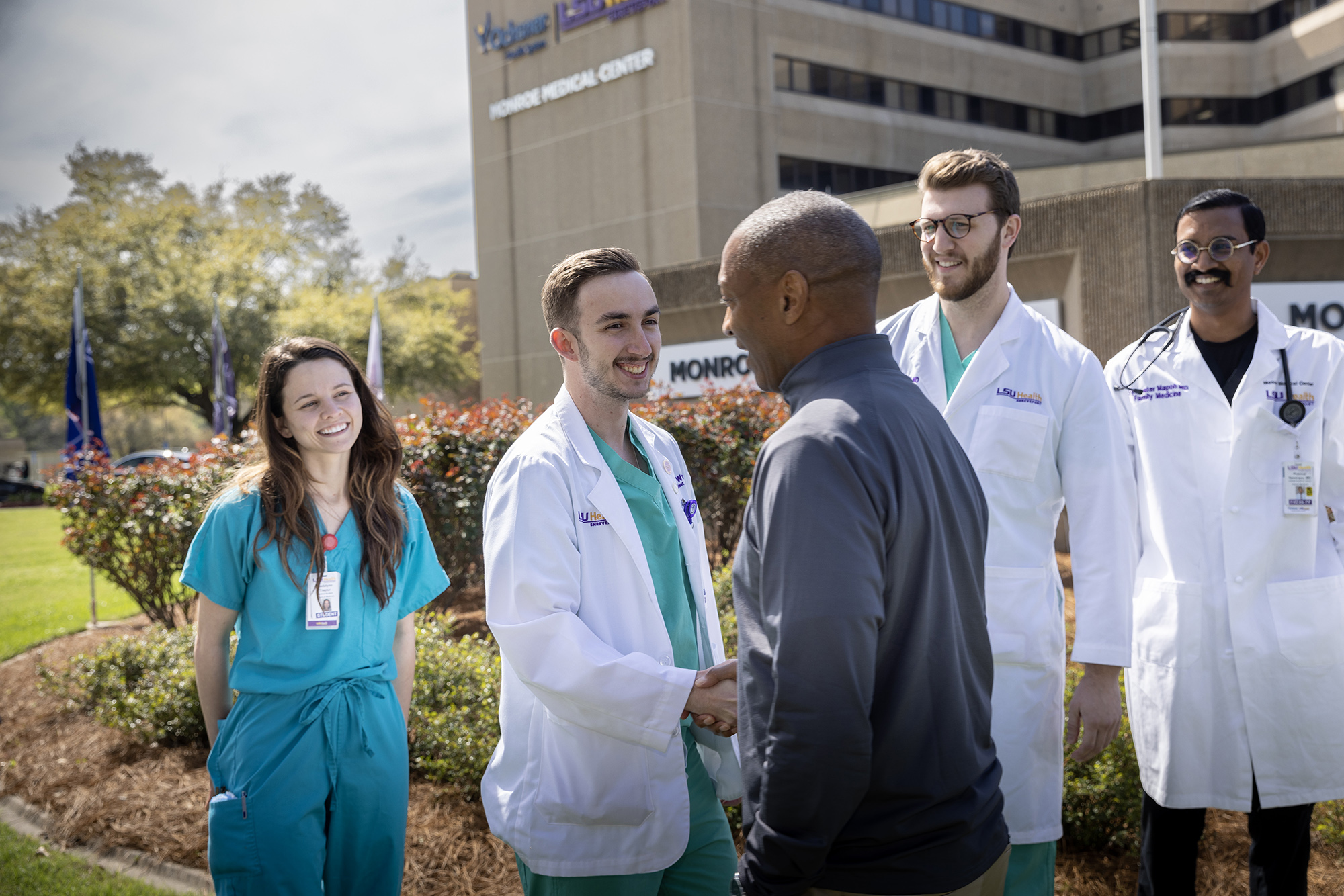 On the way to Alexandria, the president's staff conducted a number of "Briefings on the Geaux," discussing strategies and updates on faculty recruitment, campus development, and research space utilization.
"We are definitely making the most of our travel time," Tate said.
5 p.m.
Day 2 of the Scholarship First tour ended with a reception hosted by the RoyOMartin company — a group that has been committed to supporting higher education to drive economic impact for their community for 100 years and counting.
Mike Strain, Louisiana Commissioner of Agriculture and Forestry, also attended, and the group discussed the need for continued investment in agriculture, especially forestry — requiring deep collaboration between higher education, the state of Louisiana, and industry partners.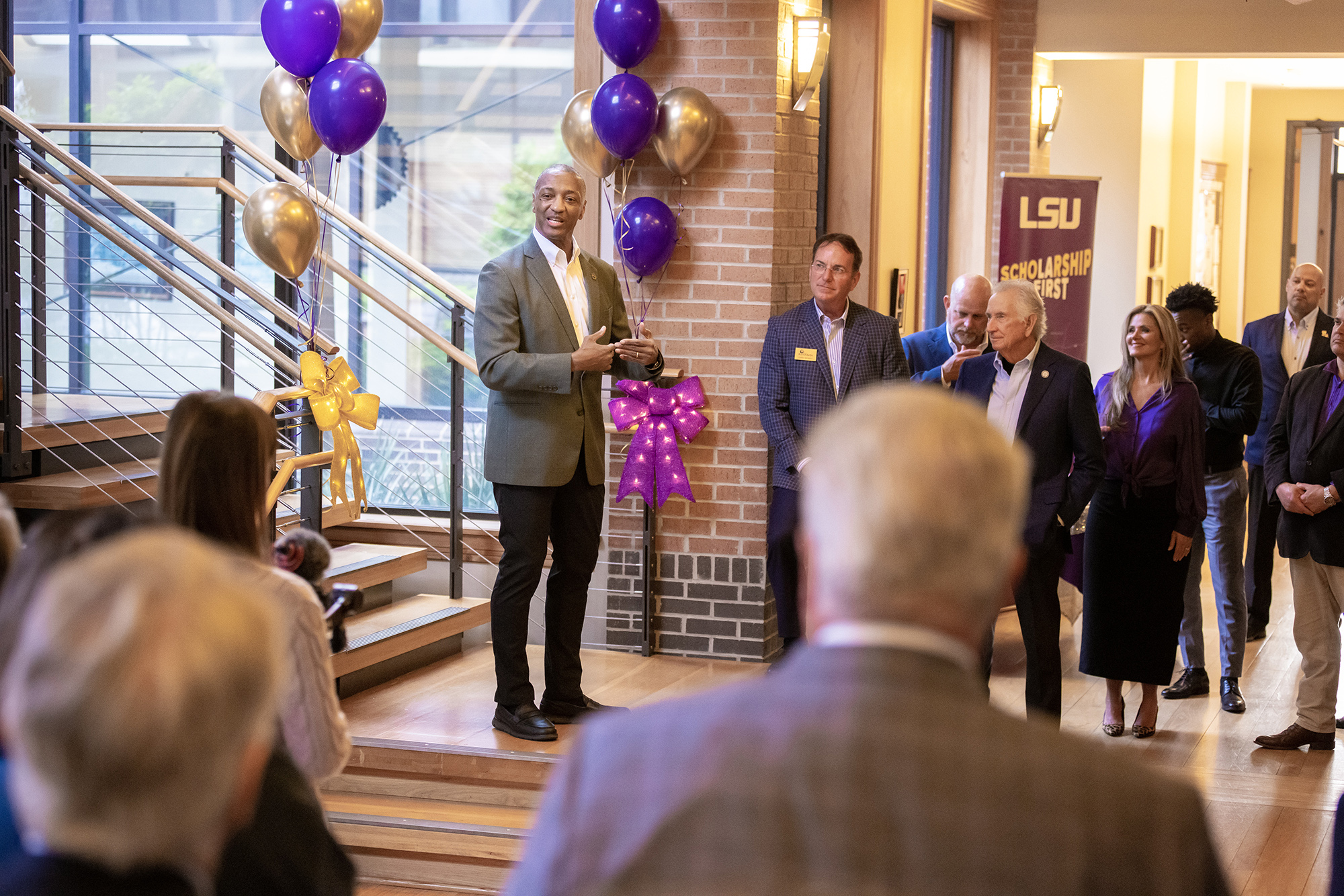 In sum, the day was highly educational and offered many opportunities for enhanced collaboration with industry and state partners, and it highlighted a deep desire within the population to bring talented family and friends back to Louisiana.