Outreach | LSU Vet Med
Bringing the World In
Outreach at LSU Vet Med includes a variety of events that are open to the public, tours and presentations for groups of adults, children, or both, our world class Shelter Medicine Program, presentations by our Wildlife Hospital, and the LSU Vet Med/PetCo Love Community Outreach Program for small animals (pets and small exotics).
We at LSU Vet Med enjoy sharing veterinary medicine with visitors of all ages. In addition to hosting events such as our annual Open House, the Animals in Art exhibition, and Tales from the Field, LSU Vet Med would like to invite your group to explore the world of biomedical science and veterinary medicine.
Public Events
LSU Vet Med hosts public events throughout the year, including Open House, the Great Rover Road Run, the Artist-in-Residence program, the Animals in Art Exhibition, and Tales from the Field.
Private Events
LSU Vet Med is happy to host your group in order to share information about biomedical research and veterinary medicine. We welcome Girl and Boy Scout troops, science classes of all ages, 4-H groups, Future Farmers of America, and all organizations with an interest in science, veterinary medicine, agriculture, or conservation. We can provide tours, demonstrations, or lectures pertaining to animals, biomedical science, and One Health.
Groups are limited in size depending on the date and time requested, as well as the availability of faculty, staff, students to accommodate the request. Our community of veterinarians, vet techs, researchers, faculty, staff, and student ambassadors have a wealth of knowledge and expertise in their fields and can address groups on a wide variety of learning levels.
Listed below are just some of the different outreach activities we offer to the greater community in order to shine a spotlight on what the school does every day:
raptor talk & demonstration
equine talk & demonstration
talk about the history and lore of Mike the Tiger
Tales From the Field: Stories From the LSU Vet Med Community outreach series
animals involved in research
small animal pet health and nutrition
One Health
Tales From the Field: Stories From the LSU Vet Med Community is an outreach program series created by the LSU Vet Med Library in order to shine a spotlight on the LSU School of Veterinary
Medicine by sharing stories that exemplify our Vision, Mission, and Values. Speakers are chosen from our community of faculty, staff, and students who wish to share their experiences,
research, and knowledge to the greater Baton Rouge area, community veterinarians, and anyone else interested in animal health and welfare. Past speakers have spoken on a wide variety of topics - here are just a few of them: Juno - a Good Samaritan Redemption Story; Polar Purple Martin Rescue; Mule Drives of the Grand Canyon and the Glorious Mules of New Orleans; Animal CSI; A Day in the Life of Mike the Tiger's Caretaker; Talking Catty About the Louisiana Prison System; and so much more!
Girl Scouts Louisiana East recently formed a partnership that has led to a Badge Day at the LSU School of Veterinary Medicine. Girl Scouts from around the region visited the school in order to view presentations that allowed them to earn credit towards badges in the animal sciences. Participants earned credit in fulfillment for one or both of the animal badges: Cadette Animal Helpers and Senior Voice For Animals. Here are just a few of the topics that attendees experienced: Mike the Tiger as a mascot in sports and entertainment, animals as helpers and in society, small animal pet health and nutrition, animals involved in research, animal reproduction, animals used for service and therapy, and much more!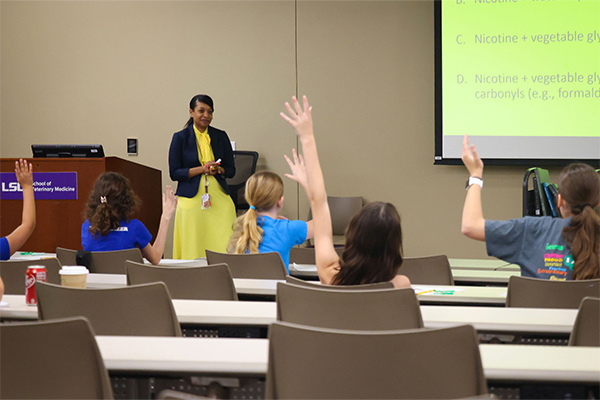 Girl Scouts from around the region visited
the school in order to view presentations that allowed them to earn credit towards badges in
the animal sciences.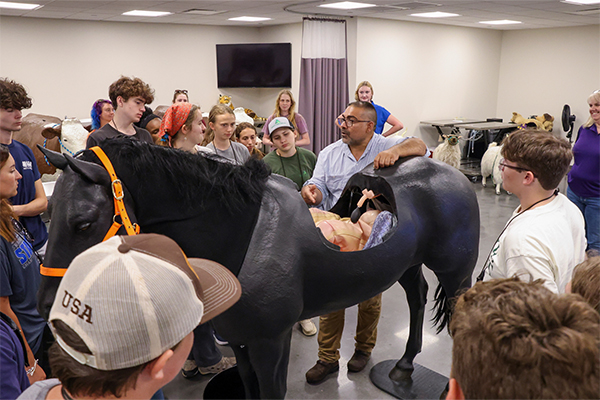 A 4-H group visited the LSU Vet Med Clinical Skills lab to learn how we teach some aspects of veterinary medicine.
The LSU Board of Supervisors visited LSU Vet Med and got to meet some of our resident raptors and the students who care for them.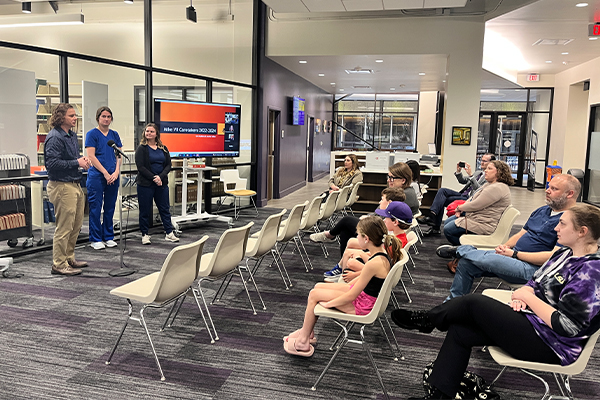 The veterinary student caretakers for Mike VII, LSU's live tiger mascot, spoke at Tales from the Field about what's involved in taking care of an apex predator on a university campus.
Community Outreach Vehicle for Small Animals (pets and small exotics)
LSU Vet Med and national nonprofit, Petco Love, have partnered to improve the health and wellness of pets through the new Petco Love and LSU Community Outreach Veterinary Program. Thanks to a $665,000 investment to the LSU Foundation by Petco Love, we have hired a Community Outreach Veterinarian and purchased a mobile clinic to head into surrounding communities to provide essential veterinary health care for pets.
The more than 26-foot mobile clinic is part of the LSU Vet Med shelter medicine and primary care services, offers veterinary education to students, and deploys to affected areas following disasters to provide veterinary care as needed. It contains two exam/surgery tables, anesthesia machines, kennels, a generator, and a refrigerator.
The LSU/Petco Love Community Outreach Veterinarian serves as an ambassador to Baton Rouge and surrounding areas for animal health and wellbeing through direct work in community shelters, community educational events, population control events, one health initiatives, and disaster relief. The community outreach veterinarian also provides instruction for pre-clinical and clinical veterinary students and supports students at the Companion Animal Alliance, a non-profit animal shelter located on the LSU campus. Other activities for engagement include community events at Petco retail stores, educational events for children and the public, preventative medicine clinics, including Petco Love free vaccine clinics, and spay/neuter activities both in the school and externally.
Shelter Medicine
Our Shelter Medicine Program is one of our premier outreach programs here at LSU Vet Med. It provides a myriad of services to the shelters throughout the state of Louisiana. Primarily they handle spay/neuter and medical services but also provides detailed services such as medical and management consultations for numerous shelters across the state.
They are the only program that provides medical and surgical services for dogs and cats housed at
Angola and Dixon Correctional facilities. It is also the only program that provides classes to educate shelter staff across the state, works with Department of Agriculture to improve those shelters and provides valuable disaster assistance to pets effected by natural disasters.
Our faculty teaches both locally and nationally about issues concerning recognition and prosecution of
animal cruelty and neglect cases. They also work directly with local law enforcement and district attorney's office to help identify and solve these types of cases.
Wildlife Hospital
The LSU School of Veterinary Medicine's Wildlife Hospital cares for injured animals brought to us for care and treatment. Our goal is to treat and rehabilitate these animals so that they can be released back into the wild. We receive approximately 1,200 wildlife cases each year with an approximate release rate is 45 percent.
Our mission is to carry out conservation medicine by providing veterinary care for injured wildlife,
conduct conservation research, and educate the public about wildlife conservation in the state of
Louisiana.
Our three primary focal areas are:
Conservation: We provide veterinary care for injured native wildlife from Louisiana and surrounding states. The ultimate goal of our conservation medicine efforts is to rehabilitate and release animals back to the wild so they can contribute to the wild populations.
Research: We carry out research projects at the state, national, and international level with a focus on
wildlife preservation and conservation.
Education: We provide veterinary students with educational opportunities in the field of wildlife medicine. The skills learned by these students while working with wildlife species are directly applicable to captive exotic species and are part of their training for becoming skilled veterinarians. In addition, we carry out educational presentations aimed at the public in the state of Louisiana. These presentations carry the message of wildlife conservation and provide an avenue for children and adults to become aware of the issues that affect our native wildlife species.
Campus Engagement
LSU Vet Med invites all campus departments and groups to attend a presentation and a tour of the Vet
Med facilities. The purpose is to educate the campus community on what LSU Vet Med does for both
humans and animals. LSU Vet Med supports the LSU community, the larger Baton Rouge Community
and the entire state of Louisiana in many different ways. Innovative research in both human and
animals is conducted within our facilities. As well as top tier healthcare for pets, equine, and food
animal.