The Department of Pathobiological Sciences provides teaching and training in bacteriology, epidemiology, immunology, parasitology, pathology, and virology. Faculty are involved in all levels of the professional curriculum, providing lecture and laboratory experiences in bacteriology, mycology, immunology, epidemiology, pathology, parasitology, community health, and virology, as well as instruction in the practical application of necropsy techniques, all using cases received from the Veterinary Teaching Hospital and the Louisiana Animal Disease Diagnostic Laboratory.
Advanced studies in the department lead to the MS and PhD degrees in biomedical and veterinary medical sciences. Graduate courses are offered in all disciplines associated with the department. Basic and applied research is conducted in the areas of molecular pathogenesis, disease processes, infectious and parasitic diseases, and host response to disease.
The departmental faculty provide a variety of services in support of the clinical and instructional programs of the school, including clinical pathology, cytology, postmortem examination, diagnostic parasitology, and aquatic animal disease diagnosis. Central research services include a molecular biology center, Gene Lab, a flow cytometry lab, and a histology lab.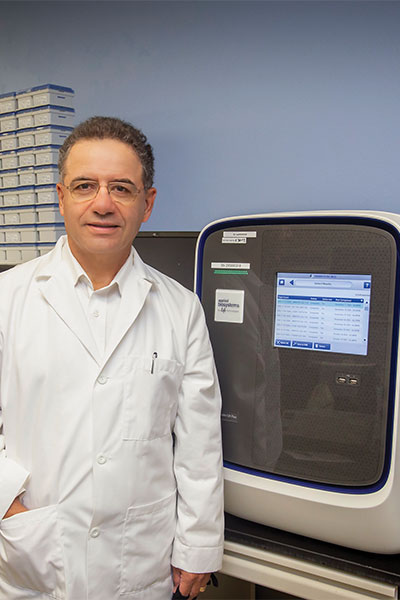 Research Centers
PBS houses several excellent research centers, including a Center for Lung Biology and Disease and the Division of Biotechnology and Molecular Medicine. The Center for Lung Biology and Disease was established in 2019 with an $11.5 million grant from the National Institutes of Health Centers of Biomedical Research Excellence (COBRE) program. The CLBD augments research on campus in the molecular and cellular immunological mechanisms of pulmonary diseases. BIOMMED is a multidisciplinary research, support and development unit that provides centralized access to state-of-the-art equipment and advanced training in molecular and cell biology.
Contact Us
PBS Administration
Anand Ramachandran
Coordinator
225-578-9684
Graduate Program
Antonieta Guerrera-Plata, PhD
Associate Professor
(225) 578-9678
Residency Program
Ingeborg Langohr, DVM, PhD, DACVP
Professor of Diagnostic Pathology
225-578-9722