Trees & Trails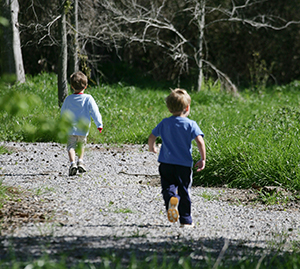 Trees and trails is approximately 3 miles of pedestrian, recreational, and educational trails located at the LSU AgCenter Botanic Gardens at Burden, a 440-acre haven of gardens and green space in the heart of Baton Rouge. Trees and Trails opened to the public in October 2009.
Trees and Trails is designed for hiking and interpretive, educational activities that encourage adventure and discovery for youth and adults. The trail system provides a framework for nature experiences with educational areas in a safe, outdoor environment. The trails are open from 8:00 a.m. to dusk every day of the year except Christmas Day and New Year's Day.
Trees and Trails offers learning opportunities for teachers, schools and other organizations. Outdoor classrooms are designed to put students in touch with the natural world to learn about the cultural heritage of our region as well as the importance of maintaining ecosystems in an urban environment. We welcome and encourage schools and organizations for all ages to enjoy the Trees and Trails as an educational experience.
Location
Once on Botanic Garden grounds, follow the road to the Burden Museum & Gardens Visitor Information Center. The trail head signs are behind the Steele Burden Memorial Orangerie.
View or download a map of the trails.
Field Trips
Field trips are available late September until Thanksgiving and March through May. One adult chaperone is required for every 5 Kindergarten students. For students above Kindergarten, one adult chaperone is required for every 10 students. Pre-registration is required. You have the option to download and print the registration form and send it to the LSU AgCenter Botanic Gardens by Fax or Mail, or to complete and submit the form online. The cost is $5 per student. You may want to bring snacks for the children since there are no vending machines on the property.
Trees and Tails field trip opportunities are available in four different programs to accommodate different ages, group sizes, and learning objectives. Visit our Educator's Corner to view and download learning objectives for each of our field trips offered through Trees and Trails, and lesson plans that include National Standards.
"Dragonflies" K - 2nd grade:
Our program can accommodate up to 65 students. Three activities are available for kindergarten through 2nd grade students. It includes:
A Children's Garden tour with instruction about beneficial and non-beneficial insects
A lesson about "Why We Need Trees" with interactive lesson about the life cycle of a tree, exposure to the shapes, sizes, and textures of trees, and the products that come from trees
A short hike to learn about the parts of trees and how they grow
"Foresters" 3rd grade - 7th grade:
Our traditional program can accommodate up to 65 students with learning stations on Invasive Species, Habitats and effects of habitat loss, Tree survival and reading tree rings. After a school provided picnic lunch, students can hike the Black Swamp and Magnolia Beech Trails.
"Explorers" 4th grade - 8th grade:
Groups of up to 75 students can participate in our Woodland, Wetlands, and Wildlife program. These learning stations are stops along the hiking trails and Mosaic Black Swamp Boardwalk.
"Teacher-guided Wetlands Adventurers Tour" 4th grade - 8th grade:
Wetlands Adventure focuses on Louisiana Wetlands: the different types and their importance, pond habitats, and exploring the Black swamp. This is not a docent led field trip. This is a teacher-guided and school chaperoned tour.
Pre-registration is required. Download and print the registration form and send it to the Botanic Gardens by Fax or Mail. The cost is $5 per student. You may want to bring snacks for the children since there are no vending machines on the property.
Our Beautiful Trees
A mature tree can pull one ton of water from the soil each day. This water cools the air through evapotranspiration acting as a natural air conditioner.

In one day an average tree exhales enough oxygen to keep a family of four breathing for that day.

The oldest living thing on earth is the Bristle cone pine tree estimated to be 4,700 years old.

The world's largest living thing, the General Sherman Giant Sequoia in California weighs 1,400 tons- as much as 300 elephants.

The tree seed that often stays in flight the longest is that of the cottonwood tree. A tiny seed is surrounded by ultra-light white fluff hairs that carry it on the air from anywhere between a minute and a couple of days.

The largest certified Oak tree in the world is one named "The Seven Sisters Oak" Mandeville, Louisiana. It measures 37 feet and 2 inches in circumference with a crown spread of 150 feet. It is estimated that it is more than 1,000 years old!

A mature oak tree can draw up to 50 or more gallons of water per day. Trees take up water through their root system. Some of the water evaporates from the leaves in a process called transpiration.

Oak trees can start producing acorns when they are 20 years old, but sometimes can go all the way to 50 years for the first production. By the time the tree is 70 to 80 years old it will produce thousands of acorns.

It is well known that squirrels hide acorns to last them through the winter season, when food is scarce. They might hide them in their homes, but they also bury them in the ground.