Education for Adults
Reflections in the Garden
The public is invited to monthly presentations by prominent, local specialists that include a wide variety of garden related topics. Bring your lunch; the drinks are on us! The one-hour sessions are held at the Ione Burden Conference Center at noon every first Monday of the month. Admission is free for members of the Friends of the LSU AgCenter Botanic Gardens and $10 per person for all others. Become a member of Friends of the LSU AgCenter Botanic Gardens (formerly known as BHS) and take advantage of attending Reflections in the Garden at no charge, along with many other benefits.
Date
Event

January 7

"Thirty Years of Growth: The Impact of Baton Rouge Green"

Sage Foley, Executive Director, Baton Rouge Green

February 4

"Color in the Garden"

Cynthia Cash, Landscape Architect

March 4

"Intense Vegetable Gardening"

Hillar Moore, EBR District Attorney; Dr. Kiki Fontenot, Assistant Professor, LSU AgCenter

April 1

"The New World of Succulents"

Rozlan Franceri, Owner, Baton Rouge Succulent Company

May 6

"Friendship Through Flowers: East Meets West"

Terri Lamb, President, Ikebana International Baton Rouge Chapter

June 3

"The Wide World of Wild and Wonderful Wildflowers"

Dr. Charles Allen, Professor, University of LA Monroe (retired), Research Associate, Colorado State University (retired)

July 1

"Gardening for Butterflies and Other Pollinators and Making a Difference as a Citizen Scientist"

Ken Bosso, Master Naturalist; Sarah Rayner, Youth Education Coordinator, LSU AgCenter Botanic Gardens at Burden

August 5

"Gingers: Foliage, Fragrance and Flowers"

Tim Chapman, Owner, Gingerwood Nursery

September 9

"Meditation and Wellness Gardens"

Wanda Chase, Landscape Architect, Imahara's

October 7

"Creative Cooking Demonstrations"

Louisiana Culinary Institute Instructors and Students

November 4

"Winter Hummingbirds"

Jane Patterson, President, Baton Rouge Audubon Society

December 2

"Place, Memory, and Garden-making at Le Petit Versailles and Rowan Oak"

Kevin Risk, Associate Professor, Robert Reich School of Landscape Architecture, LSU
Trees & Trails
Enjoy approximately five miles of trails on a hike or leisurely stroll along interactive walking paths through an urban forest and a boardwalk through wetlands in the heart of Baton Rouge. The trails are open to the public from 8:00 a.m. until 5:00 p.m. seven days a week for self-guided exploration. Map of the trails.
Gardening Organizations
Various gardening organizations provide educational and work sessions for members and the general public. Memberships may be required for some activities. Check the calendar of events to see when these groups are meeting.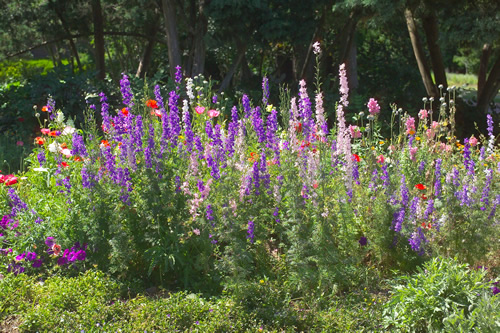 Citizen scientists are individuals from all walks of life: gardeners, nature enthusiasts, students, educators, and the general public, who would like to share their observations about nature and local ecology as part of a collaborative project with scientists and the global community. The data submitted by citizen scientists is analyzed and makes it possible for researchers to answer critical questions in ecology and conservation.
---