November is National Pet Cancer Awareness Month
November 10, 2023
Cancer is the leading disease-related cause of death for domestic dogs and cats in the U.S., and since November is National Pet Cancer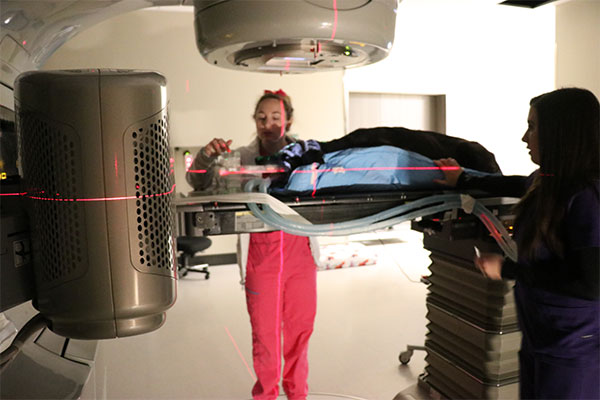 Awareness Month, the LSU School of Veterinary Medicine wants to spread the word to help educate pet owners about how best to protect their pets.
As with people, early detection of cancer is crucial, so annual exams for your pets are important, and older animals are more than prone than younger animals.
Common Types of Pet Cancer
Lymphoma
Splenic (spleen) cancer
Bone or joint cancer
Bladder cancer
Skin cancer
Anal sac cancer
Oral cancer
Brain cancer
Look for the three A's: changes in appetite, activity, and attitude. Any time you see changes in these areas, we recommend taking your pet to your veterinarian to be evaluated.
Warning Signs of Pet Cancer
Enlarged or changing lumps and bumps
Changes in attitude or appetite
Rapid weight loss
Loss of interest in playing or exercising
Blood coming from mouth or rectum
Cancer Treatment at LSU Vet Med
The Cancer Treatment Unit at LSU Vet Med was formed in 1998 and offers two major service units: medical oncology (chemotherapy) and radiation oncology.
Radiation Oncology
LSU Vet Med has the only radiation unit dedicated to animal use in Louisiana. Radiation oncologists use radiation therapy to kill cancer cells in a specific location within the body. Unlike chemotherapy, radiation typically does not cause systemic side effects since it is only delivered to one (or multiple) areas. Radiation therapy is often utilized when surgical removal is not possible. Alternatively, the incorporation of radiation therapy into a treatment plan makes less aggressive surgical options viable. Our radiation service uses a linear accelerator to deliver a high energy beam of radiation to the tumor in a highly targeted manner.
Medical Oncology (Chemotherapy)
There are several chemotherapy drugs and protocols available. Medications can be administered by mouth, intravenously, subcutaneously, or directly into the tumor. Most of our veterinary patients tolerate chemotherapy very well, regardless of the route of administration! Advances in the medical field have improved our ability to avoid, and if needed, manage chemotherapy-induced side effects.
About LSU Vet Med: Bettering lives through education, public service, and discovery
The LSU School of Veterinary Medicine is one of only 33 veterinary schools in the U.S. and the only one in Louisiana. LSU Vet Med is dedicated to improving and protecting the lives of animals and people through superior education, transformational research, and compassionate care. We teach. We heal. We discover. We protect.