LSU Vet Med Stephenson Pet Clinic opened June 27
June 28, 2022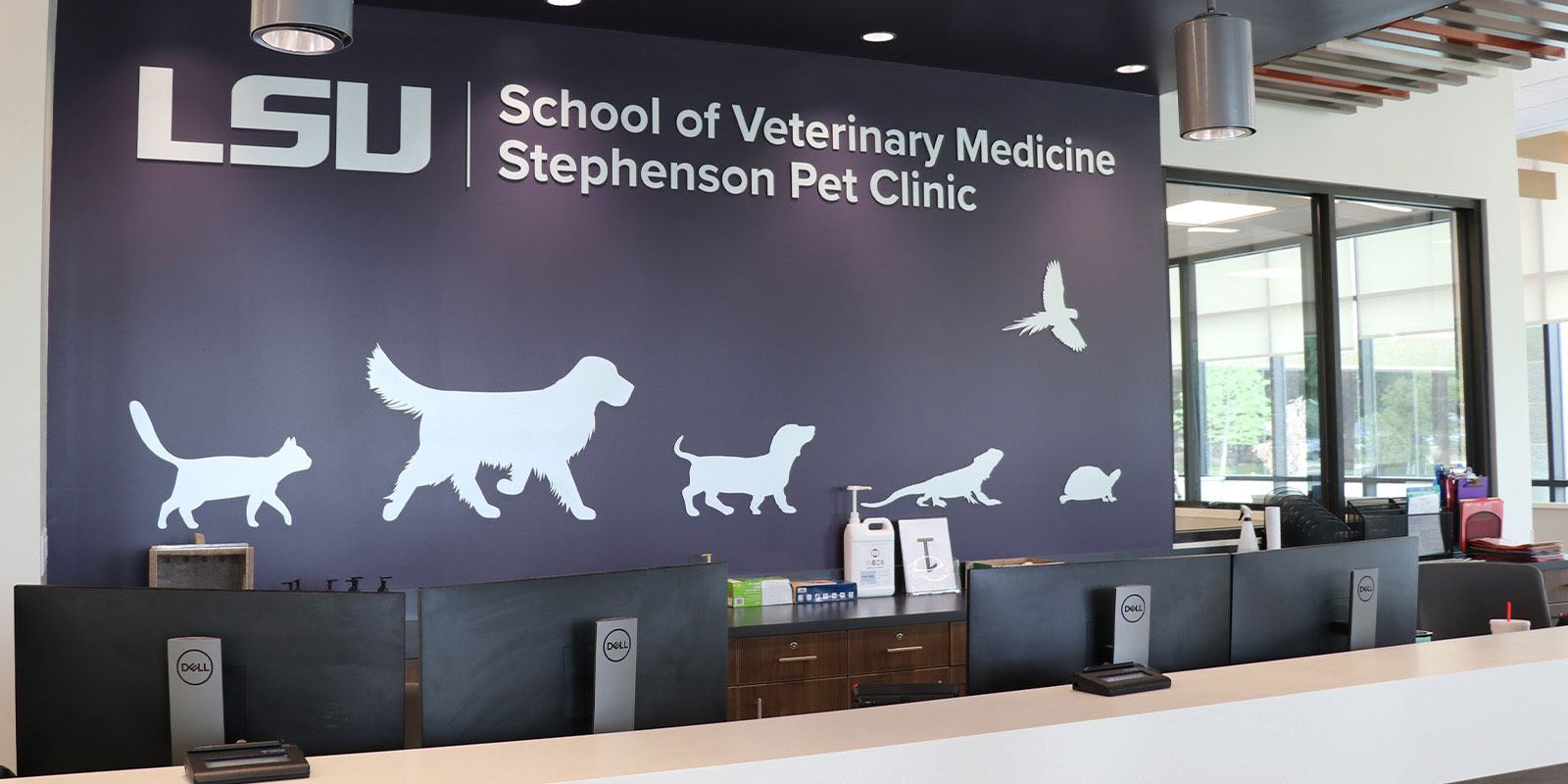 On Monday, June 27, the LSU School of Veterinary Medicine's new Stephenson Pet Clinic (SPC) started receiving patients. The clinic is located adjacent to the LSU Vet Med building on Skip Bertman Drive in Baton Rouge and now serves as the LSU Vet Med Veterinary Teaching Hospital entrance for our small animal patients. This 40,000-square-foot facility is the new home of our companion animal wellness efforts and many of our clinical services, including community practice (primary care), dermatology, integrative medicine, and ophthalmology. In addition to animal treatment space, the SPC also has space for a clinical skills lab to help LSU Vet Med students learn and practice the skills necessary to make them practice-ready veterinarians. The new building will be transformational for LSU Vet Med programs.
"Physical space can shape the ways in which we interact and the ways we accomplish that which is ours to do: to teach, to heal, to discover, to protect," said Oliver A. Garden, BVetMed, PhD, DACVIM, DECVIM-CA, dean, at the SPC ribbon-cutting. "Our new pet clinic is a place where there is a harmonious balance between form and function, where people, pets, and purpose are prioritized in the very bones of this building. The generosity of Emmet and Toni Stephenson, and all the other donors who made this dream possible, will be memorialized in the rich legacy this wonderful facility will leave for generations to come."
Emmet and Toni Stephenson, for whom the new building is named, have been generous supporters of LSU for many years. In 2007, they pledged $25 million to LSU. That pledge created the Stephenson Disaster Management Institute at the E.J. Ourso College of Business, aided the college's Department of Entrepreneurship and Information Systems and provided support for LSU Vet Med.
The facility was constructed with combination of state funds and $4 million in private funds from more than 300 individual donors, with the primary donors being Emmet and Toni Stephenson. The current Veterinary Medicine Building was completed in 1978. Since then, LSU Vet Med has greatly increased the number of people, labs, and services since then, and this new clinic allows us to grow and improve services to our patients.
Emmet Stephenson stated at the ribbon cutting, "Today is the culmination of 10 years of planning and effort in the making. Toni and I greatly appreciate the excellent care that LSU Vet Med provides to sick and injured animals, and we respect the ground-breaking medical research performed by the faculty and doctoral candidates."
About LSU Vet Med: Bettering lives through education, public service, and discovery
The LSU School of Veterinary Medicine is one of only 33 veterinary schools in the U.S. and the only one in Louisiana. LSU Vet Med is dedicated to improving and protecting the lives of animals and people through superior education, transformational research, and compassionate care. We teach. We heal. We discover. We protect.