LSU Vet Med Palpation Team Fares Well in Competition
April 29, 2022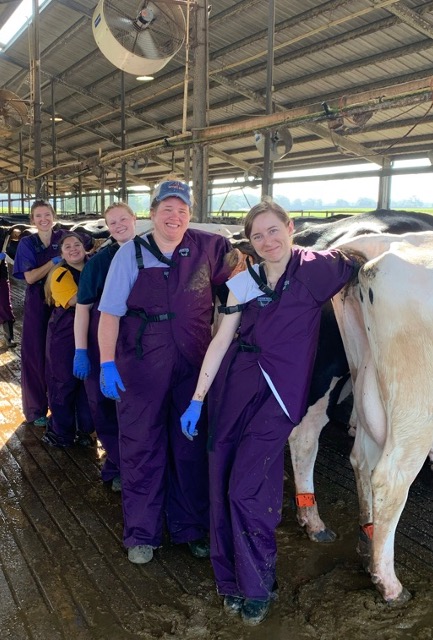 The LSU Vet Med palpation team that brought home a fourth-place win includes DVM Class of 2023 students Sarah McDonnell, Sharon Gaines, Emily Carroll, Edelicia Garcia, and Sydney Mouser. Of the 14 teams that competed, the LSU Vet Med team finished fifth in the didactic examination and fourth in the laboratory portions of the competition and ended in fourth place overall after the actual palpation contest. Sydney Mouser was outstanding in the individual competition, finishing second overall.
"We are so proud of this team," said Clare Scully, DVM, DACT, associate professor of food animal health maintenance. "Keep in mind this is completely a voluntary activity for our students that starts in August and runs through March. They devote early mornings and weekends to palpating practice and learning everything they can about Bovine Theriogenology. It has been an honor to witness their progress and a privilege to see them succeed."
Said Emily Carroll from Bentonville, Ark., who plans to go into large animal medicine after graduation, "My favorite thing about being a part of the bovine palpation team is the opportunity we had to really practice and learn to identify pregnancies is all stages and even phases of the estrous cycle. The palpation team is a unique place that I was able to receive faculty support and time to be able to palpate cattle every weekend for a year. I am so thankful for the LSU Dairy for letting us come and palpate, Dr. Scully for taking the time to mentor and really invest in us, and for my teammates learning and smiling with me every weekend."
"The competition was a great assessment tool, and I liked seeing what the University of Minnesota bovine veterinarians felt was important to put on the practical and written exams, but in the end my favorite part of being a member of the LSU Bovine Palpation Team was spending all those weekends at the LSU Dairy learning from Drs. Scully, Muir, Welborn and Herzog and my fellow teammates about how to become excellent palpators," said Sharon Gaines from West Monroe, La., who plans to go into large animal medicine in a rural area while continuing rural agricultural development work in central Asia. "Their investment in us will make us better veterinarians, whether we work with large or small animals, because as Dr. Scully tells us—all veterinarians use palpation skills!"
Said Sarah McDonnell from Houston, Texas, and who plans to pursue regulatory work and public policy development after graduation, "I wanted to familiarize myself with a species I had never worked with before starting veterinary school. But more importantly, my interest as a student focused on food animal studies was to learn more about our nation's agricultural industries, the people they employ, and earn a greater appreciation for what veterinarians do in a public practice setting."
Added Sydney Mouser from Shreveport, La., who plans to work in mixed animal practice, hopefully in theriogenology (reproduction), "I think overall my favorite part about this team and competition was being able to learn and compete alongside colleagues and now friends that are just as genuinely interested in this aspect of veterinary medicine as I am. Dr. Scully gave us such a unique opportunity to develop our palpation skills, and I am so grateful that I had the opportunity to be able to do it with this group of teammates. The competition in Minnesota was not only a great excuse to bond with my teammates but to further increase our knowledge and interest in bovine reproduction. This palpation team will definitely be one of the highlights of my veterinary school career."
"I love cows!" said Edelicia Garcia from Edinburg, Texas, who plans to go not large animal or mixed animal practice. "But I didn't have a lot of experience with them, so I thought being on the palpation team would give me that. And it did! I'm also interested in theriogenology so being able to get more familiar with that aspect of veterinary medicine was great. My favorite part of the competition was seeing the diversity among the teams. Different people with different backgrounds all coming together to palpate some cows!"
Matt Welborn, DVM (LSU 1987), DACPM, professor of food animal health maintenance; Andrew Muir, DVM, assistant professor of food animal medicine and surgery; and Fiona Herzog, DVM, theriogenology resident, all participated and helped trained this team.
About LSU Vet Med: Bettering lives through education, public service, and discovery
The LSU School of Veterinary Medicine is one of only 32 veterinary schools in the U.S. and the only one in Louisiana. LSU Vet Med is dedicated to improving and protecting the lives of animals and people through superior education, transformational research, and compassionate care. We teach. We heal. We discover. We protect.