LSU Chemistry alumnus Andrés Villalpando serving new role as IPA Plant Chemist at ExxonMobil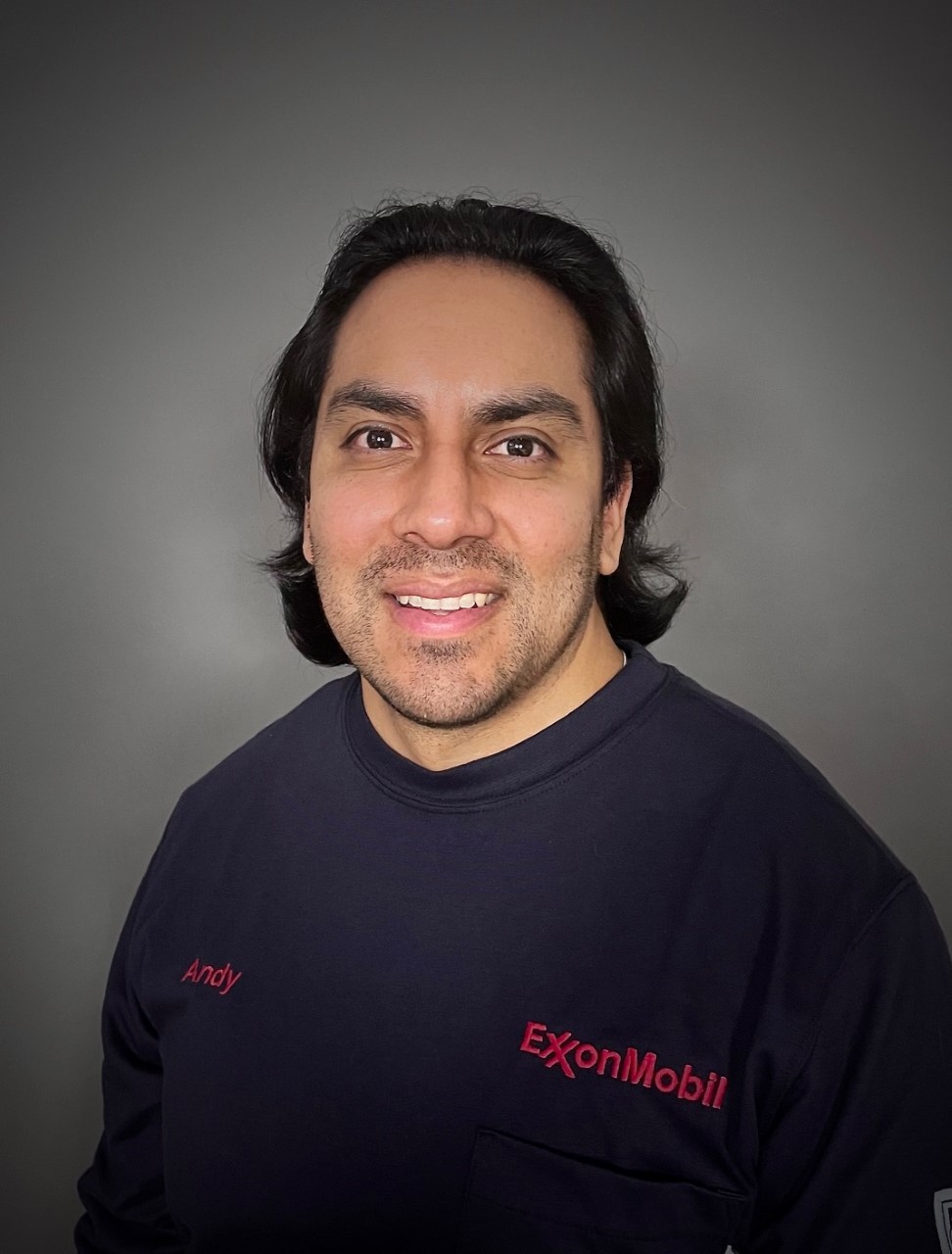 Due to the COVID-19 pandemic, the need for chemicals used in disinfectant products has been on the rise across the globe. Near Louisiana State University's main campus is ExxonMobil's Baton Rouge Chemical Plant. Each year, the plant produces millions of gallons of isopropyl alcohol (IPA), a key ingredient in many disinfectant sprays, alcohol wipes, and medical hand sanitizers. In fact, ExxonMobil's Baton Rouge Chemical Plant is home to the largest IPA production in the world.
Starting this January, LSU Chemistry alumnus Andrés Villalpando will serve as Plant Chemist for the IPA unit at the ExxonMobil Baton Rouge Chemical Plant. "I am excited about this new role and the opportunities that come along with it. I look forward to this new and exciting challenge," Villalpando said.
ExxonMobil has been involved in the production and supply of IPA to the commercial market for the past 100 years. Although the general formula hasn't changed, requirements for specialty IPA grades require a robust analytical lab to ensure consistent product quality.
"From a laboratory perspective, data is our product. We need to provide a reliable high quality product that meets our customers' needs," Villalpando said.
Villalpando, originally from Poway, California, is a first-generation high school and college graduate. Villalpando shared how attaining a college education was important to him and his family.
"Going to college was always important to me, especially being a first-generation graduate. My older siblings set the example and made sure college was a priority," shared Villalpando. "I always worked hard in and out of the classroom in order to be successful and prove not only to myself but to others that I could do it."
Villalpando received an academic scholarship to attend Whittier College for his undergraduate studies. It was during his experience as an undergraduate researcher under Associate Professor Ralph Isovitsch (LSU Chemistry PhD, 1997) that Villalpando developed an interest in organic chemistry and research.
"Andy had the curiosity, strong work ethic, and maturity that made me believe he would be a success. His story is one that I regularly tell my students," Isovitsch said. "I couldn't be more proud of Andy and his accomplishments."
As an undergraduate, Villalpando co-authored two publications on the synthesis of novel anthracenyl Schiff base and stilbene-bypyridine ligands for their utilization in the preparation of organic light emitting diodes. Following Isovitsch's recommendation, Villalpando pursued graduate school in chemistry at Louisiana State University.
Villalpando joined the research group of Associate Professor Rendy Kartika. His graduate research project focused on the development of a novel chlorination method using triphosgene and an amine base to convert aliphatic alcohols into chlorides, which lead to three co-authored publications.
"Andrés is the first PhD graduate from my research group. During his time at LSU, he developed a highly effective and robust reaction that converts alcohols to alkyl chlorides using triphosgene as the key reagent," Kartika said. "Andrés' research has impacted the organic synthesis community. For instance, Prof. Dirk Trauner and Prof. Chris Vanderwal noted respectively that Andres' chlorination reaction "outperformed classical SOCl2 or Appel conditions" (J. Org. Chem. 2017, 82, 8206) and "uniquely effective" (J. Am. Chem. Soc. 2019, 141, 9202)."
Villalpando's work continues to be applied in the Kartika Research Group. "Using the chemistries that he developed, we are currently working on the design of new synthetic reactions that produce chlorine-containing heterocyclic compounds, which are highly relevant in medicinal chemistry." Kartika said.
After earning is PhD in 2016, Villalpando conducted postdoctoral research at the U.S. Department of Agriculture's Southern Regional Research Center in New Orleans under Dr. Michael Easson (LSU Chemistry PhD, 2008) and collaborated with Dr. H.N. Cheng. His research focused on the development of enhanced cotton applications, such as the increased absorbent properties of carboxymethylated cotton fibers for their use in nonwoven markets, particularly personal hygiene products.
In December 2017, Villalpando joined ExxonMobil as a polymer chemist at the Baton Rouge Chemical Plant. In this position, Villalpando served as the Plant Chemist for three polymer units; two rubber units and one resin unit.
Villalpando is a member of ExxonMobil's employee group Global Organization for the Advancement of Latinos (GOAL), an employee-led resource group that aims in fostering an inclusive environment and diverse culture through development programs, community service opportunities, and mentoring.
"I was very fortunate to have impactful mentors throughout my academic career who saw in me what I couldn't always see in myself. They took a chance on me and pushed me to succeed." Villalpando said. "Without their guidance and the opportunities they presented me, I would not be where I am today; I owe them everything."
Gretchen Schneider | January 27, 2021