"Instead of Using Fossil Fuels, We Can Use Carbon Dioxide from the Air to Make Valuable Products"
April 06, 2022
Meet LSU chemical engineering student John "Cal" Hendershot.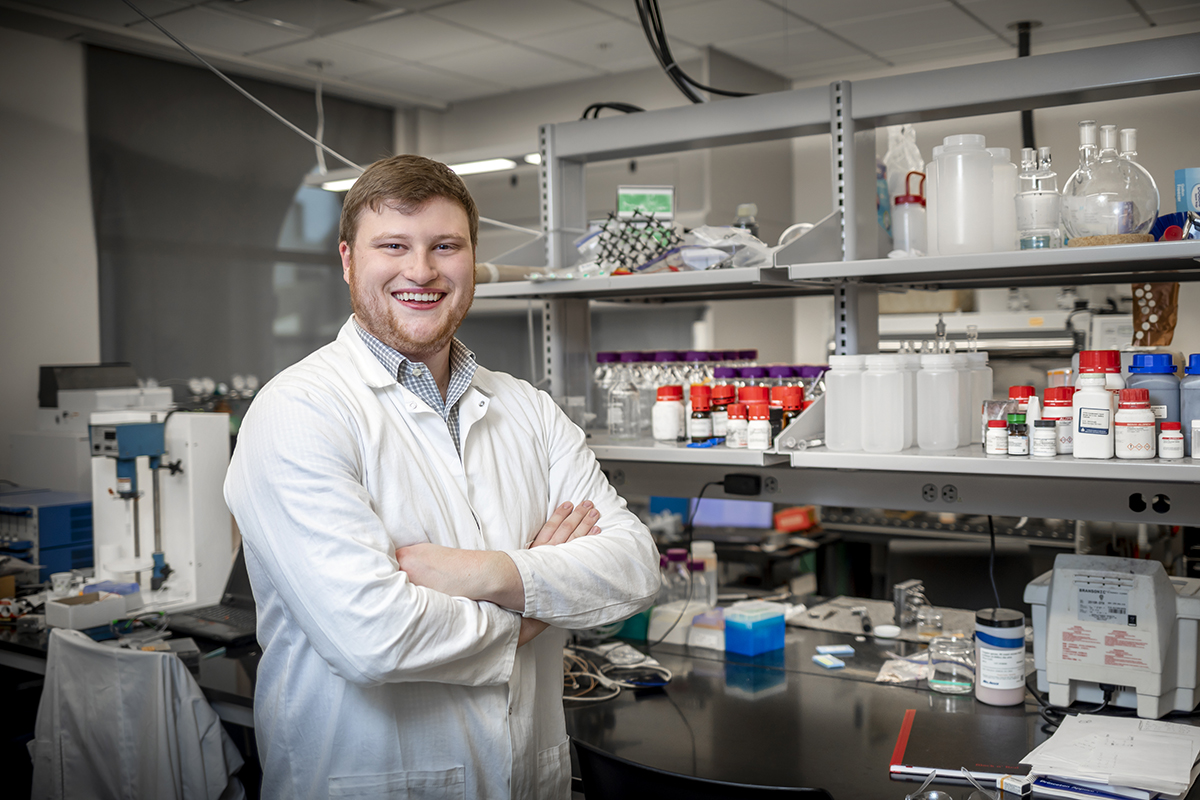 Baton Rouge—Cal Hendershot came to LSU to walk in his grandfather's footsteps. His grandfather got his Ph.D. in economics and business administration at LSU in 1947 and later taught at the university, having earned the nickname "Nails."
Cal Hendershot chose a different field. He's working toward a Ph.D. in chemical engineering, but still with an eye on economics—more precisely, on the sustainability and bottom line of Louisiana's vital energy industry. The focus of his research is on developing solutions for chemical companies, which are closely tied to oil and gas, to allow them to stay true to 2050 carbon neutrality commitments but remain operational and profitable along the way.
"Energy is the major challenge facing our time," Hendershot said. "Just like we needed to develop new technologies to bring about the agricultural revolution in the 1960s to have enough food for everyone on our planet, something like that needs to happen now for energy, and I want to be part of that."
Louisiana's chemical industry is intrinsically linked to the state's outsize energy production and consumption, and since almost all of the state's energy still comes from fossil fuels (petroleum and natural gas), Louisiana sustains a heavy carbon footprint—about three times the U.S. average per person. Today, the chemical industry relies on fossil fuels as a carbon source (a key ingredient for many of the products we rely on every day) as well as for power to keep the lights on and to drive chemical processes, of which the most important is the creation of ethylene. This basic chemical building block (most commonly made from natural gas, while Hendershot is working on an alternative) can be used to produce everything from shower gel to plastics—it's the Swiss Army knife or mother sauce of chemical manufacturing. The U.S. produces more than 200 pounds of ethylene per person per year, and 95% of it is produced in Louisiana and Texas.
"It's pretty amazing to be working on what's going to be the next big breakthrough in the energy area—the next billion-dollar industry."

Cal Hendershot
When fossil fuels are burned, they become carbon dioxide and water. With more carbon dioxide in the atmosphere today than ever before with people on the planet, arriving at carbon neutrality by 2050 seems like a lofty goal since 80% of our energy still comes from fossil fuels. This is why Hendershot is part of a $4 million research project to turn the "fossil fuel + oxygen --> carbon dioxide + water" equation completely around. He's developing the most affordable and efficient ways to take carbon dioxide from the air, add water, and turn them, not into fossil fuel, but into ethylene (C2H4) or ethanol (C2H5OH) and oxygen. This sort of reverse combustion is the only technology currently available to us today to arrive at net-negative carbon emissions and effectively erasing our carbon footprint.
To come up with machines to run this kind of reverse combustion on an industrial scale, Hendershot builds reactors, or electrolyzers, in his and Professor John Flake's lab at LSU. Their goal is to find the optimal configuration—the least electrical energy in (from renewables), and the most product out—so the process can be as effective and affordable as possible.
"We're measuring what we're putting in and what we're getting out; what our efficiencies are," Hendershot said. "Then we scale that up and present our results to the large chemical companies to give them a complete economic breakdown and help them find the sweet spot. It's pretty amazing to be working on what's going to be the next big breakthrough in the energy area—the next billion-dollar industry."
"If I could have told my grandfather or my 10-year-old self that I would be figuring out how to take carbon dioxide from the air and convert it into carbon-based products, that would have been… well, pretty cool," Hendershot added, making his understatement apparent with a sly grin.
The work Hendershot and Flake are doing fits into a rapidly evolving research area known as CCUS, which stands for carbon capture, use, and sequestration (or storage).
"The great thing about CCUS is that it integrates really well with our current energy infrastructure and Louisiana's petrochemical industry," Hendershot said. "If we capture the carbon dioxide at the source, at geographically clustered industrial plants, such as along the Mississippi River between Baton Rouge and New Orleans, or around Lake Charles, instead of letting it dissipate into the air, we can convert the CO2 into valuable products."
The Flake group's research is drawing interest from large chemical companies, such as Dow.
"The research by the Flake group at LSU could help us overcome serious limitations in using carbon dioxide to make valuable carbon-based feedstocks," said Carlos Villa, research and development fellow at Dow. "This work should bring us closer to our goal of reversing decades of transforming feedstocks into carbon dioxide and will speed up our transition toward more sustainable chemical manufacturing."
Read more:
LSU, Delaware to Develop Chemical Manufacturing Processes Using CO2 Feedstocks and Renewable Energy (LSU Engineering)

Putting the Carbon Genie to Work: Carbon Capture, Use, and Storage (LSU Office of Research & Economic Development)


This news story was featured in LSU's free research publication, Working for Louisiana, where you can learn more about how work on every LSU campus impacts residents and industry in the state and beyond.