2022 Site Projects
In 2019, the Friends of Hilltop Arboretum launched a fundraising campaign for $50,000 to implement four site projects in the Hilltop Master Plan. We reached our goal through the generosity of our Hilltop family of supporters. We can't thank you enough! When the Arboretum was closed last year to the public due to the COVID-19 pandemic, we completed the projects shown below: 1) seeded additional wildflowers and grasses in the meadow, 2) constructed a new walkway along the administration building, 3) installed a new plant collection in the Upland Glade of the ravines, and 4) constructed 10 additional parking spaces.
Now, We Need Help with Our Next Projects: Enhancing Emory Smith's Legacy
We would like to continue with projects that focus on plants that can only proceed with your support! To do this, a fundraising goal of $50,000 is needed by May 31, 2022. Your tax-deductible contribution will be used to: 1) install new plant collections and irrigation in the "Central Ravine" and "Cathedral," and 2) "Hedgerow" plantings along the west and east perimeters.
More about the Central Ravine and Cathedral!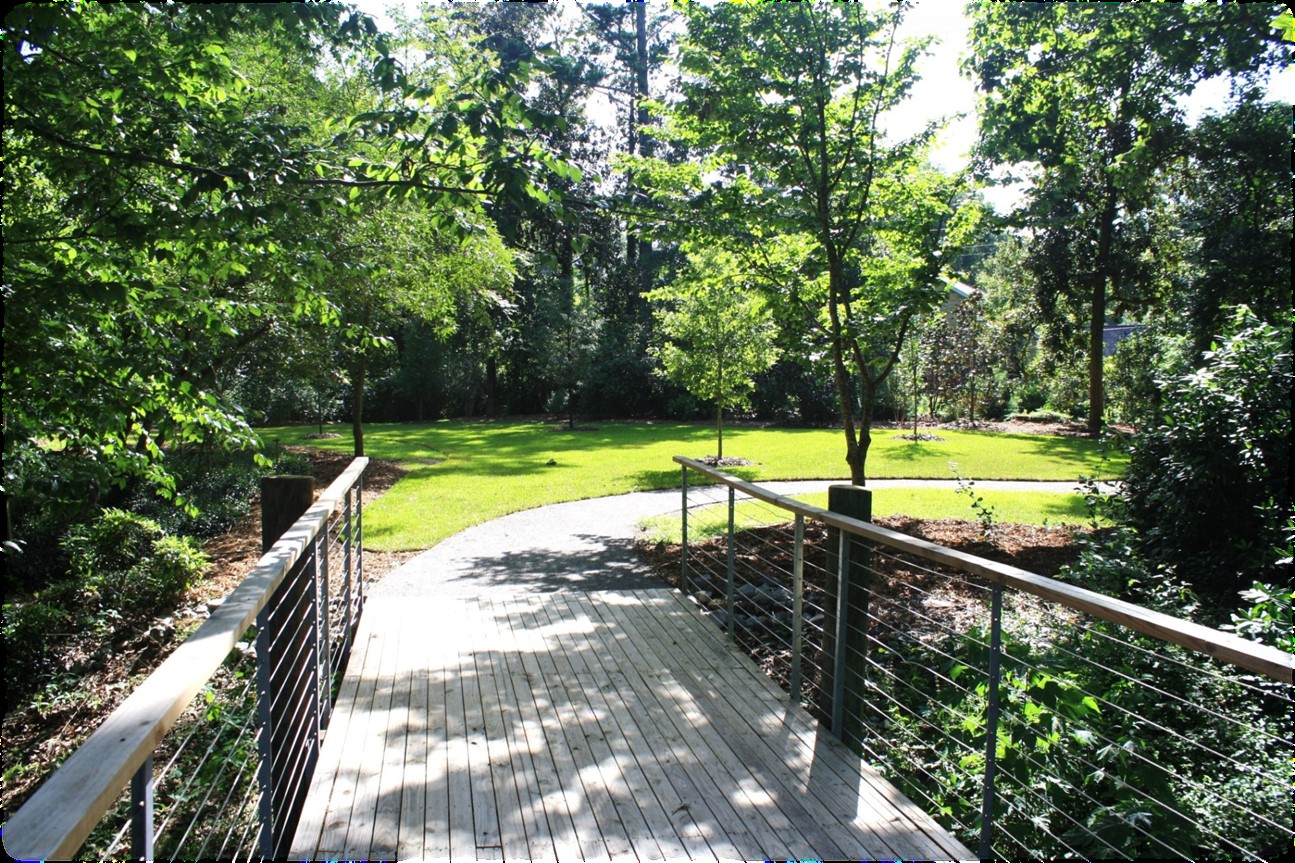 These two spaces were very special to Emory Smith! They are in plain view from his picture window in his small home, which he built himself, with recycled materials during WWII. During his time the serene landscape included soaring high canopy trees, like the nave of a cathedral, and a layered shrub and perennial planting underneath. Due to decades of hurricanes, the trees and plant materials are in need of restoration.
To design the planting plan, we will use Wayne Womack's historical drawings of Emory's original plant collections for inspiration. These enhancements will increase visitors' enjoyment of a significant native plant community that can only be found locally at Hilltop because of the legacy of Emory Smith.
More about the Hedgerow Plantings!
Houses consistently surround three sides of Hilltop's 14-acre site with private domestic yards facing the Arboretum. To screen these areas from view and to attract wildlife, the Master Plan proposes planting hedgerows of different plant character along the west and east stretches of the property. These diverse plantings also serve to define the landscape spaces within the Arboretum, expand upon the existing native plant collections, and contribute to the site's rural character.
Our Fundraising Timeline and Ways To Donate!
The Friends of Hilltop Board of Directors has set a spring deadline of May 31, 2022 to raise the funds for these exciting new projects. You can kick-off the fundraising campaign with an end-of-year, tax-deductible contribution in 2021. If you would to make a donation click on "DONATE" in the right-hand column. However, contributions can still be made by the deadline of May 31, 2022.
For those of you that have reached 70 and a half with an IRA, a very tax-efficient way to make a charitable donation is to make a direct distribution from your IRA to a qualified charity (QDC-Qualified Charitable Donation). Not all forms of IRA's can be used. Consult your tax adviser to determine if a QDC is appropriate for you. The Taxpayer Certainty and Disaster Tax Relief Act of 2020 provides several provisions to help individuals who give to charity through the end of 2021. Ordinarily, individuals who elect to take the standard deduction cannot claim their charitable contributions. The law now permits individuals, including married individuals filing separate returns, to claim a deduction of up to $300 for cash contributions made to qualifying charities during 2021. The maximum deduction is increased to $600 for married individuals filing joint returns.
Working together, all of us have achieved something truly special at this place called Hilltop. Our current projects have Emory Smith in mind as they keep us focused on the roots of what the Arboretum is about - plants! Please join in this fund raising effort to develop and sustain the excellent design and horticultural work at Hilltop.
Completed Site Projects
Make Your Tax-Deductible Donation Today!
Questions? Call 225-767-6916 or email hilltop@lsu.edu.