Volunteer
Come and be a part of Hilltop!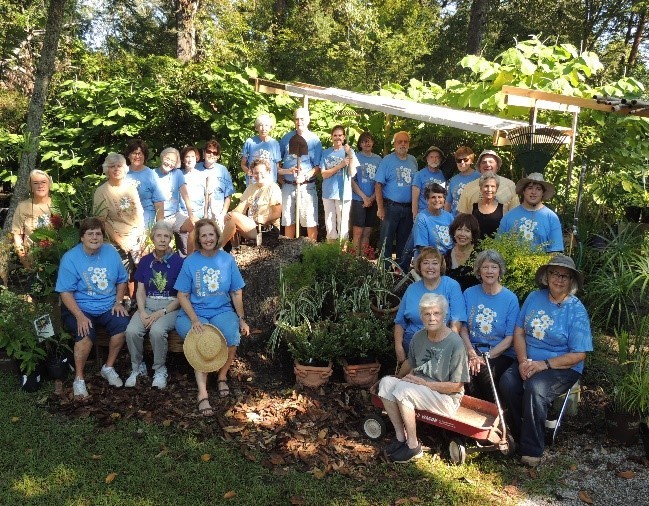 We need volunteers like you to help us with our Hodge Podge Nursery that meets weekly most of the year, and also help with seasonal plant sales, garden tours, and site work days.
The 14-acre property known as Hilltop was donated to Louisiana State University by Emory Smith, a retired postal worker with a decided passion for plants, particularly those native to Louisiana. In the interest of sharing his enthusiasm, he shared and encouraged the sharing of plants. The Friends of Hilltop "Hodge Podge" group has followed his lead by giving the Arboretum's friends and fans the opportunity to scour their gardens for plants in need of a new home. From its humble beginnings as a quiet corner at the annual October plant sale, Hodge Podge has literally "blossomed" into a volunteer mini-nursery operation.
You are cordially invited to come "putter" with the Podge. We gather most Wednesdays beginning around 9:00am and adjourning around noon for a modest pot luck repast. Our mantra is: "Come when you want, if you want and stay for as long as you want". You'll be glad you did, and so will we!
Meadow Work Days
Check back for dates
Opportunities abound as we prepare the meadow for next season's blooms. Come learn more about our maintenance planting strategy and help us prepare the quadrants for seeding. We are always looking for extra hands in our meadow! This will be a great opportunity to learn more and "plug in."
Site Work Day - Emory Smith Tree Planting
Stay tuned for Tree Planting Day in Early 2024
Roll up your sleeves, sharpen your shovel, and join us to plant several trees along the northern perimeter of the Arboretum on Saturday, December 2, 2023, from 8am-12noon. Be a part of fulfilling Emory Smith's dream that Hilltop will become a "complete arboretum of native Southern trees and plants." We will be planting
southern magnolia, sweet bay magnolia, spruce pine, wax myrtle, and more.
Newton Landscape Group will help us coordinate the tree planting activities. The Hodge Podge Volunteers will have coffee and snacks ready for your enjoyment in the Beverly Brown Coates Auditorium.
Come for all or part of the time. We welcome your participation!
More Information
Let us know your volunteer interests. We send weekly reminders for Hodge Podge Nursery activities, and for other volunteer events as needed. Master gardeners received Service Credit for all Hilltop volunteer activities. Questions? Call 225-767-6916 or email hilltop@lsu.edu.