2022 Wildflower Seed Planting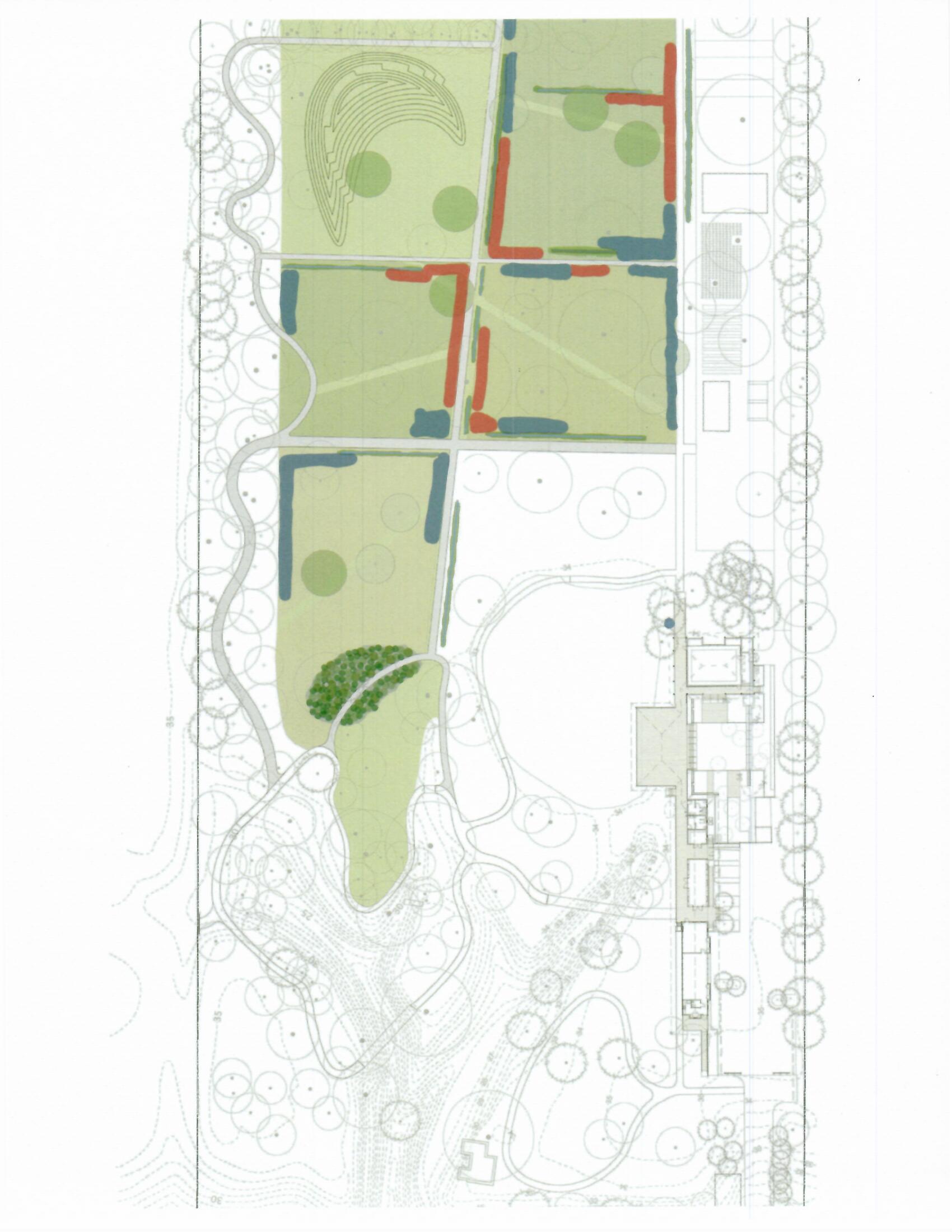 Hilltop's Cajun Prairie inspired meadow was bush hogged in January 2022. On February 12, volunteers gathered to prepare the meadow edges and disperse the wildflower seeds. Using data from the last two years, a seed planting plan was drawn to guide the distribution, specifically targeting areas defined as wet (blue) or dry (red).
On Thursday, February 10th, Hilltop's Meadow Coordinator, Colin Nelson, met with volunteer, Bob Dillemuth, and graduate assistants, Jacob Contreras and Huan Guo, to mix the seeds. The seeds were mixed in 5-gallon buckets along with some Vermiculite, Coco Coir Mixture, and Pelletized Gypsum.
Saturday morning, Colin staked off the edges of the meadows and had flags indicating the areas defined as wet or dry. Volunteers started raking up the bigger cuttings from the bush hogging, in order to get better seed to soil contact. They raked about six to eight feet in from the meadow edges.
The wet and dry seed buckets were placed in the designated areas. Working in teams, one volunteer would toss the seeds in small handfuls and the other would then do the "seed shuffle." Which Colin defined as using your foot to help press the seeds into the ground. When the seed scattering was completed, Colin used the Gator and a sprayer tank to water all of the seeds along the meadow edges.
In all, 18 different wildflowers were selected for the planting. You can expect to see a spectacular display of native annual and perennial flowers in the spring, summer, and fall of 2022. We will track the germination rate and growth performance of the seeds throughout the coming year.
The seed palette was recommended by Dr. Charles Allen, the foremost expert on the Cajun Prairie in Louisiana. The seeds were purchased from the American Native Seed Company in Junction, Texas.
Hilltop's 2022 wildflower seed palette includes: Plains Coreopsis, Indian Blanket, Purple Coneflower, Lanceleaf Coreopsis, Black-Eyed Susan, American Basket Flower, Lemon Mint, Purple Prairie Clover, Yellow Puffs, Cardinal Flower, Drummond Phlox, Cutleaf Evening Primrose, Gayfeather Blazing Star, Mexican Hat, Pink Evening Primrose, Purple Cornflower - Narrow Leaf, Simpson Rosinweed, and Rattlesnake Master.
Thank you to our seed-tossing volunteers!
Select pictures from our 2022 Wildflower Seed Planting!
Click on a picture to bring up a caption and then scroll through to see the others. Enjoy.