Facilities
The Department of Biological and Agricultural Engineering has classrooms and teaching labs in our buildings E. B. Doran and Ag Metals located at the corner of South Stadium Rd. and Tower Dr. (#6 on this LSU campus map). Most of our faculty have offices in E. B. Doran, and our classes are often held in the labs of the Ag Metals Building.
If you need additional assistance, please call (225) 578-3153.
Below is a building map of both E. B. Doran and Ag Metals. Click on the map for an expandable view of our buildings:
Student Points of Interest:
Metal Shop (Room 128)
PC Lab (Room 106)
Biomechanics/Instrumentation Teaching Lab (Room 106-A)
Computer Lab (Room 138)
Teaching Lab (Room 140)
Teaching Lab (Room 142)
Classroom (Room 115)
Conference Room (Room 131)
Main Office (Room 149)
---
Labs
In Ag Metals, our department maintains two main computer labs: PC Lab (Rm. 106) and the Sun Lab (Rm. 138).
Classes are held in these labs, but outside of posted class times and during operating hours, these labs are available to BE students for any course-related work. In addition to these labs, a third teaching lab is used for Instrumentation and Biomechanics and has an additional 10 computers for a total of over 75 stations.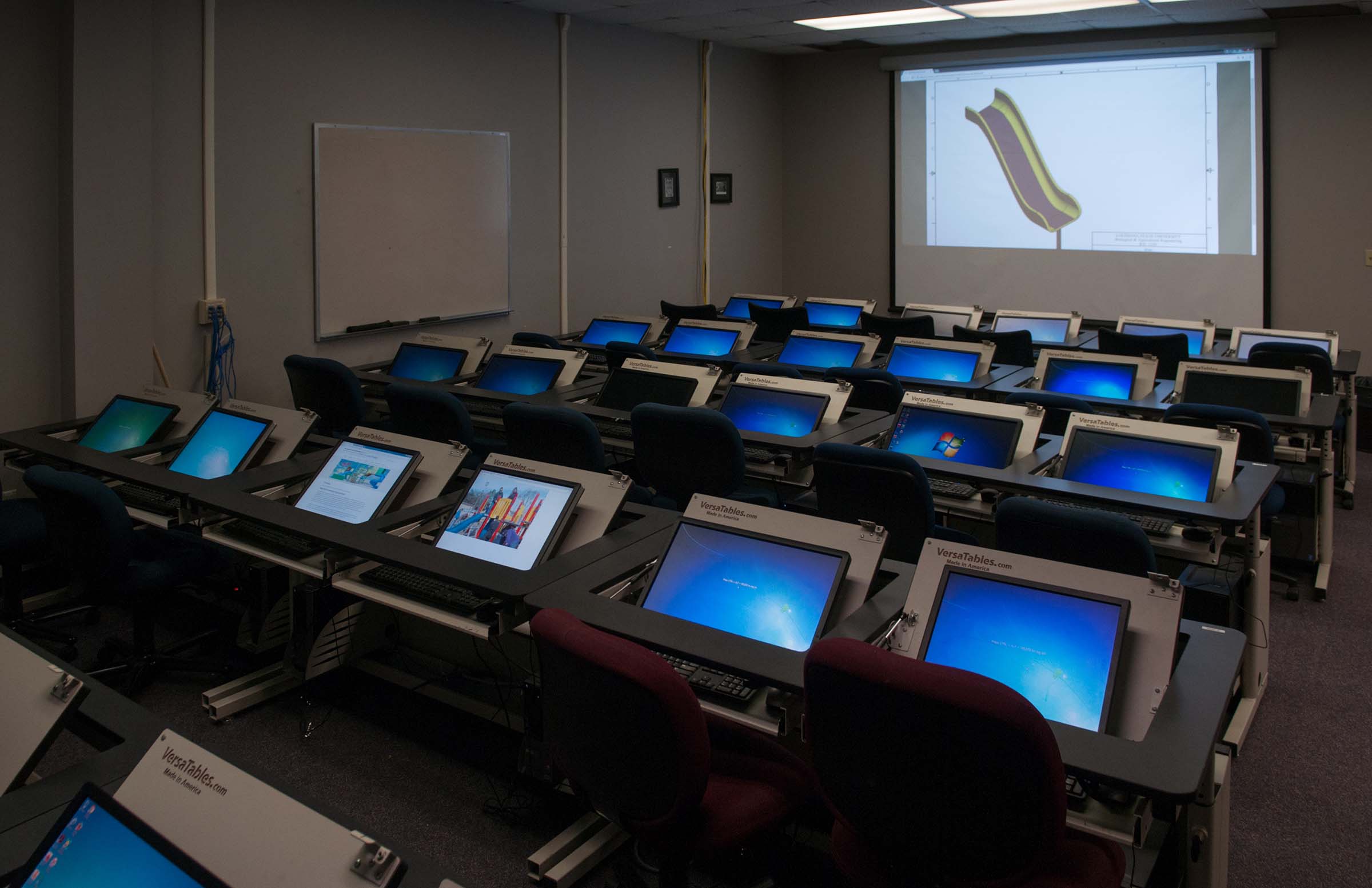 Operating Hours
8:30-4:30 PM, Monday- Friday
Locations
106 & 138 Ag Metals Building, LSU
Programs Available (updated annually)
Adobe Reader
ArcGIS
Arduino IDE
Autodesk
Comsol
Fritzing
Google Earth
ImageJ
Kinovea
LabVIEW
MatLab
Microsoft Office Suite
Phys Tracker
STELLA
SuperProDesigner
VMware
---
Research Labs
Biomedical Engineering
Tissue Engineering & Regenerative Medicine: Jung Lab
Cellular & Molecular Engineering: Monroe Lab
Nanoparticle Targeted Delivery: Sabliov Lab
Bioenvironmental Engineering
Bioenergy: Bolder Lab, Theegala Lab
Water Resources: Theegala Lab, Constant Lab
Precision Agriculture: Dean Lee Research Station - Randy Price
Bioprocessing Engineering
Food Processing: Sathivel Lab
Colloidal/Nanoparticle Systems: Astete and Sabliov Lab