BS Kinesiology: Athletic Training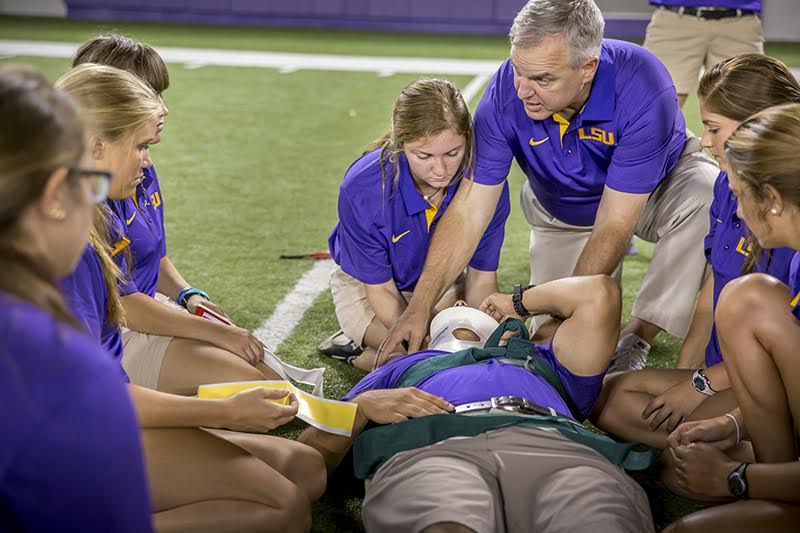 The Athletic Training program at LSU is a limited admissions program designed to prepare students for a successful career as a highly qualified health care professional.
Upon completion of the three-year Professional Phase (clinical component) students are educated and experienced in the management of health care problems associated with the physically active. If selected to the Professional Phase, students must successfully complete required criteria set forth by the School of Kinesiology's Bachelor of Science in Athletic Training, as well as meet established criteria to progress and graduate from the program. Successful completion of this program qualifies students to take the athletic training profession's Board of Certification (www.bocatc.org) Credentialing Examination to become a certified athletic trainer (ATC), as well as all relevant state practice requirements.
LSU's Bachelor of Science in Athletic Training is accredited by the Commission on Accreditation of Athletic Training Education (CAATE). Graduates from our program establish successful careers as athletic trainers in secondary schools, colleges and universities, professional sports programs, sports medicine clinics, physician clinics, and other athletic health care settings. Interested students should contact our program faculty for additional information on the program and careers in athletic training.
Our primary objective is to create highly qualified clinicians to meet today's healthcare demands. LSU's program in athletic training is a flagship program in Louisiana and the nation for its reputation of its teaching facilities, faculty, clinical staff, and program graduates. This is accomplished through quality opportunities in the classroom and clinical settings, and most importantly, nationally recognized clinicians and faculty who are committed to each student's overall success.
Mission
The mission of the Athletic Training program at Louisiana State University is to provide quality didactic and clinical experiences to athletic training students through interactive instructional methods and exposure to a variety clinical education settings and patient populations.
Program Objectives
Outcome: Injury and Illness Prevention and Wellness Promotion
Demonstrate a sound knowledge of mechanisms to promote healthy lifestyle behaviors to enhance wellness and minimize the risk of injury and illness.
Outcome: Examination, Assessment, and Diagnosis
Demonstrate comprehensive knowledge and skills to formulate valid clinical diagnoses and determine appropriate medical treatment and referral.
Outcome: Immediate and Emergency Care
Demonstrate comprehensive knowledge and skills in immediate and emergency care for optimal patient outcomes.
Outcome: Therapeutic Interventions
Demonstrate comprehensive knowledge and skills in utilizing appropriate therapeutic interventions for injuries, illnesses and general medical conditions with the goal of achieving optimal physical activity.
Outcome: Healthcare Administration and Professional Responsibility
Demonstrate the ability to implement best practices in healthcare policy, documentation and professional development to promote optimal patient care.
Outcome: Healthcare Workforce Preparation
Students are prepared to practice as a competent healthcare provider as set forth by the BOC and CAATE.
Outcome: Athletic Training Clinical Experiences
Athletic training students will effectively apply acquired knowledge, skills, and abilities in a variety of patient care settings and populations.