Schedule an Appointment or Reserve a Studio Resource
Located throughout the LSU campus, CxC's four studios house contemporary communication-intensive learning resources and technologies accessible to all LSU undergraduates. From writing and presentation coaching to audio-visual technologies, CxC studios champion advanced teaching and learning across the disciplines. The following services are available in all four studios:
Communication Coaching
Distinguished Communicator mentoring
Writing consultations
Communication skills workshops
Portfolio coaching
Visual development support
Presentation training
Communication Technologies
Conference rooms with teleconferencing
Large-format poster printing
AV equipment check-out
Digital documentation for portfolios
VR and 360 sound immersive studio
Sound booth recording
Presentation recording and capture
Podcasting
Audio and video editing
Data visualization
3-D printing and scanning
In addition to these basic services, each studio offers specialized services essential to their discipline, including some multimedia equipment available for check-out. CxC Studios are open to all LSU students and faculty. All CxC services are free; however, there may be minimal fees for printing services where available.
Locations
104-A Design Bldg.
Contact: Josef Horáček
Phone: 578-1197
Specialty: writing and speaking in the arts, 3D fabrication
1269 Patrick Taylor Hall
Contact: Boz Bowles
Phone: 578-2632
Specialty: engineering posters, presentations, and 3D visualization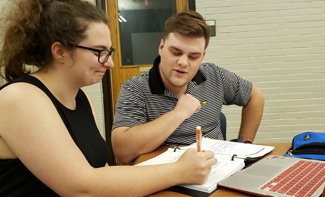 CxC Humanities & Social Sciences Studio 151
151 Coates Hall
Contact: studio151@lsu.edu
Phone: 578-7656
Specialty: multimedia projects, presentations, audio and video production, writing support for all disciplines
(inside Studio 151)
Contact: Becky Carmichael
Phone: 578-7656
Specialty: science writing, posters, presentations, and 3D visualization