Projects
The SREC brings together Baton Rouge academic and community partners with the goal to foster healthy social systems by facilitating the development, implementation and evaluation of social programs, conducting research and providing consultation and expertise. For more information on any of these projects, please contact us at srec@lsu.edu.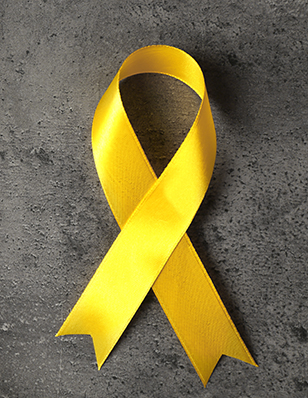 COVID-19 Emergency Response for Suicide Prevention (COVID-19 ERSP) Project
The purpose of the COVID-19 ERSP Project is to advance efforts to prevent suicide and suicide attempts among adults age 25 and older in Southeast Louisiana, as well as provide support to individuals and families experiencing domestic/intimate partner violence. The Substance Abuse and Mental Health Services Administration (SAMHSA) awarded this grant to reduce the overall suicide rate as Americans experience increases in financial stability, isolation, loss of employment, grief, trauma, and other social and mental health challenges during the COVID-19 crisis. The Louisiana Department of Health, Office of Behavioral Health (OBH) is partnering with the Mental Health Association of Baton Rouge (MHAGBR) to implement the COVID-19 ERSP Project.
LSU SREC is collecting and managing data related to client surveys, program and resource referrals, client tracking, suicide prevention training, and other data related to grant activities. SREC is conducting trainings for contractors and sub-contractors on grant-related surveys and data entry and collection. SREC is also responsible for submitting client data directly to the grantor (SAMHSA), and providing reports on program activities to OBH and the project contractors in order to facilitate program management, monitoring, and program enhancement.

Emergency COVID-19 Project (COVID Emergency)
The purpose of the Emergency COVID-19 Project is to support the behavioral health of members of vulnerable populations adversely impacted by the pandemic. Implemented by the Louisiana Department of Health, Office of Behavioral Health (OBH), the COVID Emergency program extends treatment rooted in evidence-based practices to children and adults with substance use disorders and/or serious mental illness, including healthcare professionals.
SREC is responsible for data collection and measurement focusing primarily on GPRA indicators. SREC provides OBH and treatments sites with monthly and quarterly data reports, as well as the capacity for descriptive data analysis on a needs basis.
Healthy Communities (CDC/LSU Ag Center)
The Healthy Communities project is a part of the High Obesity Program 5-Year Cooperative Agreement received by the LSU Ag Center School of Nutrition & Food Sciences. The purpose of the project is to work with food vendors, distributors, and producers to enhance healthier food procurement and sales and to connect activity-friendly routes to everyday destinations in rural parishes in Louisiana. SREC initially assisted the project team in collecting methodologically sound survey .The SREC team trained the project team for qualitative data collection through conducting focus groups and interviews.
SREC continues to assist with data cleaning and analysis for approximately 800 household-level surveys collected. We are also working to provide a geographically targeted sample of households for a pocket park project in Madison Parish.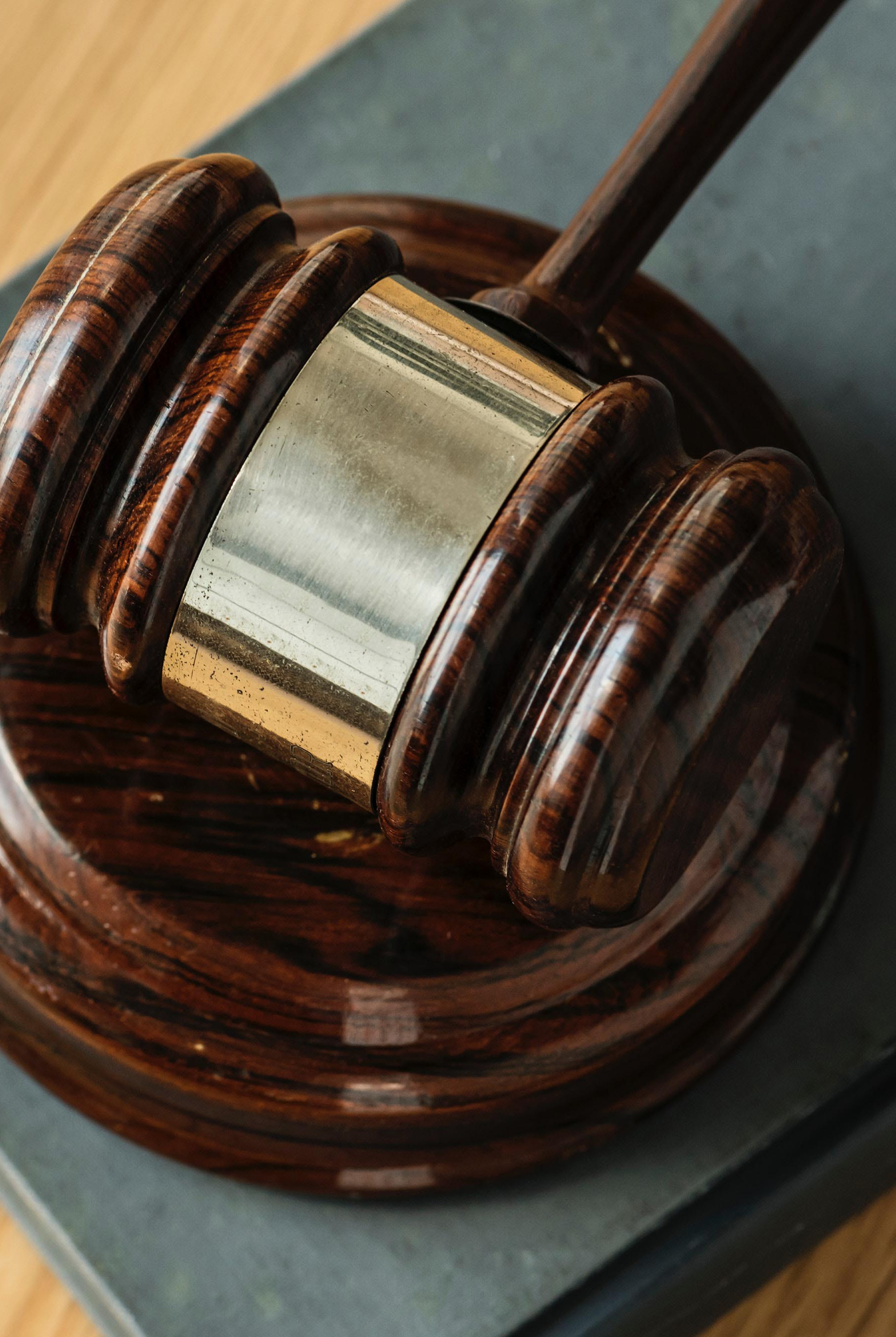 Innovative Prosecution Solutions (IPS)
The Innovative Prosecution Solutions (IPS) grant was funded by the Bureau of Justice Assistance in October, 2018. This is a 2 year grant to reduce opioid deaths and related violent crime in EBR parish through enhanced investigation and prosecution efforts.
LSU-SREC assists the inter-agency law enforcement team with identifying best-practices for opioid investigations, crime data analysis, and a social network analysis to assist in understanding the opioid drug market in the parish. These efforts are meant to disrupt the opioid drug market across the parish and region and decrease the number of overdoses and deaths in the area.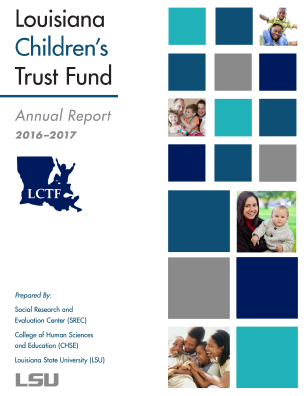 Louisiana Children's Trust Fund (LCTF)
LSU SREC conducted a data-driven program evaluation with the goals of summarizing grantees' implementation and outcome results, identifying ways to enhance grantees' capacity for data collection and reporting, and, more specifically, strengthening the evaluation of LCTF funded programs.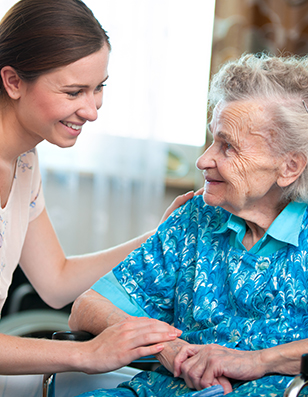 Louisiana Geriatrics Workforce Enhancement Program (LA-GWEP): Improving Quality of Integrated Primary Care Among Persons with Dementia and Caregivers
The goal of LA-GWEP is twofold and reciprocal: (a) to improve health and wellbeing for Louisiana (LA) residents who identify as persons with dementia and their caregivers, our target patient population; (b) to improve dementia-friendly practice in Louisiana primary care settings among integrated health pr ofessionals, primarily in medicine, nursing, and social work.
SREC works in conjunction with our partners to collect, manage, analyze and track data related to trainings and certifications for physicians, nurses and social workers in dementia-friendly practice in primary care settings; trainings for medical, nursing and social work faculty and other health professionals in dementia-friendly practice in primary care settings; increasing the readiness of medical, nursing and social work students to engage in dementia-friendly practice upon graduation; the utilization of telemedicine with caregivers of persons with dementia to increase wellbeing and quality of care; and the infusion of dementia-friendly knowledge and skills into standard practice in primary care settings.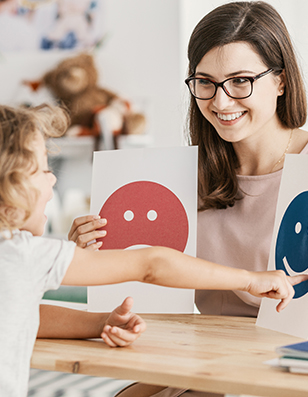 Louisiana School Social Work Expansion Project (LaSSWx)
The purpose of LaSSWx is to expand and strengthen the school-based mental health workforce to support multi-tier systems of support (MTSS) in high-need K – 12 schools in 12 Local Education Authorities (LEA) in Southeast and Central Louisiana through a partnership between the Louisiana Department of Education (LDOE) and Louisiana State University School of Social Work.
SREC is the lead evaluator on this project and collects all data related to state-level professional development and Social Emotional Learning and Behavioral Health training sequences of all social workers in Louisiana schools including interns. SREC also conducts a statewide school social work needs assessment to inform workforce development. SREC manages the student mental health screening and daily data management in all of the districts served by SSWx along with distributing, managing data and providing technical assistance to school districts related to school climate surveys that will be distributed yearly in all SSWx districts.
Louisiana SELA Program
The Louisiana SELA Program funded by the Louisiana Department of Education provides a data- and values- driven framework in the statewide strategic plan for social-emotional learning and academic (SELA) integration program. Educators and school administrators participate in a series of five, six-hour professional development modules prepared and delivered by SREC.
SREC supports the goals of the SELA program through training, support, empowerment, and provision of information to LDOE, school system, and school leadership.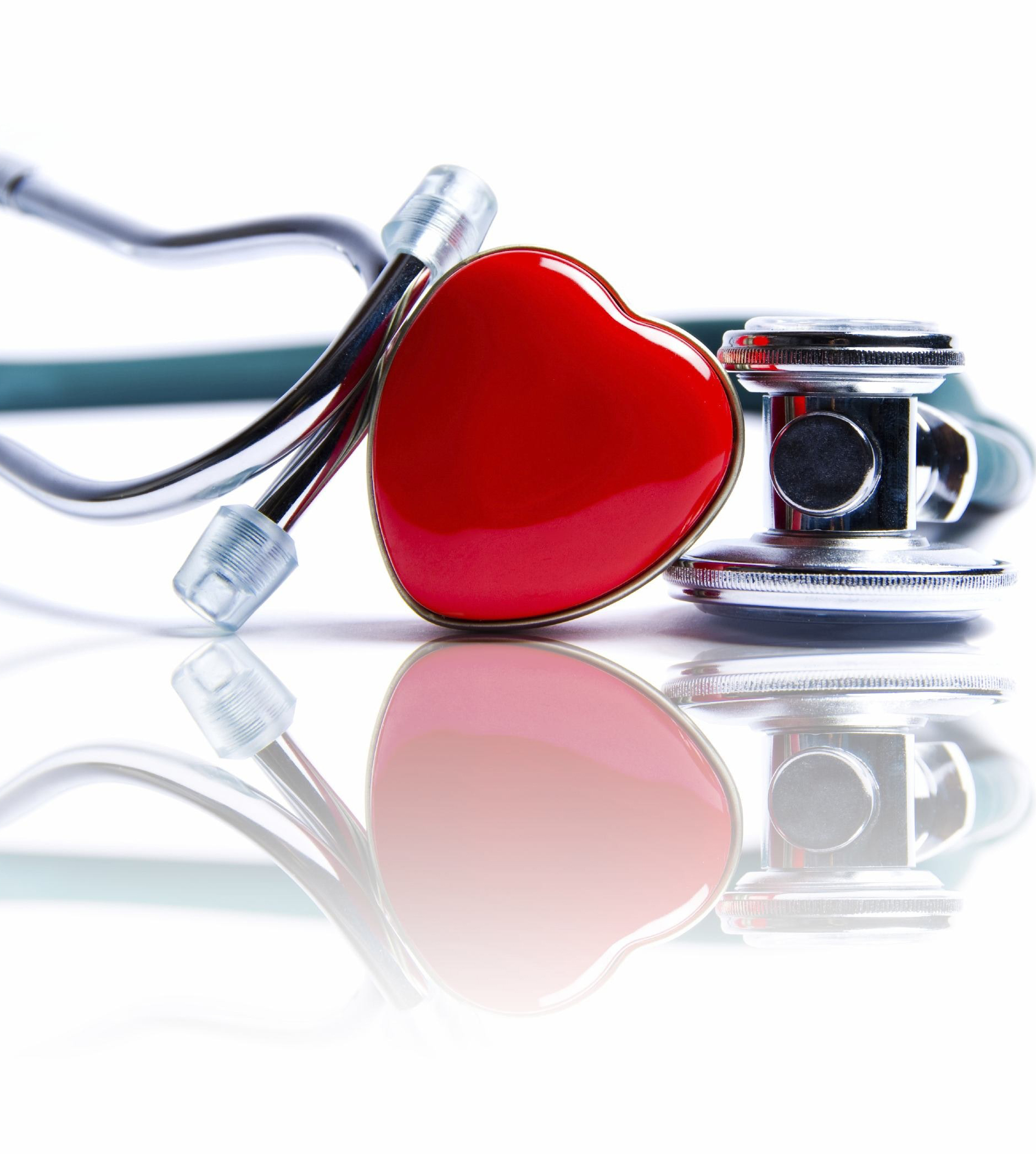 Louisiana State Opioid Response (LASOR)
Louisiana's State Opioid Response (SOR) grant was awarded to the Louisiana Department of Health, Office of Behavioral Health. This project will use a "hub and spoke" model to provide medication-assisted treatment (MAT), and associated services and infrastructure improvements regarding opioid use disorder across Louisiana over two years.
SREC is undertaking the evaluation of this grant, and will undertake an opioid use-related needs assessment for a selection of state-recognized tribal sites.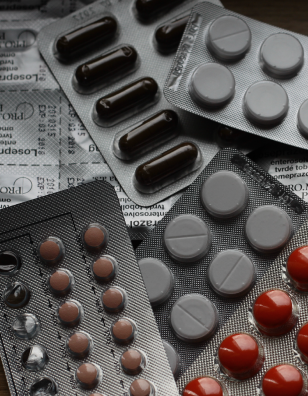 Louisiana Strategic Prevention Framework for Prescription Drugs Evaluation (SPF Rx)
LSU SREC developed the SPF RX evaluation plan. The evaluation plan covers both formative and summative, process and outcome evaluation foci. The evaluation team is working with the program team for the purpose of collecting, organizing and submitting GPRA and multi-site evaluation reports to SAMHSA.
Project AWARE
The Louisiana Department of Education was awarded the 5-year SAMHSA Project AWARE grant to create trauma sensitive schools in the City of Monroe, Jefferson Parish, and St. Bernard Parish school systems. The school districts are tasked with increasing access to mental health services in schools. Project AWARE partners include the LA Office of Behavioral Health, local behavioral health providers including the Local Governmental Entities, and the LSU Social Service and Research Center (SREC).
SREC facilitates the collection of project data in order to inform the K-12 schools and their respective districts about new and expanded behavioral health services in schools. SREC leads the LSU team and works with other partners to create professional development and instruction in multitier trauma-informed care for school staff. The LSU team also develops the behavioral health screening procedures and referral to treatment for students. The LSU team includes members from SREC, Department of Psychology, and the School of Social Work.
Strategic Prevention Framework - Partnerships For Success (LAPFS)
Louisiana's Strategic Prevention Framework-Partnerships for Success (SPF-PFS) grant, awarded to the Louisiana Department of Health, Office of Behavioral Health, is a five-year grant addressing underage drinking behaviors, consequences, and risk factors among 9-20 year olds. This grant aims to strengthen the prevention systems infrastructure by building local capacity in 10 high need parish-level communities.
SREC is undertaking the evaluation of this grant, and will provide analytic support to the State Epidemiology Workgroup (SEW), an arm of the Governor's Office's Drug Policy Board.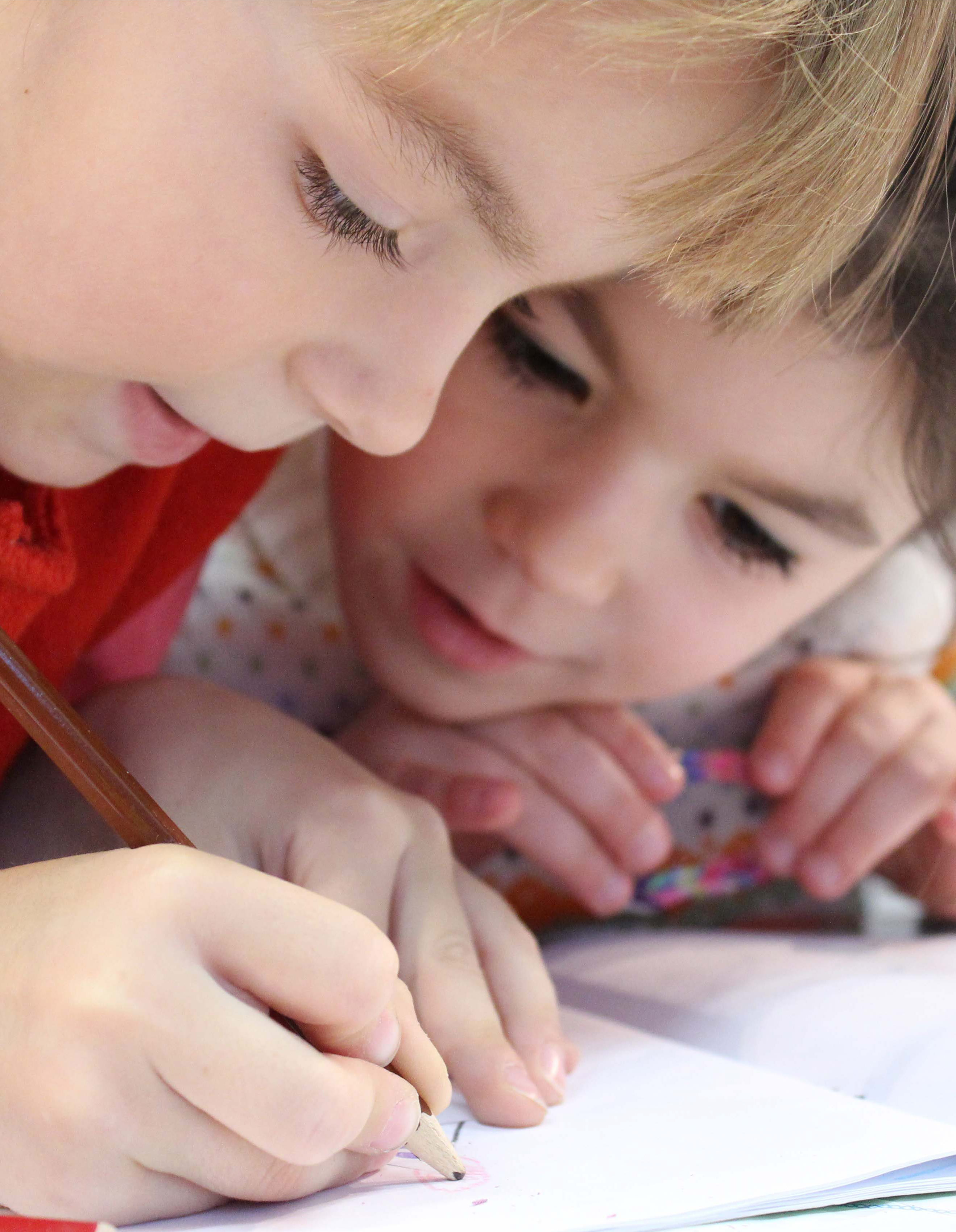 Truancy Court Analysis
The Truancy Assessment and Service Center in Baton Rouge works with the Office of Child Welfare & Attendance to identify children who have a history of truancy. It is a priority of these offices to encourage these children and families to attend school regularly. When a child continues to be truant, the Truancy Assessment and Service Center as well as Juvenile Services will refer these families to Truancy Court.
LSU is conducting an analysis of the outcomes of the children referred to truancy court to determine if the attendance of referred children improve after referral to Truancy Court.
YVLife Set
Youth Villages LifeSet Expansion Opportunity Phase II (YVLifeSet), awarded to the Louisiana Department of Children and Family Services, is a 3-year program that gives young adults aging out of the foster care system support and guidance in order to ease their transition to adulthood. This program will fund regional YVLifeSet teams that will oversee case management activities providing these supports.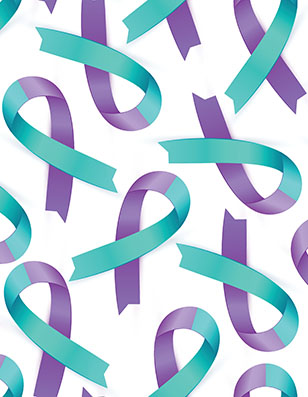 Zero Suicide in Health Systems
The goal of the Louisiana Zero Suicide Initiative is to decrease suicide deaths and attempts of adults aged 25 or older within 6 locations in Louisiana. Project objectives include training of individuals in the behavioral healthcare workforce as well as screening, treatment, and referral of individuals at risk for suicide.
SREC collects, analyzes, and reports on data related to Zero Suicide Prevention for federal reporting purposes, and to facilitate program improvement and oversight at the state and local levels. These data include National Outcome Measures surveys, and Infrastructure Development, Prevention, and Mental Health Promotion indicators.