London Weekend – Museums, Galleries, Memorials, and Palaces
July 24, 2023
Charlotte Hicks | Art History, College of Art and Design
Out of everything that was planned to see during our study abroad in England, I was most excited for our visit to London for the weekend! We were able to visit so many places in a short amount of time, so I'll summarize my favorite places we visited here! I was completely overwhelmed when we visited the British Museum for the first time; I could have spent days exploring every single room there. I personally loved seeing the Rosetta Stone and the Stand of Ur in person, and I probably spent the most amount of time admiring everything in the Ancient Roman rooms.
That evening, we saw The Play That Goes Wrong, which was the first time I've seen a play before! It was incredible, and the cast was hilarious. The next day, we visited the National Portrait Gallery, which had only recently reopened in June! I was extremely excited to visit the gallery, to be able to see so many iconic photos of celebrities like Kate Moss, as well as being able to see portraits from the Victorian era in Britain. I was so impressed with the gallery, and it easily became a favorite for me after being able to see the iconic portrait of Queen Elizabeth I. On our last day, we visited Buckingham Palace, which was so beautiful, and it was unfortunate that I couldn't take any pictures. I loved being able to walk through the rooms at my own pace, I must have spent 30 minutes admiring all of the paintings in the palace! Right afterward, I got to visit the Victoria and Albert Museum, something I've been wanting to do for years! I honestly think I could have spent days just admiring every single object they have, but I ended up gravitating towards their costumes and clothing, and their medieval artifacts. I was most impressed with the recreations of so many famous works of art in history, like this recreation of Trajan's Column.
Before we ended the day, we got to see Prince Albert's memorial, which overlooks the Royal Albert Hall, and I don't think I ever realized how massive the memorial was. It was stunning in person, and I'm glad I was able to understand the depth of Prince Albert's role in shaping Victorian Britain through the statue. It was so special to be able to see so many iconic museums and landmarks in such a short amount of time, and being able to see paintings and sculptures I've studied for years in person for the first time was thrilling!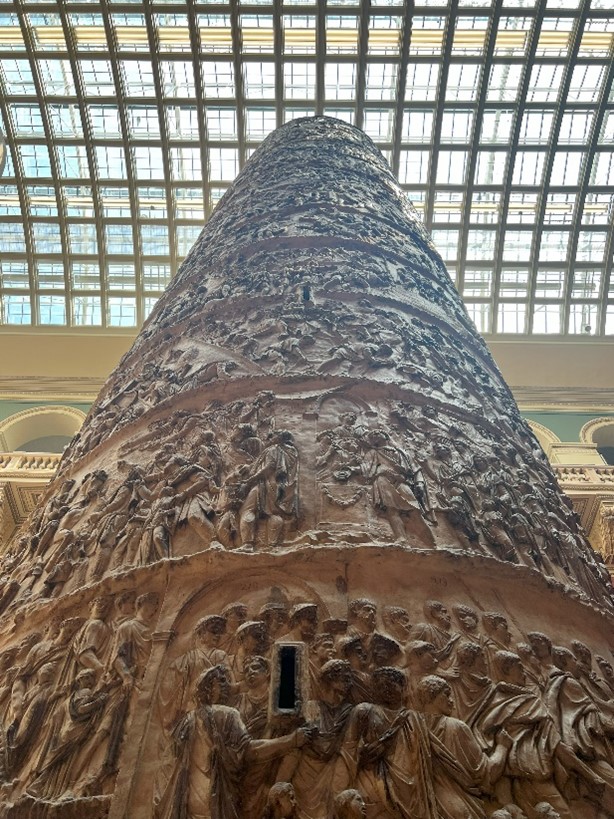 Cagle Kaough | Political Science, Humanities and Social Sciences
If there's one thing London knows how to do incredibly well, it's their museums. I was able to attend the British Museum, the Victoria & Albert Museum, the National Portrait Gallery, and the Imperial War Museum. All four of these museums were spectacular in their own way. My favorite was the Victoria & Albert Museum. Its gorgeous facade truly highlighted the wondrous works inside. The rich history infused with the exterior was incredible to see in person after reading and learning about it. The Great Exhibition of 1851 was a very important part of Prince Albert's life and legacy and that legacy is shown in the Victoria and Albert Museum.
Another reason I was so excited to go to London was the potential of seeing a show on the West End! Theatre has always been a passion of mine and whatever show I saw would be my first play or musical after the pandemic. You can imagine my joy when the play we were seeing was The Play that Goes Wrong. It was a show I had seen a lot of press about and I can confidently say the public was absolutely right. This play had me doubled over laughing the entire time. I highly recommend anyone in London to try and see it.
It would not have been a London weekend without some rain. A couple of my friends and I decided to suit up and brave the elements to walk down to the London Eye and see Big Ben across the water. That was the moment that truly solidified I was in an extremely historical and incredible place. I had only seen Big Ben in pictures. Looking out across the water through the rain as my jeans got soaked I caught a simple picture of the world-famous clock tower.
London was an incredible city to visit. Spending the weekend in this city was a dream of mine. I would love to come back and visit again one day. It was one of the highlights of my Ogden in Oxford experience!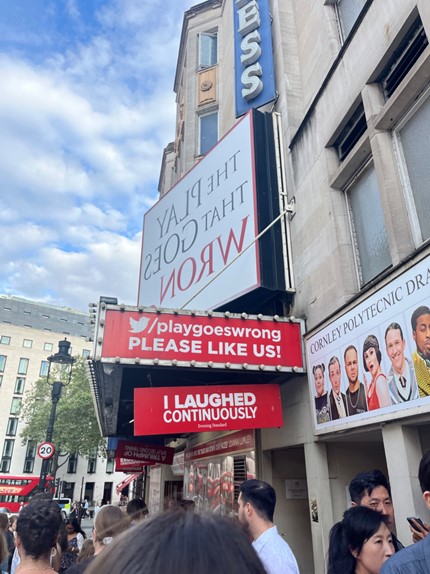 Drew Prude | Political Science, Humanities and Social Sciences
London, as one of the world's cultural capitals, boasts an impressive array of great museums that I had the pleasure of visiting this weekend. The British Museum houses a vast collection of artifacts spanning millennia and continents. It felt as if I could have spent weeks looking and reading throughout all the exhibits, gathering more information about different cultures from all the corners of the world. However, in our short time there, I had seen more of the world than I ever had. Some of my favorite things I saw were the Rosetta Stone, the frieze of the Parthenon, and Cleopatra's mummy.
Next, we would visit the Victoria and Albert Museum which was dedicated to showcasing exquisite art and design from various cultures. This museum was founded after the Great Exhibition of 1851 and houses many items from the event. My favorite item at the Victoria and Albert Museum was Trajan's Column, a 164 ft tall column built by the Roman Emperor to commemorate a great victory. Trajan's Column was so large it actually had to be cut in half in order to be housed in the museum. This museum is also home to an amazing statue gallery, featuring a cast of Michelangelo's David. After this, we visited the Prince Albert memorial, a gilded and gothic memorial dedicated to Queen Victoria's late husband. The memorial emphasized Prince Albert's role in the Great Exhibition and his support for education on world culture and arts.
London was also home to the Imperial war museum. In contrast to the previous museums, this was much more modern, covering WWI and WWII. It was incredibly interesting taking in this museum from the British perspective considering most of our education regarding these wars is purely from the American perspective. The WWI section was incredibly impressive, even featuring a replica trench to simulate trench warfare. The WWII section was good; however, the WWII Museum in New Orleans is definitely superior.
Beyond museums, we also visited the National Portrait Gallery which houses portraits of many of England most renown rulers and citizens. The gallery was interesting because I was able to physically see the paintings that are scattered throughout history books like the infamous portraits of King Henry VIII or his former wife Anne Boleyn. At the same time, the museum also had more contemporary portraits like those of Princess Dianna, the Beatles, and Ed Sheeran.
One of our last stops in London was at Buckingham Palace. It certainly was a palace, grand as ever and filled with ornate furniture and beautiful portraits. My favorite of which was one of Elizabeth II with her corgis. The palace was certainly fit for a king, and it felt odd thinking I was walking through the rooms in which Queen Victoria or Elizabeth II would have greeted important guests. The palace was stunning and definitely made me wish I was born into nobility.
Overall, London was certainly the highlight of my trip, and we only experienced a very small fraction of what the city has to offer. I hope to return one day and further explore the city.