A Day in Bath – Jane Austen's world
July 24, 2023
Mia Bruni | Pre-Science, UCAC
Our day in Bath, England began with a tour given by a guide who worked for the Jane Austen center in town. He brought us around to different parts of the city, giving us information about each of the stops that we made. One of the things that I really loved about the tour was that he pointed out the different places that Jane Austen lived during her time in the city. He also explained a bit about the reason why she moved a little history about her life, and her time there. Even though our guide focused on Austen a lot during the tour, he also talked a bit about important historical figures who were relevant to Bath, such as Queen Victoria which was something that I really enjoyed learning about.
Since one of the books we have been focusing on is Persuasion by Jane Austen, which partly takes place in the city of Bath, it was really cool to see the city we have been reading about in real life. I loved that our tour guide pointed out various locations where different important moments would have happened in the book.
After our tour ended, we went back to the center where a different guide told us a bit more about the history of Austen's life. This information was accompanied with a walk through the museum which was informational, but also so much fun! One of my favorite moments in the museum was dressing up in clothing from the Regency era much like Austen or her characters would have worn, and taking a class photo in this stunning attire! I also got the chance to write a letter with a feather and ink which I had never done before.
After we finished looking around the museum, we had tea as a class in the Pump Room for the Roman Baths. The room was so grand and beautiful, and it was really fun getting to try the different pastries and the tea.
After tea was done, a smaller group of us spent the day exploring the different sights in Bath. There were so many amazing little shops, and of beautiful views in this town that I really enjoyed. Right before we got on the bus, we were able to spend a moment in the town square enjoying the live music and eating ice cream which was such a fun part of the day.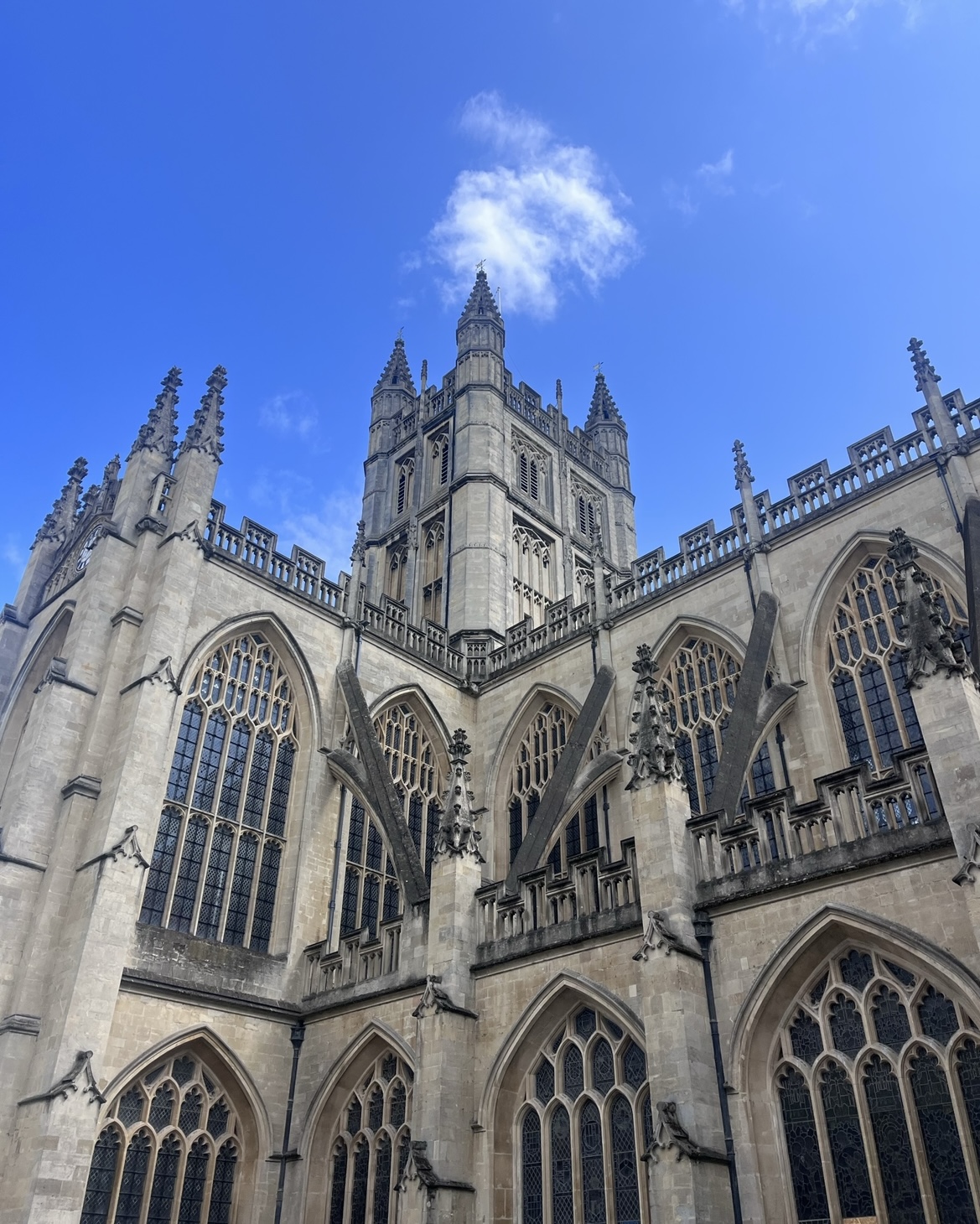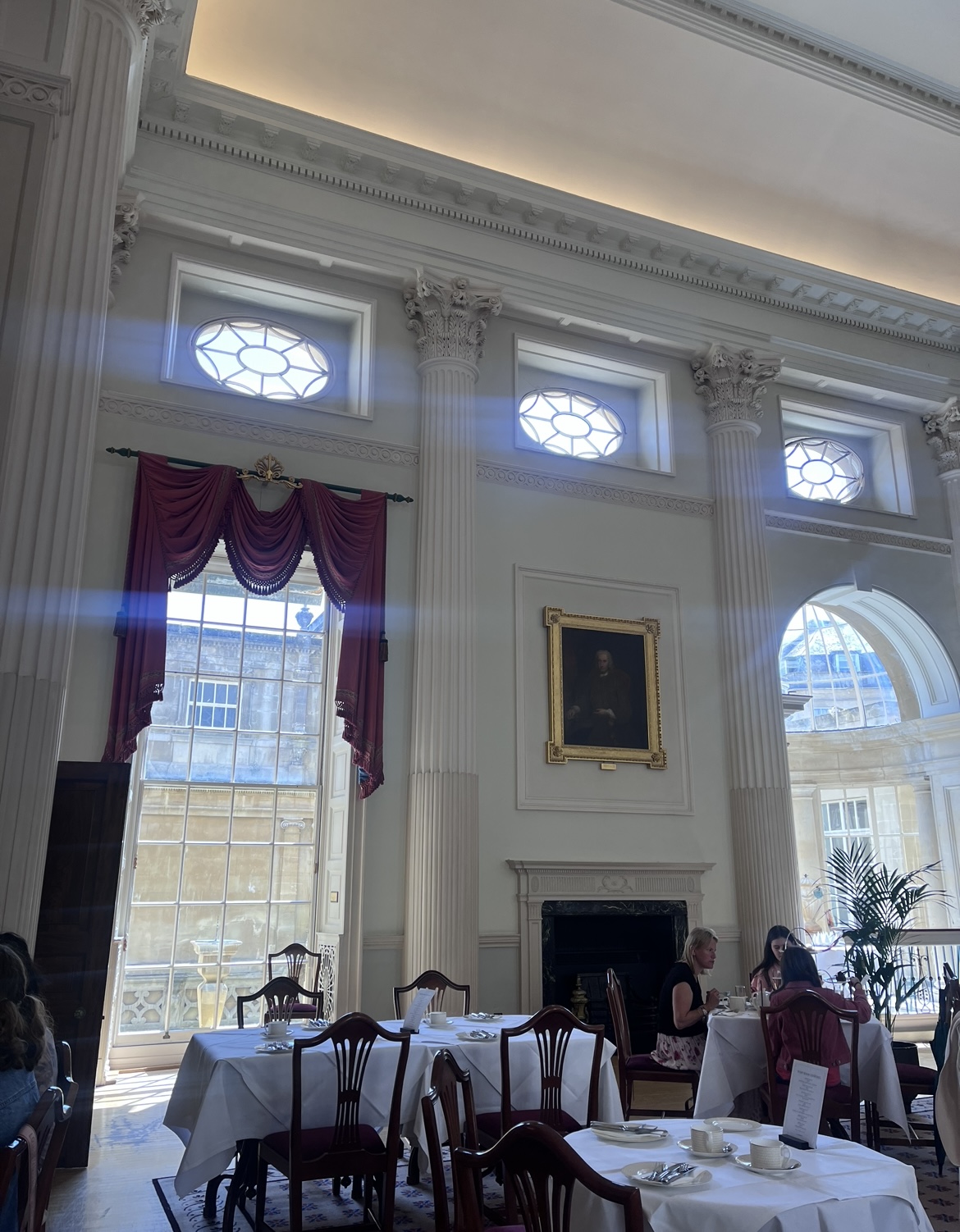 Kristen Richard | Pre-Science, UCAC
On Tuesday, July 12th, we spent the day in Bath, where Jane Austen lived and set most of her final novel, Persuasion! This beautiful city is where all of the fashionable people spent their time two centuries ago, as Sir Walter Elliot would remark. I was interested to see a few familiar buildings, because the popular Netflix show Bridgerton (of which I am a huge fan) was partially filmed in Bath!
This photograph was taken just before we entered the Pump Room of the Roman Baths, where we had the most delicious afternoon tea. One of my favorite ways to document a trip or a fun day on campus is with a .5 photograph because they are so fun, and silly memories are some of the best memories to look back on! I've made so many friends on this trip, and spending this time with them (Dr. Babcock, included) has created so many experiences here that I will forever be grateful for.
The picture above was taken just before Anna Cate and I absolutely devoured our afternoon tea spread. We had English Breakfast Tea with milk and brown sugar cubes (the best combination), finger sandwiches, and the most amazing treats on the three-tiered display. My favorite item that we tried was the two scones (biscuits) with clotted cream and strawberry jam. The clotted cream tastes very similar to whipped cream with the consistency of butter, and it makes a perfectly mellow sweet treat. Participating in this afternoon tea with my classmates was such an unforgettable experience. We were serenaded by live violinists, took in all of the incredible decorations in the Pump Room, and lived like true members of the Victorian nobility.
Before our tea, the sweetest British gentleman from the Jane Austen Museum gave us the most informative and entertaining walking tour of Bath. Following our afternoon tea, Ches, Drew, Anna Cate, and I continued to explore the gorgeous city of Bath, exploring local shops, restaurants, beautiful scenic photo spots, and historic buildings. This picture was taken between two very strong gusts of wind, and I was battling with my sundress to get this adorable photo. Fun fact: just two hours earlier, the rain came down so strong in this exact spot that most of us were drenched head to toe while taking photographs of the docked boat and tiers of running water below.
My time in Bath was truly incomparable to anything else I've ever experienced; touring Bath brought Persuasion to life, in a sense, fully immersing my classmates and I in the world of Jane Austen. We walked along the same streets that she did, admired the same buildings that inspired her to set her final novel in Bath, and understood firsthand the appeal of and the connection to Bath that many characters expressed through their conversations in Persuasion. I have greatly enjoyed my time in Oxford so far, but I don't think that anything I've done here could top our day in Bath. I am so thankful to the Ogden Honors College and to my professors for making this trip possible, because the time that I have spent learning about the history of Oxford, Bath, and the United Kingdom in general has greatly improved my understanding of the people, culture, and events that led to the development of the Western World and my upbringing in the United States. Without all of the remarkable developments here in Europe, our country would not be what it is today, and understanding our European roots has made this trip so special.
Sarah Stenhouse | Mechanical Engineering, College of Engineering
When looking over the itinerary, Bath was the location I was most excited to visit. My love of Jane Austen's novels started with Pride and Prejudice and was further cemented with Persuasion. I loved the character of Anne Elliot with her quiet and perceptive nature, and how she stepped up in moments of panic within the novel. Jane Austen lived in Bath for a time and used it as inspiration for many scenes in her final novel Persuasion. I could not wait to see firsthand the inspiration behind the novel and to learn more about Jane's life.
Once arriving in Bath, we quickly began a walking tour of the city with the first stop being the gravel road where Captain Wentworth and Anne become engaged at the end of the novel. The quiet, secluded feeling of the pathway made it the perfect spot for the moment. Our guide, Mr. Knightly, another Austen character, explained Jane would often walk the streets of Bath. She puts this love into her novels by having many key plot points centered around walking in Persuasion and her other works.
The architecture of Bath was incredible. It was easy to imagine how luxurious it must have been at its peak. Our guide shared that originally all the buildings were a bright white but had darkened with time. I imagined the white of the original stone must have made the city seem to glow. During its early days, it was a vacation spot for the wealthy. This made it the perfect place for Sir Walter, a vain nobleman in financial trouble, to travel to in Austen's Persuasion. We even visited the notorious spot where he insults the attractiveness of the passerby in Bath.
Later, we went to the Jane Austen Museum where we were treated to period typical dress. I felt like we were stepping into a famous Austen novel, complete with characters like Mary and Mr. Wickham. Jane's family was also described. Her two youngest brothers were both in the navy which explains her positive description of navy men within Persuasion. I found it heartbreaking how she never lived to see her success or even be acknowledged by name for it. Though never recognized in life, her influence is seen today. Her ability to beautifully capture thrilling tales of love, longing, and regret, garnered the attention of readers around the world. Her legacy is especially celebrated in Bath where there was no shortage of Jane Austen-related souvenirs and references.
We ended our day at the pump room where we had tea just like Anne would have in her day. We spent a few hours talking and sharing stories while enjoying the music, food, and tea prepared for us. Overall, touring Bath gave me a great perspective on the life of Jane Austen and an inside look at what inspired her. My visit solidified my admiration for Jane and her writings and gave me a greater connection to one of my favorite novels.