Instrumentation, Equipment (WBAS) and Pricing
Download the Chain of Custody.
For the current price list, please contact Thomas Blanchard (tblanc9@lsu.edu) or Sara Gay (sgay@lsu.edu).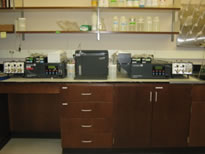 OI Analytical Flow Solutions IV auto analyzer for colormetric determination of ammonia, nitrate, nitrite, soluble reactive phosphorus, silica, Iron, total phosphorus and total Kjeldahl nitrogen. Sulfate by AA coming soon.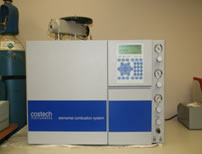 Costech 1040 CHNOS Elemental Combustion system. This system is configured for measuring %N and %C in a variety of samples types.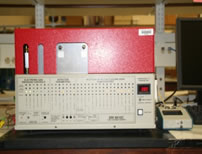 SRI 8610C gas chromatograph equipped with electron capture, flame ionization, and thermal conductivity detectors. This GC is currently set up for measuring CO, CO2, CH4, N2O, O2, N2 and C1-C5.





Turner Designs TD-700 Fluorometer is used for Measuring Chlorophyll a in water and sediment samples.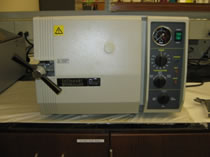 Tuttnauer model 2540M Autoclave used for processing total nitrogen and total phosphorus in water samples.





Thermo Electron Helios UV-Vis spectrophotometer Gamma model






Sercon 20/20 ANCA-GLS isotope ratio mass spectrometers interfaced with an elemental analyzer and a Gilson Autosampler for analysis of 15N and 13C in Natural Abundance and enriched solid and gaseous samples.




Membrane Inlet Mass Spectrometer Bay Instruments, LLC Pfeiffer 200 ME Mass Spectrometer equipped with a Lindberg furnace. The MIMS is currently set up for N2/Ar ratios and 15N determinations in water samples.



The lab is also equipped with other sample measuring and processing equipment such as:
pH meters and probes
Incubators
Portable Oxygen/salinity meters
Drying ovens
Centrifuges
Freezers and refrigerators for sample storage