Spotlight: Ashlynn Cage
August 14, 2023
---
Name: Ashlynn Cage
Graduation Year: 2013
Degree: Mathematics, Concentration in Secondary Education
Career:
East Baton Rouge Parish High School Content Trainer
East Baton Rouge Parish High School Math Coach
Math Teacher of grades 6-12 in the Baton Rouge area
---
Q: What do you do in your current position, and what makes you happy to be doing it?
What I do [as a content trainer] is support our math coaches and our high school math teachers. I go anywhere between creating resources for them, creating annotated lesson plans, doing professional development based on my going into classrooms and modeling lessons, helping support them with their PLC (professional learning community) meetings, etc. So support. That's what I am. Support, support, support...I love it. I love it.
And the reason why I love it [being a Content Trainer] is because when I was in the classroom, I only affected the 120 students that I taught, but during the job I do now, I'm able to reach and go into more classrooms, support more teachers, and help more students be successful in math.
[The UTeach Conference] was great. Being able to present, represent GeauxTeach and let people see the Louisiana version, the alumni and everything, and being a part of that was a great experience because I've never been to the conference. But this was my first year. In my first year, I presented so it was really exciting...that does help with my current job. Like, for instance, me presenting at conferences supports my everyday way of speaking at presentations we offer on the district level. So it helps with my professionalism. Again, it gives me more exposure. It gives me more experience. It gives me the opportunity to learn more and bring a lot of things back to the district that I work in.
---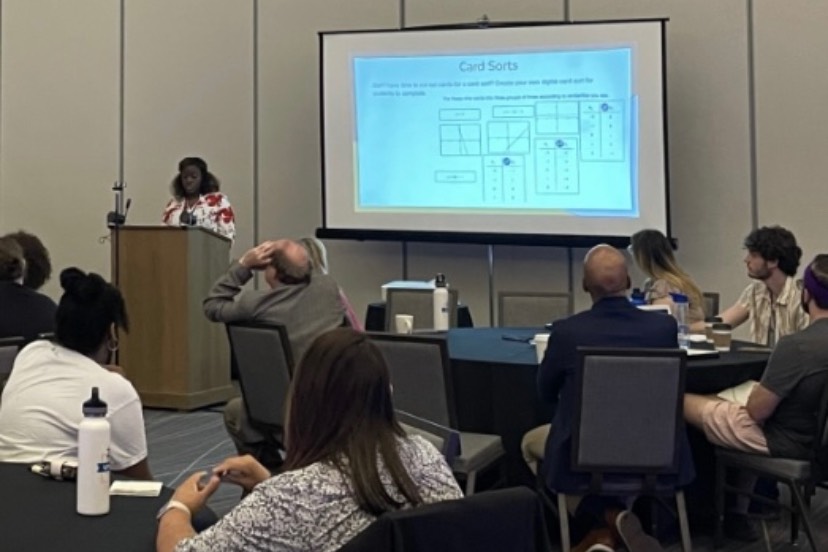 Q: What are some highlights that you have experienced in your career?
The positives are just to see how people respond to us [content trainers]. It's not only the teachers that we're supporting. We get to interact with the students. We get to interact with principals. Just being support for all those different levels of people is so impactful.
---
Q: What can prospective recruits anticipate experiencing as a STEM professional?
Make sure [prospective recruits] want to actually make a change because they're impacting children in the profession. I mean, you will see. No matter if you're at the level I am or a teacher, you are affecting the child in more ways than you realize. So make sure that when you go into this job, it's more about the love or the passion for the child and wanting to support the the whole child, not just in certain areas, but to help the child be successful outside of school as well.
---
Q: What were the most significant takeaways or benefits you gained during your undergraduate experience?
What I loved was History of Math, one of the courses that we had...I also really enjoyed my different steps, like my Step 1 and Step 2 classes. I really enjoyed those because we got the experience of teaching. We got to see different grade levels. You got to see what really fit you going into those Step 1 classes and working with elementary kids. And I was like, 'Oh my God, this is not for me.' But being able to do and see multiple grade levels and to be able to create lesson plans based on different grade levels, it made me more well rounded than other people who may just go through other programs...I think about the August teaching experience. You get to go see the first few days of school. Some people don't get to see that until they actually teach....there are so many great things that GeauxTeach does that helps you to be a more well rounded teacher.
---
Q: What did you learn in GeauxTeach STEM that informs how you think about teaching or how you approach your job? What skills did you learn in GeauxTeach STEM that have benefited you in your career?
Everything we did helps me in the career I am in now because, again, I'm still in education. We talked about the 5E (Engage, Explore, Explain, Extend, Elaborate, and Evaluate) lesson plans we did. Well now with the job I'm doing, we create 5E lesson plans. Now, are they as excessive as we had to do them back then? No, but it now makes the job that I do really easy...reviewing videos of ourselves when we taught, and looking at yourself teach, like it helped you to learn your method of teaching but also fine tune the way you do things. I learned your body language means a lot...Because I do have a voice that projects well, I have to be mindful of my tone when it comes out because it could be seen as loud...So it's a lot of things that I take from GeauxTeach...that impact my current job.
---
Q: Is there anything else you would like to share with us?
If anybody needs any type of support, or if they need help, or just don't know which path they want to go on, I'm open minded to being open to people [inside and outside of GeauxTeach]. But the GeauxTeach STEM program has a special place in my heart. So if there is anything anybody needs they can reach out. I am available.