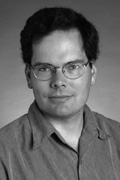 Dr. Leonard P. Ray
Associate Professor
PhD: University of North Carolina at Chapel Hill
Office: 208-C Stubbs Hall
Phone: 225-578-2550
Fax: 225-578-2540
Email: lray2@lsu.edu
Area of Interest
Dr. Ray specializes in comparative politics, the electoral and party systems of Europe, the institutions of the European Union, and public policy in Europe.
Awards & Honors
2002-2003, Bhatia Endowed Professorship in Mass Communications
1999, Norwegian Marshall Fund research grant
Selected Publications
Ray, Leonard, and Gregory Johnston. 2007. "European Anti-Americanism and Choices for a
European Defense Policy." PS: Political Science and Politics 40 (1): 85-91.

Ray, Leonard. 2007. "Validity of Measured Party Positions on European Integration: Assumptions, Approaches, and a Comparison of Alternative Measures." Electoral Studies 26: 11-22.

Owen, Guillermo, Ines Linder, Scott Feld, Bernard Grofman, and Leonard Ray. 2006. "A Simple 'Market Value' Bargaining Model for Weighted Voting Games: Characterization and Limit Theorem." International Journal of Game Theory 35 (1): 111-128.

Ray, Leonard. 2006. "Validity of measured party positions of European integration: Assumptions, approaches, and a comparison of a alternative measures." Electoral Studies. 29 (2007) 11-22.
Courses
POLI 4001 Research Methods in Political Science
POLI 4068 Democratic Political Systems of Northern Europe
POLI 4074 The European Community
POLI 4075 Political Western Europe
POLI 4076 Politics of France & Francophone Areas
POLI 4077 British Politics
POLI 7962 Seminar in Research Design and Quantitative Techniques
POLI 7970 Seminar in Comparative Politics
POLI 7971 Special Topics in Comparative Politics
POLI 7975 Comparative Political Behavior