Amenities
The department of Textiles, Apparel Design and Merchandising boasts several amenities for our students. Each of the below is available for our students to use during their educational tenure with us.
TAM 3D Printing
Location: HUEC 137
The 3D printer allows students to create apparel related items with the use of 3D CAD and print out the object.
TAM Apparel Production Lab
Location: HUEC 244
The apparel production lab in the Department of Textiles, Apparel Design, and Merchandising is furnished with all the equipment students need to produce quality apparel designs. The lab houses Juki industrial sewing machines, and sergers. In addition, several domestic sewing machines and sergers are also for students. There are also three industrial leather sewing machines for constructing heavy-duty garments and more specifically for sewing alligator leather garments. Over twenty dressforms are available for student use, including male dressforms.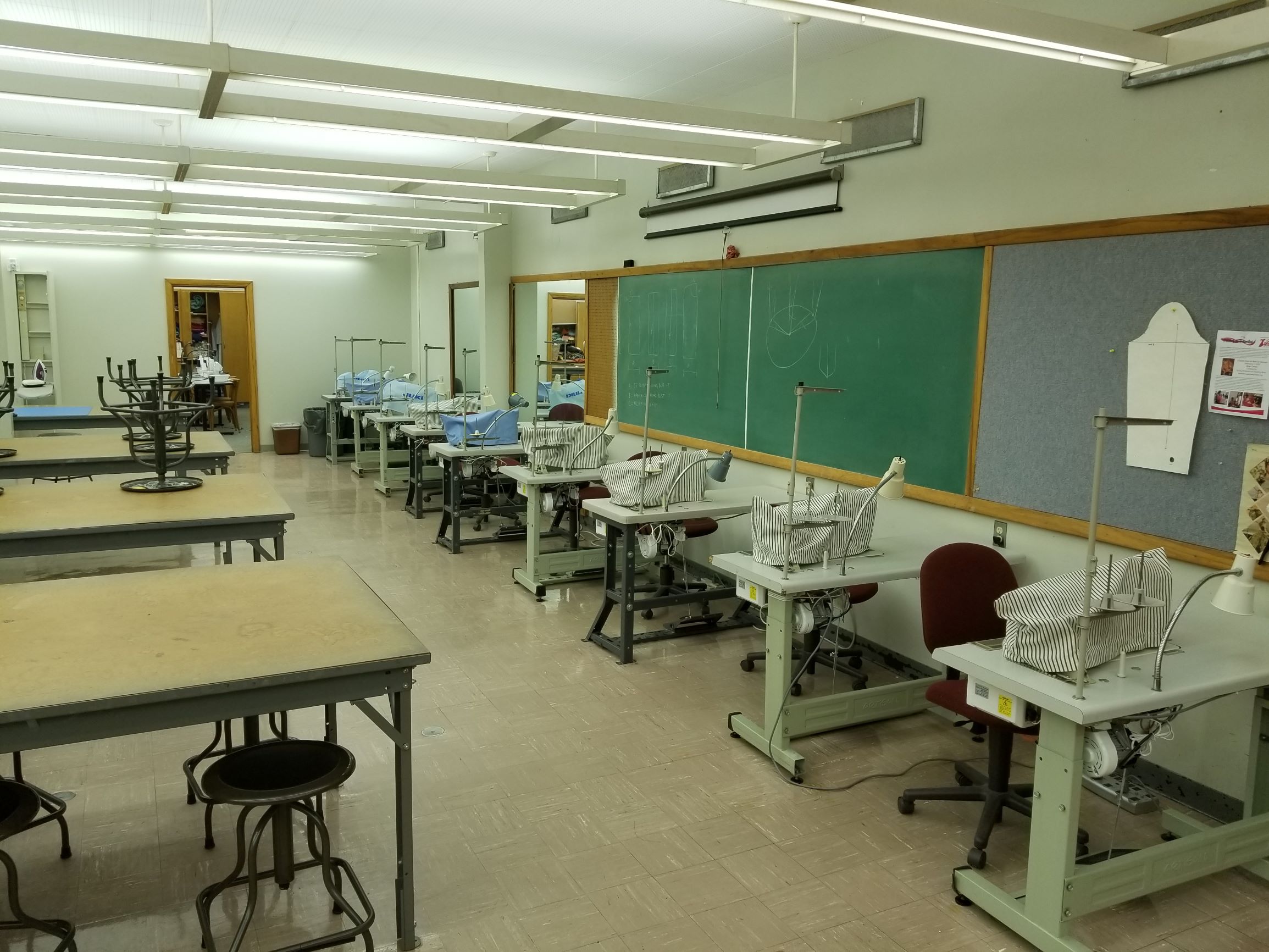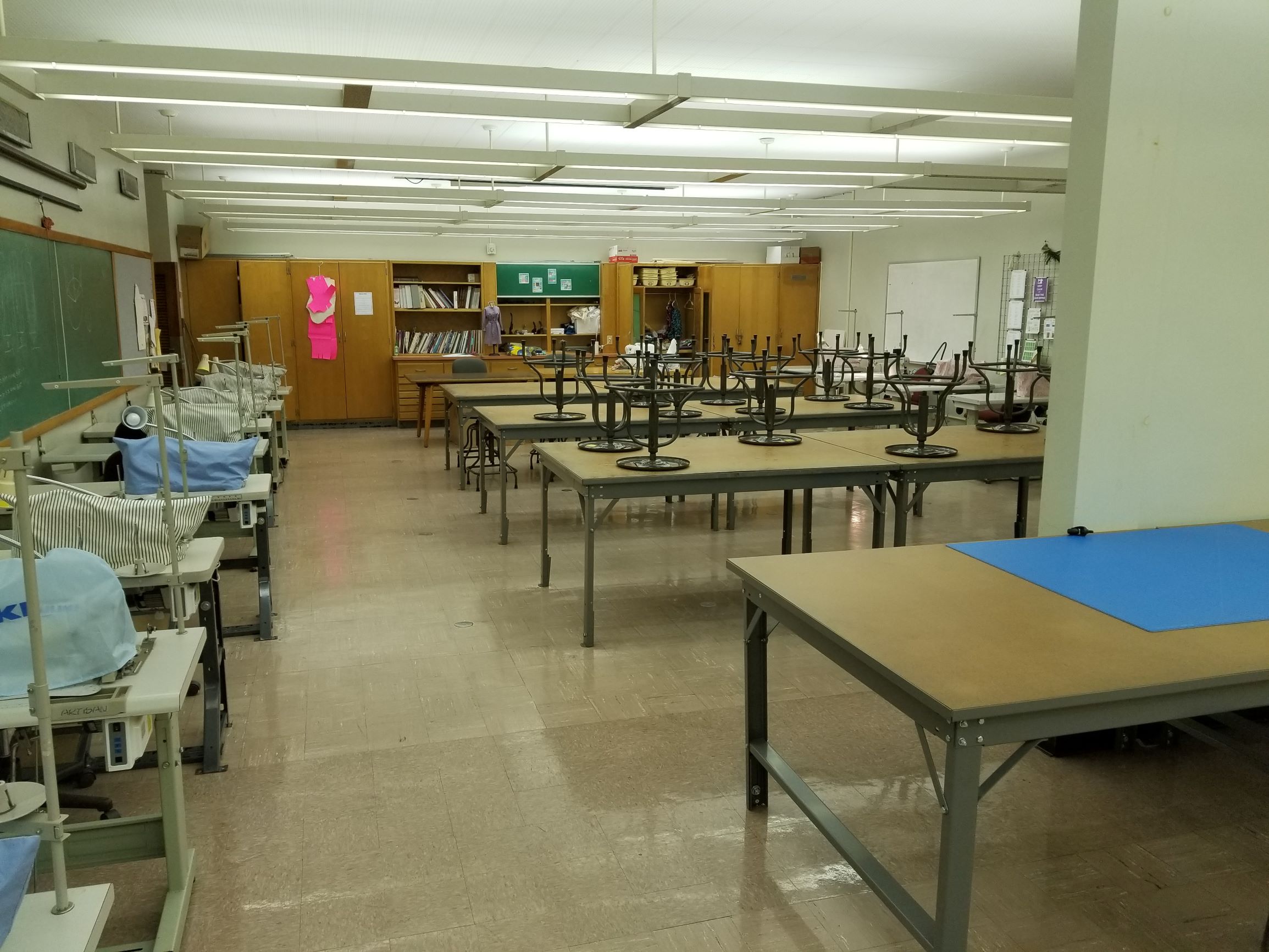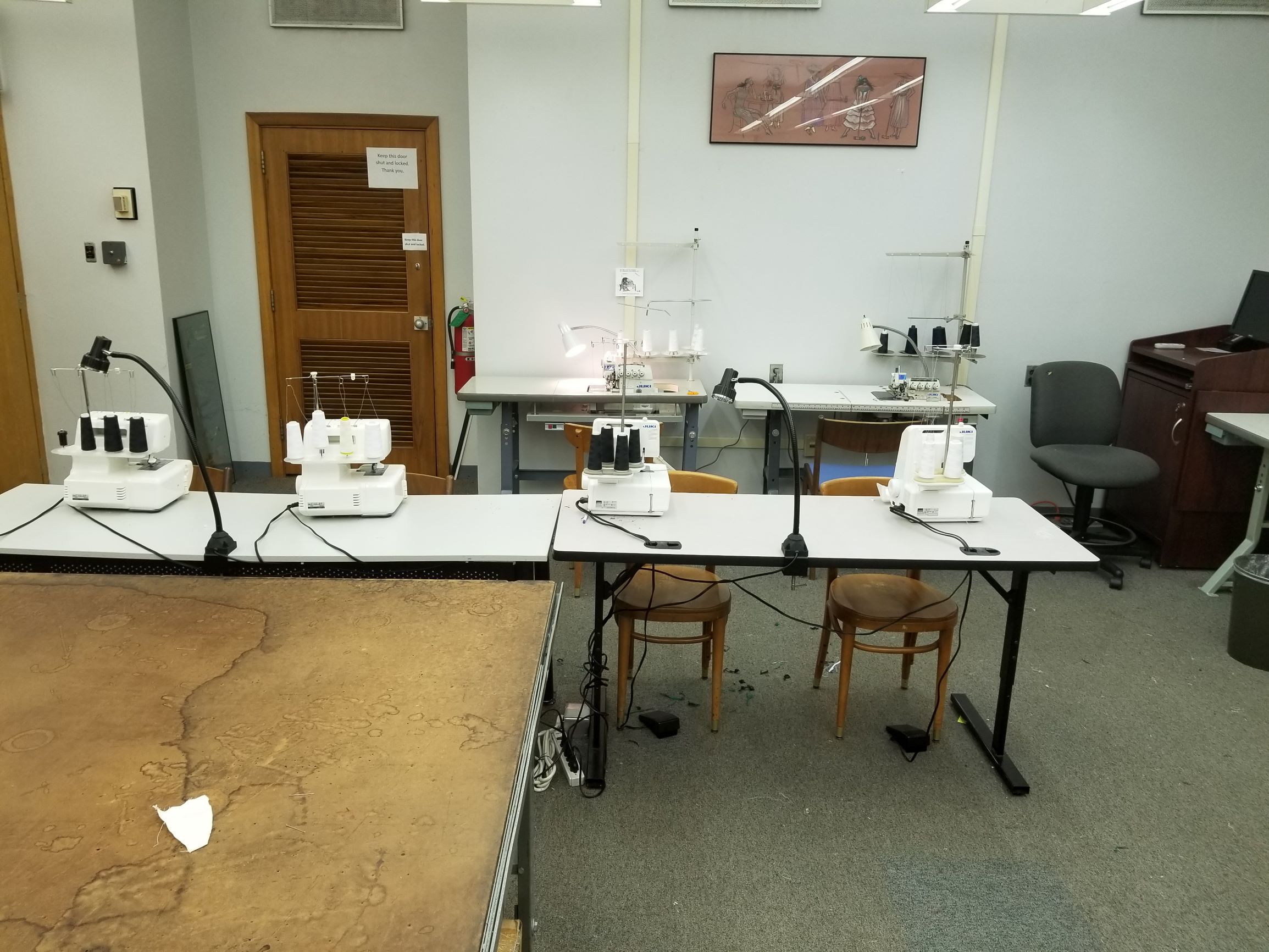 TAM Body Scanning Lab
Location: HUEC 137
The Body Scanning Lab, located in the Department of Textiles, Apparel Design and Merchandising at LSU, houses a state of the art 3-D, 4-D Size Stream body scanner with enhanced software.
The body scanner uses infrared depth sensors to scan the complete body and record 400 measurements in less than 6 seconds while producing a true-to-scale body avatar that is accurate to within +/- 3mm. When used in the motion capture mode a 4-D true-to-scale avatar is created from 1.5 million data points which maps the body and permits researchers to examine incremental changes that occur in the body and apparel during movement.
Body scanning technology is used in various industries for:
Anthropometric studies
Apparel sizing standards development
Body shape analysis
3-D product development, including the apparel, automotive, and equipment industries
3-D apparel printing
Apparel development and testing of protective uniforms for industrial workers, law enforcement, fire fighters, and military
Ergonomic studies
Kinesiology studies
Animations and graphics
Medical applications
Health and fitness management
Computer gaming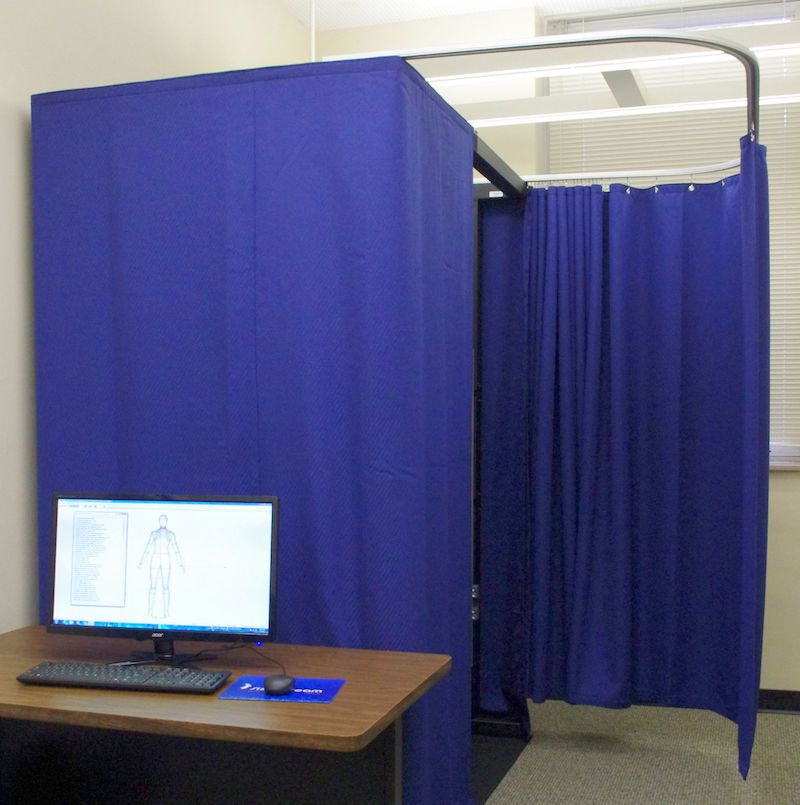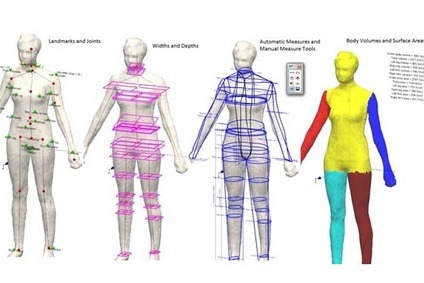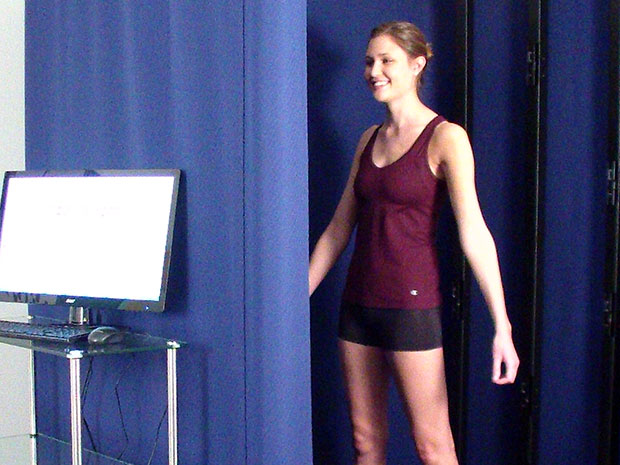 Photo Studio
Location: HUEC 346
The photo studio is available to all TAM students and faculty free of charge to photograph garments and accessories for their portfolio, competition submissions, research, publication, and class projects.
The TAM department has provided a background suitable for full length photos, a slant board, photographic lights, and a tripod. Students must bring their own camera.
To schedule time to use the photo studio contact:
Erica Woolard, Administrative Coordinator
125 Human Ecology
225-578-2248
ericaw1@lsu.edu
Rules for Use
The studio available only to students and faculty currently enrolled or employed in the TAM department. It is not for commercial use.
No food or drink is permitted in the photo studio.
Equipment is not to be removed from the room.
Students are to report any equipment failures to Mrs. Woolard on the day it occurs.
Studio time is scheduled on a first come first served basis.
Remove shoes when working in studio and do not walk on backdrop.

Model

shoe soles must be taped

to avoid soiling the backdrop.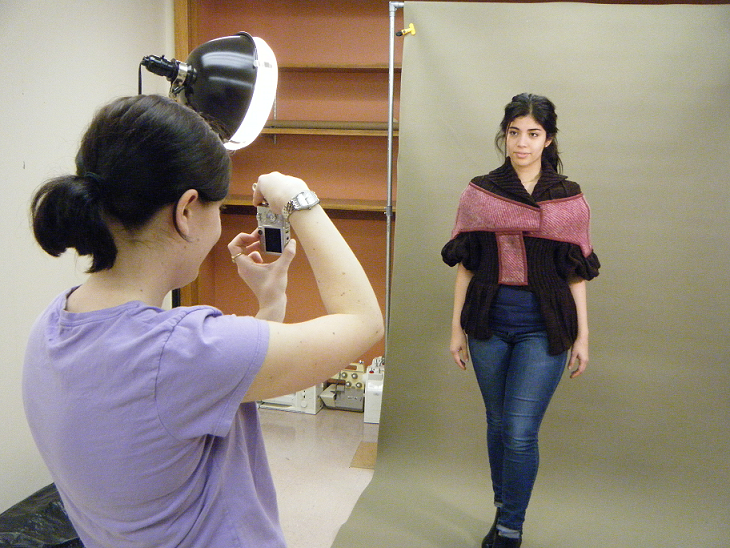 Computer Lab
Location: HUEC 136
The Department of Textiles, Apparel Design and Merchandising's computer lab is outfitted with:
24 workstations
Mockshop-Visual Retailing
Technology Lab
Location: HUEC 152
The Department of Textiles, Apparel Design and Merchandising's Technology lab is outfitted with:
24 workstations
48 X 67 inch digitizer
Color pattern printers
State of the art multimedia classroom equipment
Students have access to the latest industry software including: Adobe Creative Suite, Microsoft Office, Silverlight, Optitex 2D/3D pattern drafting and simulation software, Lectra's Kaledo, Modaris, Diamino, Visual Retailing, and Evolution RIP Textile Design Software.
Textile Printing Machine
Location: HUEC 151
The Mimaki TX 300 has the ability to print original textile designs onto a large number of fibers such as silk, wool, cotton, and more. Students use this machine to create textile prints that can be sewn into their own designs.
Textile Knitting Machines
Location: HUEC 151
The Shima Seiki system offers a sustainable and effective way of making versatile knitted textile products through powerful computer simulations and digital controlled needle movements. The knitting system can produce functional products and embed wearable technologies with unique yarns, such as conductive, elastic, UV sensitive, and thermochromic yarns. TAM implements the use of the system in both undergraduate and graduate courses.
Textile Science Testing Laboratory
Locations: HUEC 246
Interdisciplinary teaching and research activities: science, chemistry and engineering of textile materials from fibers to finite products. A temperature/humidity conditioning room controlled for standard parameters (70 ± 1C & 65% RH) is available for testing of textile materials. ASTM and AATCC standard methods are observed for undergraduate and graduate classes on characterization of natural and synthetic polymers and textile materials, with specific instrumentation associated to these aims, such as:
Characterization of fibers by optical microscopy
Polarized light microscopy for advanced investigations of liquid crystalline phases
Determination of tensile properties (ASTM Standard Test Method 5034-09)
Determination of tearing strength (ASTM Standard Test Method 1424-09)
Determination of abrasion resistance (ASTM Standard Test Method 3884-09)
Appearance after laundering (AATCC Test Method 124 2006) and Wrinkle recovery angle of woven fabrics (AATCC Test Method 66 2003)
Dynamic mechanical spectrometer for advanced analyses of semi-crystalline polymers
High torque and elongational rheometers for investigations of fiber forming polymers
Dynamic shear rheology of viscoelastic polymeric materials
TAM Sewing Lab

Location: HUEC 344
Students have access to our sewing lab during building hours, but do need to check in and check out with the building coordinator.
Erica Woolard, Administrative Coordinator
125 Human Ecology
225-578-2248
ericaw1@lsu.edu