Add Another 'Ship to the Scholarship First Fleet! LSU Ag-Econ Trivia Team Wins National Competition
September 26, 2023
The Louisiana State University (LSU) Agricultural and Applied Economics Association (AAEA) Academic Bowl team achieved an outstanding double victory at the 2023 Annual National Competition held in Washington, D.C. Outshining 32 teams from institutions across the nation, including Florida State, The Ohio State, Purdue, Texas A&M, Clemson, and others, LSU's Academic Bowl teams secured both first and second-place, marking an exceptional triumph for the LSU Tigers.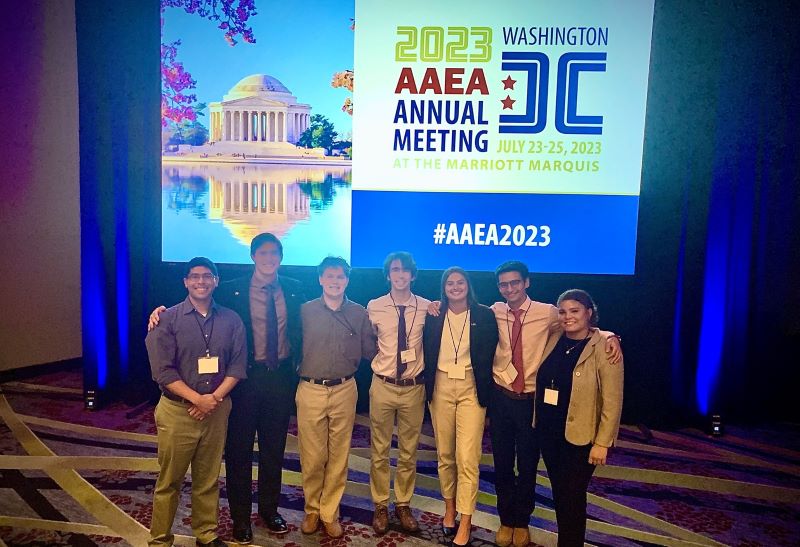 The LSU sweep at this national competition showcased the remarkable talent and dedication of the university's Ag-Econ trivia team. Each year, AAEA sponsors an academic bowl competition for undergraduate students at the AAEA Annual Convention. Students compete on teams of three, which are affiliated with their school. This year, LSU's first and second place National championship teams were comprised of Samuel Palencia, Andrew Meche, and Daniel Harris on team one and Colin Raby, Mattie Thrasher, and Krissy Brodersen on team two. The teams were selected based on student's individual areas of expertise and both teams trained throughout the summer meeting two to three times a week to review material and compete against each other to prepare for the national competition.
The journey to this historic victory reached its pinnacle during an intense Semifinal match against Clemson, where LSU team two faced an uphill battle for the first time in the tournament. Despite an impressive winning streak with eight prior victories, the team found itself trailing Clemson midway through the 15-minute Jeopardy-style round. This semifinal match ended in a tie, 115 to 115, and so was decided in an eight-question overtime round, where LSU's team prevailed on the final question, securing a place in the final round against their own LSU counterparts, LSU team one.
On top of both LSU's teams beating out 32 others to gain the first and second place spots, Daniel Harris' Student Paper Competition submission and presentation earned him first place in the AAEA annual Conference Research Paper competition.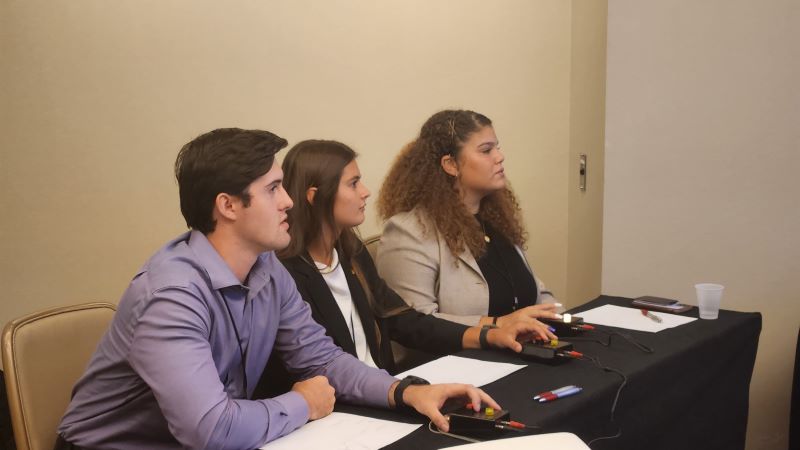 The LSU Ag-Econ trivia team's remarkable journey was made possible through their unwavering commitment, resilience, and teamwork. Their victory was the result of dedicated preparation, guidance from their coach Professor Penn, and the combined areas of proficiency of all team members. This outstanding achievement was a storybook conclusion to a day filled with fierce competition, camaraderie, and a testament to the excellence that LSU consistently upholds. The LSU community congratulates and commends the members of the 2023 AAEA Academic Bowl teams for their outstanding performance in securing the top two spots for the university, highlighting our competitive excellence both in traditional athletics and in academic competitions such as these.
For more information from the event please contact:
Dr. P. Lynn Kennedy (Department Head of Agricultural Economics and Agribusiness)
225-578-3282, lkennedy@agcenter.lsu.edu

Prof. Jarrod Penn (Martin D. Woodin Endowed Professor, Associate Prof. of Environmental/Resource Economics & Sustainability) 225-578-2753, email@agcenter.lsu.edu

Colin Raby (Student on this year's AAEA team) 225-400-7267, rabyc1@lsu.edu