HELP THE LSU COLLEGE OF AGRICULTURE WIN THE GOLDEN BOOT GIVING CHALLENGE
September 11, 2023
The LSU College of Agriculture and Arkansas' Dale Bumpers College of Agricultural, Food and Life Sciences are gearing up for an exciting battle, but it's not happening on the football field. This crowdfunding challenge, known as the Golden Boot Giving Challenge, is set to take place from September 16 to September 23, 2023.
Each year, the LSU Tigers and Arkansas Razorbacks fight for the "Golden Boot" on the football field. Mirroring this rivalry, LSU and University of Arkansas are battling to see which college of agriculture has the most supporters.
Here is the twist – the challenge is not based on which college can raise the most money, but which college can gain the most individual donations. This makes the challenge accessible to any supporter of the college of agriculture, including young alums and current students. Each individual donation, whether it's $5 or $500 counts as one individual donor.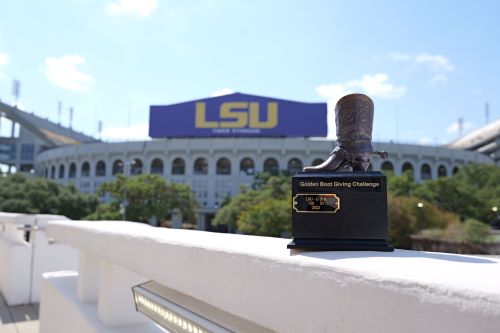 All funds raised from the challenge will go toward each college's respective student support fund. LSU's Ag Student Success Fund supports programming and professional development for students in the College of Agriculture.
The college with the most donations (not dollars) by midnight of Saturday, September 23rd, will be declared winner.
The LSU Tigers v. Arkansas Razorbacks football game will take place at Tiger Stadium on Saturday, September 23, 2023.
Donation to the LSU College of Agriculture here, https://bit.ly/goldenbootgiving.