LSU Textiles and Costume Museum awarded competitive grant from the Louisiana Board of Regents
August 24, 2023
The LSU Textiles and Costume Museum was awarded a $199,079 grant from the Louisiana Board of Regents' Departmental Enhancement Program to support the replacement of the museum's HVAC system and expand storage capacity through the acquisition of additional museum-grade cabinetry.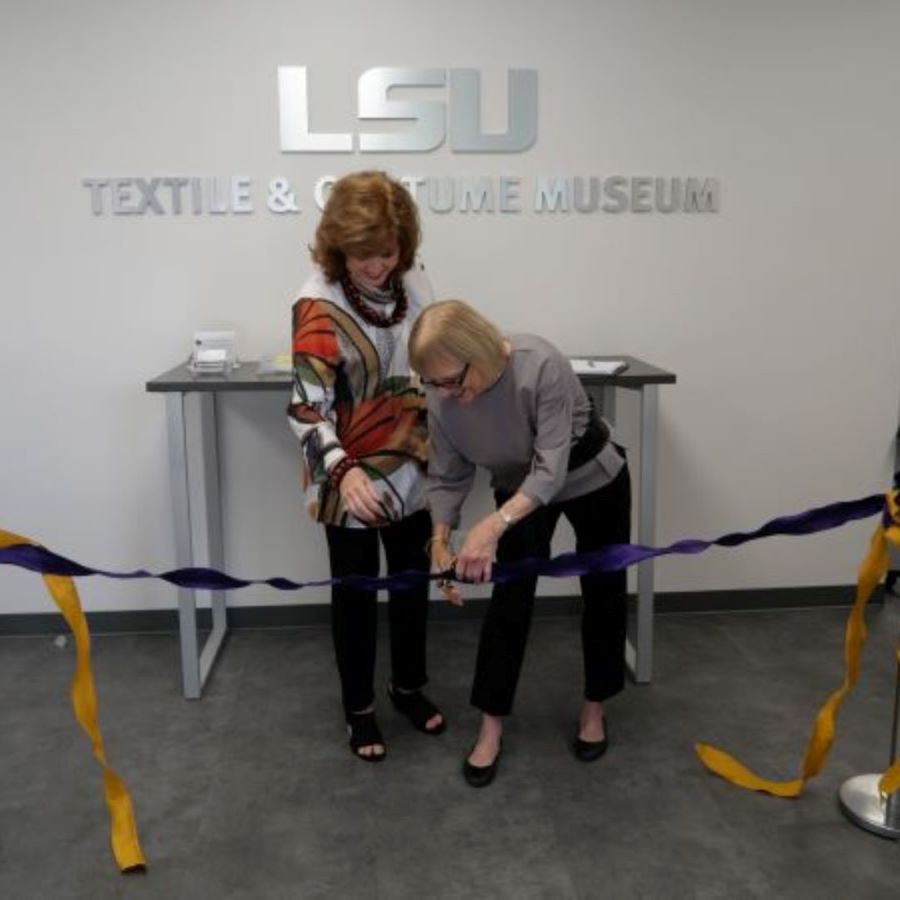 The highly competitive grant is a resounding endorsement of the museum's contributions to preserving and safeguarding cultural heritage through its collection of textiles and fashion. Former museum director Pam Vinci and the museum's new curator Michael Mamp successfully secured the funding, emphasizing the museum's role in showcasing Baton Rouge's rich history.
The LSU Textiles and Costume Museum, under the visionary leadership of former curator Vinci, has long been recognized as a leading institution in the field. Notably, Vinci was the driving force behind the museum's growth and success, even securing a Board of Regents grant in the early nineties to fund the original HVAC system that served as the foundation of the museum's preservation efforts.
With the support of the grant, the museum will further enhance its preservation capabilities, ensuring the long-term safeguarding of its extensive collection.
The funds will be utilized to upgrade the HVAC system, which is the critical infrastructure required to maintain the optimal environmental conditions for the textiles and costumes on display. As part of this expansion, the entire outer room of the current collections' storage, which used to be the gallery, is being renovated to create more storage space.
Recent significant acquisitions, including over 200 garments by famed fashion designer and Louisiana native Geoffrey Beene, along with over 400 American and European designer garments acquired from The Valentine Museum of Richmond Virginia increased the need for additional storage.
"Our value was clear in being a repository of the material culture and history of Baton Rouge, that we have good plans to present that material to the public through exhibitions," Mamp said.
By leveraging the grant's resources, the museum aims to expand its outreach programs, educational initiatives and exhibition offerings, fostering a deeper understanding and appreciation of the invaluable role textiles and costumes play in our collective history.
The Louisiana Board of Regents grant serves as a powerful validation of the museum's unwavering commitment to excellence and its tireless efforts to preserve our cultural heritage. It provides a solid foundation for the museum's continued growth and underscores its significance as a leading institution in the field of textile preservation and exhibition.
As the LSU Textiles and Costume Museum embarks on this exciting new chapter, it remains dedicated to its mission of preserving, researching and sharing the stories woven into the very fabric of society.
This grant will enable us to create a world-class facility that provides an immersive and enlightening experience for our visitors.

Michael Mamp