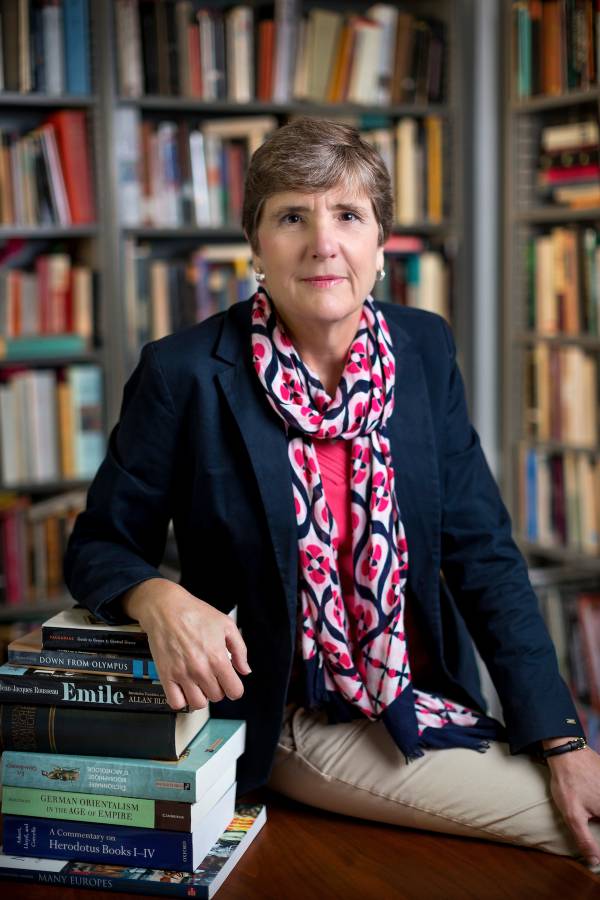 Suzanne L. Marchand
Boyd Professor
225D Himes Hall
578-4454
smarch1@lsu.edu
Courses Taught
Western Civilization, 1500 to present; European Intellectual History, 1700-1850; Undergraduate Historiography Survey; Graduate Readings Seminar in European History
Current Research Interests
Now writing a book about the history of the porcelain industry in Central Europe, and several articles about the reception of Herodotus in the nineteenth century. I continue to be interested in the history of the humanities, especially classical studies, art history, anthropology, history, and theology in modern Europe.
Interested in Directing Theses On
I will happily direct theses in modern European intellectual and cultural history, as well as German and Austrian history.
Education
BA Berkeley (History) 1984; MA University of Chicago (History) 1986; Ph.D. University of Chicago (History) 1992
Awards and Honors
2014 Lorenz Eitner Lecturer, Stanford University
2012 Committee on Committees, American Historical Association (elected)
2013-14 President, German Studies Association (elected)
2012 Tiger Athletic Foundation Teaching Prize
2012 Appointed Distinguished Research Master, LSU
2010 George L. Mosse Prize for the Best Book in Cultural and Intellectual History, given by the American Historical Association
2009 Selected by LSU as one of 100 campus 'Rainmakers'
2005 LA Board of Regents "Atlas" Fellowship
2003 ACLS Burkhardt Fellowship
2000-1 Wissenschaftskolleg Fellowship, Berlin
1997 Humboldt Fellowship, Berlin
1994-5 James Conant Postdoctoral Fellowship, Center for European Studies, Harvard
Editorial Board member, Modern Intellectual History; German History; Journal of Art Historiography
Board member, Global Architectural Teaching Collaborative Project (2014-17)
Notable Articles
"Appreciating the Art of Others: Joseph Strzygowski and the Austrian Origins of Non-Western Art History," in Magdalena Dglosz and Pieter O. Scholz, eds., Von Biala nach Wien: Josef Strzygowski und die Kulturwissenschaften (Vienna, 2015). Download in .pdf format: strzygowski-pdf
"Where does History Begin? J. G. Herder and the Problem of Near Eastern Chronology in the Age of Enlightenment," in Eighteenth-Century Studies, 47, no. 2 (2014): 157-75.
"The View from the Land: Austrian Art Historians and the Interpretation of Croatian Art," in Dalmatia and the Mediterreanean: Portable Archaeology and the Poetics of Influence, ed. Alina Payne (Brill, 2014).
"Oriental Wisdom in an Era of Western Despair: Orientalism in 1920s Central Europe," in Weimar Thought: A Contested Legacy, ed. Peter Gordon (Princeton University Press, 2013): 341-60.
"Arnold Boecklin and the Problem of German Modernism," in Suzanne Marchand and David Lindenfeld, eds., Germany at the Fin de Siècle: Culture, Politics and Ideas (Baton Rouge: LSU Press, 2004)
"Embarrassed by the Nineteenth Century," in Bernard Cook et al, eds., Consortium on Revolutionary Europe, 1750-1850: Selected Papers, 2002 (Consortium on Revolutionary Europe, 2004) Download in .pdf format: embarrassed-pdf
""The Counter-Reformation in Austrian Ethnology," in Worldly Provincialism: German Anthropology in the Age of Empire, eds. Glenn Penny and Matti Bunzl (Ann Arbor, 2003)
"The Rhetoric of Artifacts and the Decline of Classical Humanism: The Case of Josef Strzygowski," History and Theory, Beiheft 33 (Dec. 1994)
"Leo Frobenius and the Revolt against the West," The Journal of Contemporary History 32, no. 2 (April 1997)
"German Orientalism and the Decline of the West," in Proceedings of the American Philosophical Society, December 2001
Books
co-author, Many Europes: Choice and Chance in Western Civilization (McGraw Hill, 2013)
German Orientalism in the Age of Empire: Race, Religion, and Scholarship (2009)
co-editor and contributor, Germany at the Fin de Siècle (2004)
co-author, Worlds Together, Worlds Apart (2002)
co-editor, Proof and Persuasion: Essays on Authority, Objectivity, and Evidence (Brussels, Brepols, 1997)
Down from Olympus: Archaeology and Philhellenism in Germany, 1750-1970 (1996)