Book News
Cruising for Conspirators
Cruising for Conspirators:
How a New Orleans DA Prosecuted the Kennedy Assassination as a Sex Crime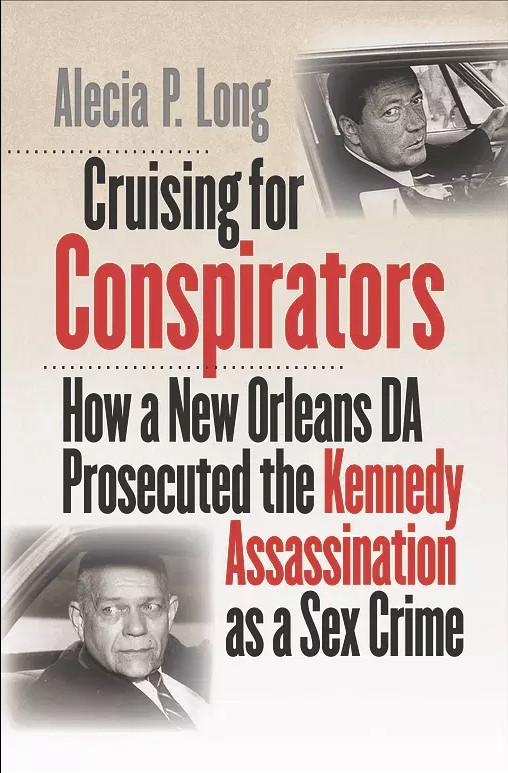 By Prof. Alecia P. Long
New Orleans district attorney Jim Garrison's decision to arrest Clay Shaw on March 1, 1967, set off a chain of events that culminated in the only prosecution undertaken in the assassination of John F. Kennedy. In the decades since Garrison captured headlines with this high-profile legal spectacle, historians, conspiracy advocates, and Hollywood directors alike have fixated on how a New Orleans–based assassination conspiracy might have worked. Cruising for Conspirators settles the debate for good, conclusively showing that the Shaw prosecution was not based in fact but was a product of the criminal justice system's long-standing preoccupation with homosexuality.
Tapping into the public's willingness to take seriously conspiratorial explanations of the Kennedy assassination, Garrison drew on the copious files the New Orleans police had accumulated as they surveilled, harassed, and arrested increasingly large numbers of gay men in the early 1960s. He blended unfounded accusations with homophobia to produce a salacious story of a New Orleans-based scheme to assassinate JFK that would become a national phenomenon.
At once a dramatic courtroom narrative and a deeper meditation on the enduring power of homophobia, Cruising for Conspirators shows how the same dynamics that promoted Garrison's unjust prosecution continue to inform conspiratorial thinking to this day.
UNC Press, 2021
Religious Toleration in the Habsburg Empire
Finding Order in Diversity:
Religious Toleration in the Habsburg Empire, 1792–1848 (Central European Studies)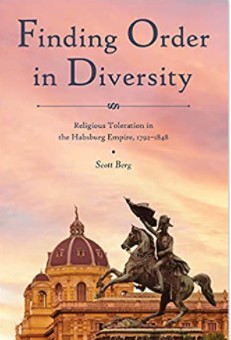 By Scott Berg (PhD LSU, 2016)
Covers the tumultuous period in the Habsburg Empire from Joseph II's failed reforms through the Revolutions of 1848, documenting the ongoing struggle between religious activism and civil peace. In the name of stability, the Habsburg Empire sidelined Catholic activists and promoted religious toleration during this era in which Austria was an international symbol of conservatism and other states engaged in strident confessional politics. Austria's well-known fear of disorder and revolution in this notoriously conservative regime extended to Catholics, and the state utilized the censors and police to institutionalize religious toleration, which it viewed as essential to law and order, and to tame religious passions, which officials feared could mobilize public opinion in unpredictable directions.
The state's growing use of police power had wide-reaching consequences for refugees, women, and empire-building. By the end of the nineteenth century, the Habsburg Empire would become known as a multinational and multicultural state, but this toleration was the product of the infamously conservative and rigid regime that ruled Austria in the decades after the French Revolution and until the Revolutions of 1848. While the Habsburgs typically are associated with Catholicism, 1780 to 1848 marked the only era in which the Habsburgs tried to disassociate themselves politically from Catholicism. Though civil peace and religious toleration eventually became the norm, this book documents the decades of heavy-handed state efforts to get there.
Christian Missionaries and Indigenous Peoples
World Christianity and Indigenous Experience
A Global History, 1500–2000
By Prof. David Lindenfeld (ret.)
In this book, David Lindenfeld proposes a new dimension to the study of world history. Here, he explores the global expansion of Christianity since 1500 from the perspectives of the indigenous people who were affected by it, and helped change it, giving them active agency. Integrating the study of religion into world history, his volume surveys indigenous experience in colonial Latin America, Native North America, Africa and the African diaspora, the Middle East, India, East Asia, and the Pacific. Lindenfeld demonstrates how religion is closely interwoven with political, economic, and social history. Wide-ranging in scope, and offering a synoptic perspective of our interconnected world, Lindenfeld combines in-depth analysis of individual regions with comprehensive global coverage. He also provides a new vocabulary, with a spectrum ranging from resistance to acceptance and commitment to Christianity, that articulates the range and complexity of the indigenous conversion experience. Lindenfeld's cross-cultural reflections provide a compelling alternative to the Western narrative of progressive development.
Cambridge University Press, 2021
Muslim women and the family in Colonial India
Women, Islam and Familial Intimacy in Colonial South Asia

By Prof. Asiya Alam
Highlights the rich tradition of protest and defiance among the Muslim women of colonial India. Bringing together a range of archival material including novels, pamphlets, commentaries and journalistic essays, the book narrates a history of Muslim feminism conversing with, and confronting the dominant and influential narratives of didactic social reform. The book reveals how discussion about marriage and family evoked claims of women's freedom and rights in a highly charged literary and cultural landscape where lesser-known female intellectuals jostled for public space alongside well-known male social reformers. Definitions of Islamic ethics remained central to these debates, and the book illustrates how claims of social obligation, religious duty and freedom balanced and negotiated each other in a period of nationalism and reform. By doing so, it also illuminates a story of Muslim politics that goes beyond the well-established accounts of Muslim separatism and the Pakistan movement.
Brill, 2021
Rise of an Ancient Empire

Reign of Arrows:
The Rise of the Parthian Empire in the Hellenistic Middle East
By Nikolaus Overtoom (PhD LSU, 2016)

Presents the most cogent, well rounded, and up-to-date account of the Parthian empire in its wider context of Hellenistic history. It explains the political and military encounters that shaped the international environment of the Hellenistic Middle East from the middle third to the early first centuries BCE. This study combines traditional historical approaches, such as source criticism and the integration of material evidence, with the incorporation of modern international relations theory to better examine the emergence and expansion of Parthian power. Relevant to historians, classicists, political scientists, and general readers interested in the ancient world and military history, Reign of Arrows reimagines and reconstructs the rise of the Parthians within the hotly contested and dangerously competitive international environment of the Hellenistic world.
Oxford Studies in Early Empires
Exploring the Life of the U.S.'s 10th president
President without a Party:
The Life of John Tyler
By Christopher J. Leahy (PhD LSU, 2001)
Christopher Leahy traces John Tyler's ascent to the highest office in the land and unpacks the fraught dynamics between Tyler and his fellow Whigs, who ultimately banished the beleaguered president from their ranks and stymied his election bid three years later. He also examines the president's personal life, especially his relationships with his wives and children. In the end, Leahy suggests, politics fulfilled Tyler the most, often to the detriment of his family. Such was true even after his presidency, when Virginians elected him to the Confederate Congress in 1861, and northerners and Unionists branded him a "traitor president."
In a Wall Street Journal review, historian Richard Norton Smith offers a highly positive assessment of Dr. Leahy's work, calling it "deeply researched" and "gracefully written," and "the most comprehensive Tyler biography in 80 years."
Challenging Eurocentric theories of economic modernization
Economic Thought in Modern China
By Professor Margherita Zanasi
In this major new study, Margherita Zanasi argues that basic notions of a free market economy emerged in China a century and half earlier than in Europe. In response to the commercial revolutions of the late 1500s, Chinese intellectuals and officials called for the end of state intervention in the market, recognizing its power to self-regulate. They also noted the elasticity of domestic demand and production, arguing in favour of ending long-standing rules against luxury consumption, an idea that emerged in Europe in the late seventeenth and early nineteenth centuries. Zanasi challenges Eurocentric theories of economic modernization as well as the assumption that European Enlightenment thought was unique in its ability to produce innovative economic ideas. She instead establishes a direct connection between observations of local economic conditions and the formulation of new theories, revealing the unexpected flexibility of the Confucian tradition and its accommodation of seemingly unorthodox ideas. "Economic Thought in Modern China is an ambitious exploration of the evolution of indigenous Chinese economic thought, rooted in a critical re-evaluation the foundations of imperial political economy and extending into the ideas that shaped Chinese attempts at economic improvement in the twentieth century. Zanasi mines a wide range of sources rarely used by economic historians, and reads them with an iconoclastic sensibility and a thorough grounding in the social and political contexts in which they were written."
--Madeleine Zelin, Columbia University
"Bold and combative, this study of the history of Chinese political economy in general and ideas about luxury consumption in particular will be of interest to historians of economic thought who are curious about the intellectual pathways followed outside Europe and open to the possibility that it was for good reason that these pathways were often anything but parallel with their European counterparts."
--Helen Dunstan, University of Sydney
"Zanasi demonstrates that China in the early modern period possessed pro-market ideas and the belief that luxury consumption promotes economic development. Furthermore, her timely book offers the best explanation yet for why China in the past one hundred years turned to state intervention in the market to encourage thriftiness."
--Wu jen-shu, Academia Sinica, Taipei
One woman's mission to save Catholicism in 20th-century Mexico
The Mysterious Sofía
By Professor Stephen Andes
Who was the "Mysterious Sofía," whose letter in November 1934 was sent from Washington DC to Mexico City and intercepted by the Mexican Secret Service? In The Mysterious Sofía Stephen J. C. Andes uses the remarkable story of Sofía del Valle to tell the history of Catholicism's global shift from north to south and the importance of women to Catholic survival and change over the course of the twentieth century. As a devout Catholic single woman, neither nun nor mother, del Valle resisted religious persecution in an era of Mexican revolutionary upheaval, became a labor activist in a time of class conflict, founded an educational movement, toured the United States as a public lecturer, and raised money for Catholic ministries—all in an age dominated by economic depression, gender prejudice, and racial discrimination. The rise of the Global South marked a new power dynamic within the Church as Latin America moved from the margins of activism to the vanguard.
Del Valle's life and the stories of those she met along the way illustrate the shared pious practices, gender norms, and organizational networks that linked activists across national borders. Told through the eyes of a little-known laywoman from Mexico, Andes shows how women journeyed from the pews into the heart of the modern world.
The U.S. Civil War was the first all-out, "total war" ... or was it?
The Calculus of Violence: How Americans Fought the Civil War
By Aaron Sheehan-Dean (Frey Professor and Department Chair)
Given its seemingly indiscriminate mass destruction, the Civil War is often thought of as the first "total war." But Aaron Sheehan-Dean argues for another interpretation.
The Calculus of Violence demonstrates that this notoriously bloody war could have been much worse. Military forces on both sides sought to contain casualties inflicted on soldiers and civilians. In Congress, in church pews, and in letters home, Americans debated the conditions under which lethal violence was legitimate, and their arguments differentiated carefully among victims—women and men, black and white, enslaved and free. Sometimes, as Sheehan-Dean shows, these well-meaning restraints led to more carnage by implicitly justifying the killing of people who were not protected by the laws of war. As the Civil War raged on, the Union's confrontations with guerrillas and the Confederacy's confrontations with black soldiers forced a new reckoning with traditional categories of lawful combatants and raised legal disputes that still hang over military operations around the world today.
In examining the agonizing debates about the meaning of a just war in the Civil War era, Sheehan-Dean discards conventional abstractions—total, soft, limited—as too tidy to contain what actually happened on the ground.
"A work of deep intellectual seriousness, sweeping and yet also delicately measured, this book promises to resolve longstanding debates about the nature of the Civil War."—Gregory P. Downs, author of After Appomattox
How immigrants in Los Angeles used language learning to shape twentieth-century debates about U.S. citizenship
Speaking American: Language Education and Citizenship in Twentieth-Century Los Angeles By Zevi Gutfreund (Assistant Professor of History, LSU)
When Lyndon B. Johnson signed the Bilingual Education Act of 1968, language learning became a touchstone in the emerging culture wars. Nowhere was this more apparent than in Los Angeles, where elected officials from both political parties had supported the legislation, and where the most disruptive protests over it occurred. The city, with its diverse population of Latinos and Asian Americans, is the ideal locus for Zevi Gutfreund's study of how language instruction informed the social construction of American citizenship. Combining the history of language instruction, school desegregation, and civil rights activism as it unfolded in Japanese American and Mexican American communities in L.A., this timely book clarifies the critical and evolving role of language instruction in twentieth-century American politics.
Speaking American reveals how, for generations, language instruction offered a forum for Angelino educators to articulate their responses to policies that racialized access to citizenship—from the "national origins" immigration quotas of the Progressive Era through Congress's removal of race from these quotas in 1965. Meanwhile, immigrant communities designed language experiments to counter efforts to limit their liberties. Gutfreund's book is the first to place the experiences of Mexican Americans and Japanese Americans side by side as they navigated debates over Americanization programs, intercultural education, school desegregation, and bilingual education. In the process, the book shows, these language experiments helped Angelino immigrants introduce competing concepts of citizenship that were tied to their actions and deeds, rather than to the English language itself.
Complicating the usual top-down approach to the history of racial politics in education, Speaking American recognizes the ways in which immigrant and ethnic activists, as well as white progressives and conservatives, have been deeply invested in controlling public and private aspects of language instruction in Los Angeles. The book brings compelling analytic depth and breadth to its examination of the social and political landscape in a city still at the epicenter of American immigration politics.
---
Chop Suey and Sushi from Sea to Shining Sea: Chinese and Japanese Restaurants in the United States
(University of Arkansas Press, 2018) is the latest book from LSU graduate Bruce Makoto Arnold, PhD.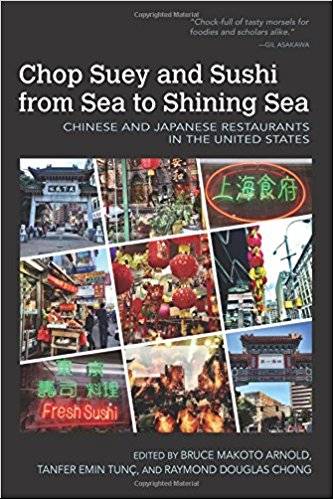 The essays in Chop Suey and Sushi from Sea to Shining Sea fill gaps in the existing food studies literature by revealing and contextualizing the hidden, local histories of Chinese and Japanese restaurants in the United States. The writers of these essays show how the taste and presentation of Chinese and Japanese dishes have evolved in sweat and hardship over generations of immigrants who became restaurant owners, chefs, and laborers in the small towns and large cities of America. These vivid, detailed, and sometimes emotional portrayals reveal the survival strategies deployed in Asian restaurant kitchens over the past 150 years and the impact these restaurants have had on the culture, politics, and foodways of the United States. Some of these authors are family members of restaurant owners or chefs, writing with a passion and richness that can only come from personal investment, while others are academic writers who have painstakingly mined decades of archival data to reconstruct the past. Still others offer a fresh look at the amazing continuity and domination of the "evil Chinaman" stereotype in the "foreign" world of American Chinatown restaurants. The essays include insights from a variety of disciplines, including history, sociology, anthropology, ethnography, economics, phenomenology, journalism, food studies, and film and literary criticism.
Chop Suey and Sushi from Sea to Shining Sea not only complements the existing scholarship and exposes the work that still needs to be done in this field, but also underscores the unique and innovative approaches that can be taken in the field of American food studies.
---