LSU to Welcome Thousands of Area Middle Schoolers for "Sixth Grade Day"
"Sixth Grade Day" will be held Jan. 30, Feb. 6 and Feb. 8 at LSU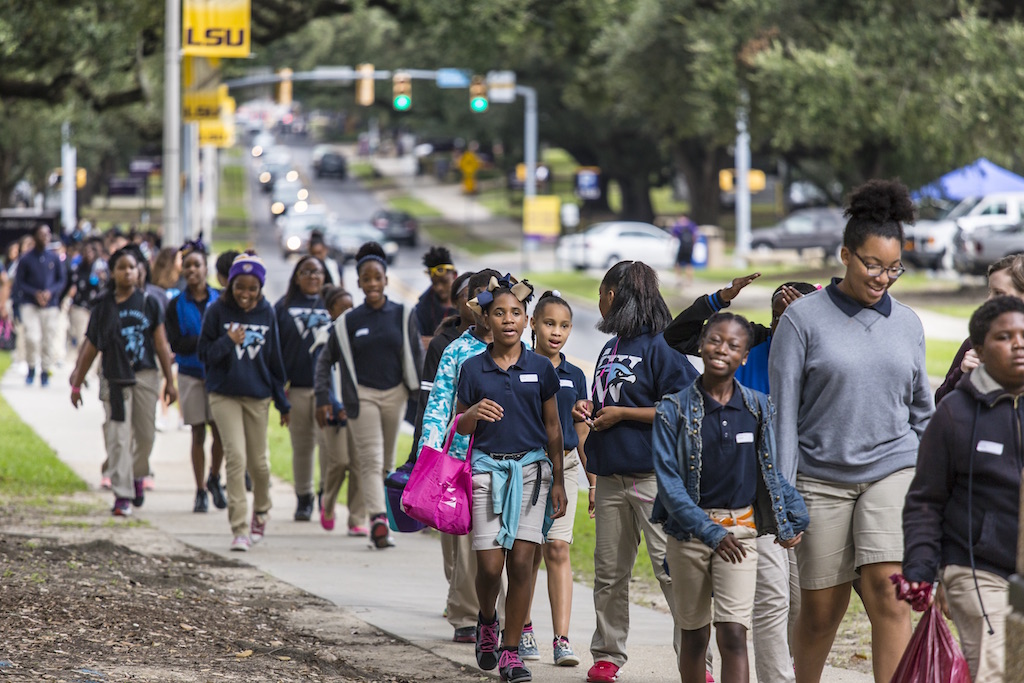 01/29/2018
BATON ROUGE – Starting Tuesday, Jan. 30, LSU will welcome middle school students from East Baton Rouge Parish schools to campus for the third year of "Sixth Grade Day." Last year, more than 2,500 sixth graders participated in the event. It is a reflection of LSU President F. King Alexander's special commitment around getting young people to think about going to college – early and often.
"Research shows that sixth grade is a pivotal year for students when it comes to making decisions on whether to attend college or not," Alexander said. "We want these students to explore LSU, discover the life changing possibilities that await them in their own back yard and get motivated about attending college."
Students will participate in a day long discovery tour that highlighted the humanities, science, engineering, the arts and agriculture. Tour stops included a visit to the Shaver Theatre, Parker Coliseum and the concourse of the PMAC.
Sixth Grade Day is one of several programmatic compliments of the "Capital Area Promise," an initiative designed to provide college and career pathways to students in Greater Baton Rouge. Modeled after the Long Beach College Promise Alexander helped to implement earlier in his career and enlists the collaborative support of East Baton Rouge Parish School System, Southern University and Baton Rouge Community College.
"We are eager to partner with local K-12 school districts to highlight the importance of college readiness and access," said Brandon Smith, director of Community and Education Partnerships and coordinator of the program. "We hope Sixth Grade Day ignites their curiosity about the many pathways available to obtain a college degree or establish a successful career. Having them on our physical campus is lagniappe."
Sixth Grade Day will be held on LSU's campus Jan. 30th, and Feb. 6 and 8. The events begin around 9:10 a.m. in Free Speech Plaza, before the groups go off on their academic experiences around campus at 10 a.m.
For more information about the event, contact the Office of Community-University Partnerships at lsucup@lsu.edu or 225-578-8699.
Contact Ernie Ballard
LSU Media Relations
225-578-5685
eballa1@lsu.edu