LSU SVM assistant professor receives $2.7 million Outstanding New Environmental Scientist (ONES) Award to investigate molecular mechanisms of ozone-induced lung diseases
For Immediate Release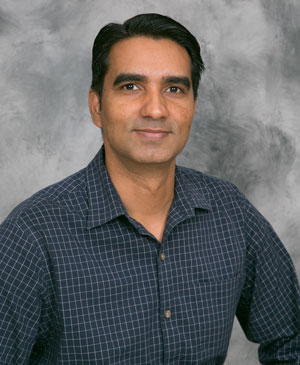 Especially during summer months, when we are stuck in highway traffic for minutes, and, sometimes for hours, our lungs are exposed to higher levels of a noxious gas, called ozone. Not only this, children playing outdoors, patients with preexisting heart and lung diseases, and elderly, are at a high risk of ozone exposure. While our knowledge of complex biology of ozone-induced lung injury is rapidly growing, we are still in the very early stages.
Yogesh Saini, DVM, PhD, assistant professor in the Department of Comparative Biomedical Sciences at the LSU School of Veterinary Medicine, has recently received an Outstanding New Environmental Scientist (ONES) award from the National Institute of Environmental Health Sciences (NIEHS) to conduct innovative research on ozone-induced lung diseases. Saini was awarded an approximately $2.7 million grant for his work to investigate how inhaled ozone disrupts normal physiology of our lungs. Keeping an eye on future translational research and showing concern towards public health, research in Saini's lab is likely to produce foundation data for future human-population based research.
Increasing levels of ozone in the ambient air is detrimental to our lungs, in particular, to children, elderly, and patients with heart and lung diseases. Our mechanistic understanding of how the ozone gas initiates lung injury and exacerbates preexisting diseases remains unclear. Over the next five years of this funding, Saini plans to use innovative research tools to unravel the mysteries associated with ozone-induced diseases. "Exceptionally supportive research environment at the LSU SVM and tremendous support from the administration--notably Dean Joel Baines, Associate Dean for Research and Advanced Studies Rhonda Cardin, Associate Dean for Research, and LSU Associate Vice President for Research and Economic Development Gus Kousoulas--has made this award possible," Saini said.
After his dual-PhD at Michigan State University and postdoctoral training at the University of North Carolina, Saini joined the LSU SVM in 2014 as an Assistant Professor. To date, he has secured approximately $4 million in research funding to investigate molecular and cellular mechanisms of various lung diseases.
Saini is among one of only five scientists across the nation to receive the Outstanding New Environmental Scientist (ONES) award this year. The ONES award mechanism was initiated in 2006 by the National Institute of Environmental Health Sciences to recognize outstanding early-career scientists, who conduct cutting-edge research on the health effects resulting from exposure to environmental contaminants.