Researcher investigates cardiovascular disease
For Immediate Release: December 12, 2017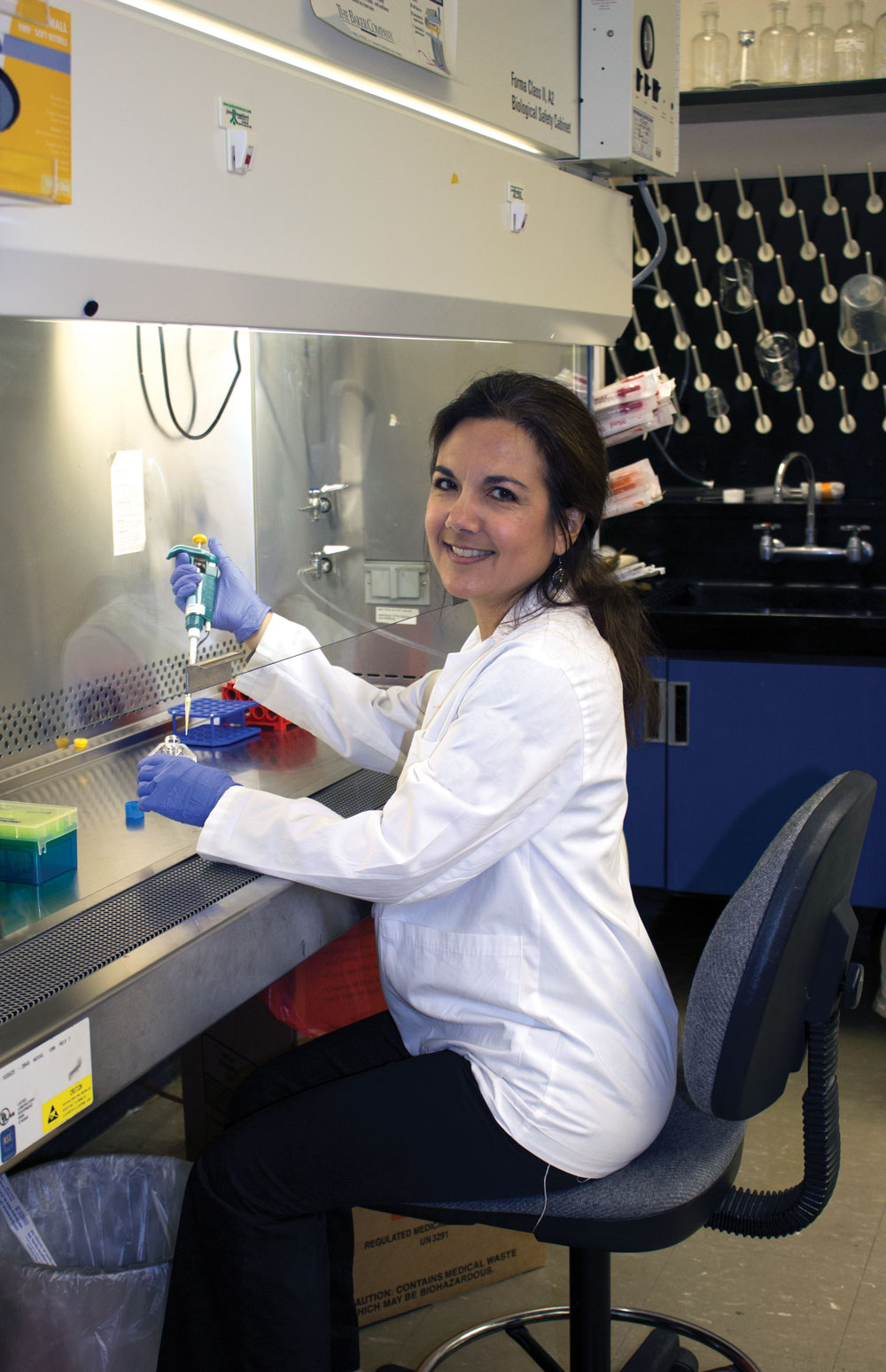 BATON ROUGE - Tammy Dugas, PhD (LSU 1996), professor In the Department of Comparative Biomedical Sciences at the LSU School of Veterinary Medicine, wants to give cardiovascular disease a fatal heart attack. Her work focuses on drug-eluting stents and drug-coated balloons used to combat one of the deadliest diseases in the United States
Cardiovascular disease, also commonly known as heart disease, occurs when plaque builds up within artery walls, which makes it harder for blood to flow through tissues in the body. When this happens, the risk of a heart attack or stroke increases.
According to the Center for Disease Control (CDC), approximately 630,000 people die each year from cardiovascular disease, and it is the leading cause of death for both men and women. The different types of cardiovascular disease include coronary heart disease, high blood pressure, cardiac arrest, congestive heart failure, peripheral artery disease and congenital heart disease, among others.
Coronary heart disease is the most common heart disease and killed more than 366,000 people in 2015. While there is no singular cure for cardiovascular disease, there are numerous forms of treatment, including lifestyle changes, drug therapies, cardiac rehabilitation and medical and surgical procedures. For example, coronary angioplasty is a procedure used to widen blocked or narrow coronary arteries by inserting and inflating a tiny balloon where the blockage is located. This will allow blood to flow through to the heart and decrease risk of heart attack, stroke or other heart-related ailment. This is often combined with the permanent placement of a small mesh tube called a stent.
This is where Dr. Dugas and her research come into play. A significant part of her work focuses on a drug-eluting stent (DES) that was created to release a drug slowly for over a period of one month after surgery to control the rapid growth of smooth muscle cells, which are cellular components of the normal blood vessel wall that provides structural cohesion and regulates the diameter by contracting and relaxing dynamically in response to vasoactive stimuli. The stent provides mechanical support to blood vessels after an angioplasty procedure occurs. Because drug-eluting stents provide the controlled release of compounds that interfere with restenosis (the narrowing of blood vessels), DES has been regarded as the solution to the problems associated with using stents without a coating or covering.
However, to solve the problem of vessel re-narrowing, commercial stents release chemotherapy agents that are toxic. Dr. Dugas's laboratory is thus developing a novel DES that uses cardio-protective compounds that are found in red wine. Her laboratory has shown that combinations of these compounds promote vessel healing, while at the same time, prevent blood clotting and inflammation associated with DES implantation to address a critical, unmet medical need.
Because her work in DES has been so successful, using the same drug combination, Dr. Dugas and her colleagues are now working to develop a drug-coated balloon for peripheral artery disease. Drug-coated balloons are particularly useful for treatment of peripheral artery disease, a disease that causes blockage to the vessels that supply blood to the kidneys, stomach, arms and legs. Peripheral artery disease affects approximately 8 to 12 million Americans with less than 20 percent diagnosed by a physician. Drug-coated balloons are a relatively new product, and are being developed to help interventional cardiologists treat arteries that are difficult to target with traditional angioplasty and stent treatments. By delivering red wine antioxidants during conventional angioplasty, it may be possible to limit the vessel re-narrowing caused by the vascular overstretch injury response during the angioplasty procedure.
Through this research, Dr. Dugas has compiled an impressive collection of grants and awards. Dr. Dugas also recently completed a $223,701 grant from the NIH Small Business Technology Transfer program for her work with drug-eluting stents. Following that award, Dr. Dugas and Cristina Sabliov, MS, MS, PhD, Richard R. and Betty Fenton Alumni Professor in the Department of Biological and Agricultural Engineering at LSU, recently received a $200,495 grant from the Louisiana Board of Regents Industrial Ties Research Subprogram to fund development of the balloon.
Dr. Dugas is originally from southwest Louisiana and received her PhD in chemistry from LSU in 1996. She completed a two-year post-doctoral fellowship at Drexel University and then a second post-doctoral fellowship at the University of Texas Medical Branch in Galveston. Her first faculty position was at the LSU Health Science Center Shreveport. Dr. Dugas joined the LSU School of Veterinary Medicine in 2014. Dr. Dugas is very active in the Society of Toxicology and served as president of the Cardiovascular Toxicology Specialty Section for 2016-2017. A fun fact about Dr. Dugas is that she comes from generations of Cajun musicians. She says she is the only person in her immediate family that is not a Cajun musician, but she did play the mellophone in the LSU Tiger Band.
The LSU School of Veterinary Medicine is one of only 30 veterinary schools in the U.S. and the only one in Louisiana. The LSU SVM is dedicated to improving the lives of people and animals through education, research and service. We teach. We heal. We discover. We protect.
Media Contacts
Ginger Guttner, APR
Communications Manager
LSU School of Veterinary Medicine
225-578-9922