SCI Lead
SCI Lead is a student council within the College of Science, which assists students in developing professional, leadership, and communication skills while advancing diversity and inclusion. Our members participate in a variety of professional and community opportunities, that are designed to help students network with others in their field and prepare them for a career in science.
Our goal is to support professional skill development through creative thinking, leadership training opportunities and community outreach, while also helping students establish their professional identities.
Members of SCI Lead receive the following opportunities during their time within the council:
Participate in a Leadership Learning Laboratory

Collaborate with fellow members to implement programs and events for the LSU and Baton Rouge Community

Contribute to the development and implementation of leadership training opportunities and outreach activities for their peers
Upcoming Events
LSU's SCI LEAD Council is hosting "Research Re-Do," an international academic webinar to showcase a broad spectrum of research from students throughout the world. Presentations will take place June 24-26th, from 7 p.m. - 9 p.m. CDT.
Meet the 2019-2020 Members
Zarafshan Ghulam-Ali
Classification: Senior
Major: Biological Sciences
Plans after Graduation: Pharmaceutical Research
Ethan Burnett
Classification: Junior
Major: Chemistry
Plans after Graduation: Attend Medical School
Eduardo Chamah
Classification: Junior
Major: Biological Sciences
Plans after Graduation: Attend Graduate School
Onesty Culpepper
Classification: Junior
Major: Biological Sciences
Plans after Graduation: Attend Medical School
Rory Escobedo
Classification: Junior
Major: Geology
Plans after Graduation: Attend Graduate School
Kiara Ferrygood
Classification: Senior
Major: Mathematics
Plans after Graduation: Attend Graduate School and teach high school math
Haley Gagliano
Classification: Senior
Major: Biological Sciences
Plans after Graduation: Attend a Physician Assistant Graduate Program
Imogen Hoffman
Classification: Junior
Major: Chemistry
Plans after Graduation: Attend Graduate School
Willie Hurst
Classification: Senior
Major: Biological Sciences and Spanish
Plans after Graduation: Serve in the Peace Corps
Adrianna Jones
Classification: Senior
Major: Biological Sciences
Plans after Graduation: Attend Medical School
Samantha Lee
Classification: Junior
Major: Biological Sciences
Plans after Graduation: Pursue a Teaching Career
Salim Lutfallah
Classification: Senior
Major: Chemistry
Plans after Graduation: Attend Medical School
Brooke Mendoza
Classification: Senior
Major: Mathematics
Plans after Graduation: Work as Data Analyst in government and public services sector
Joshua Nguyen
Classification: Senior
Major: Chemisty
Plans after Graduation: Attend Medical School
Cody Orvin
Classification: Sophomore
Major: Biological Sciences
Plans after Graduation: Attend Medical School
Nathan Pearl
Classification: Senior
Major: Biological Sciences
Plans after Graduation: Attend Medical School
Claudia Rodriguez
Classification: Senior
Major: Biological Sciences
Plans after Graduation: Attend Medical School
Contact Us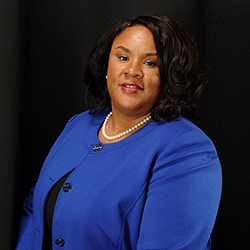 Dr. Zakiya S. Wilson-Kennedy
Assistant Dean for Diversity & Inclusion, College of Science
Associate Professor of Research, Chemistry Education
Louisiana State University
124 Hatcher Hall, Baton Rouge, LA 70803
office 225-578-4906