A Degree in Demand: For the Second Year in a Row, LSU Welcomes Largest, Most Diverse Freshman Class
Freshman class includes record-breaking number from Louisiana, most ever enrolled in the Ogden Honors College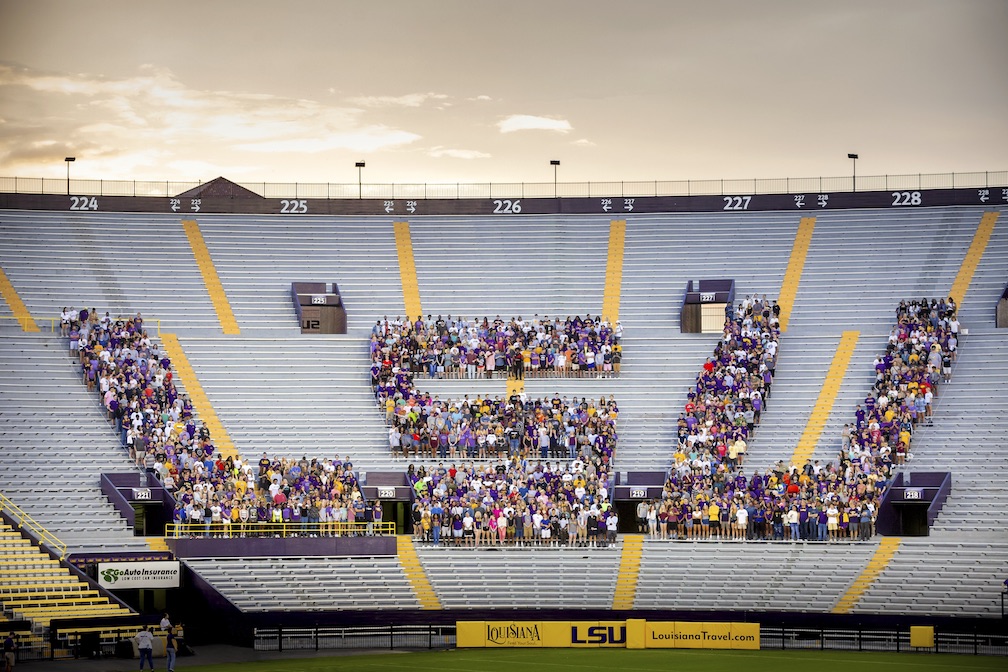 09/24/2019
BATON ROUGE – For the second straight year, LSU has broken the record for the largest and most diverse freshman class in university history. The record 6,126 freshmen enrolled this fall make up one of the most academically talented classes ever at LSU with a mean GPA near a 3.5 and a mean ACT score of 25.6, up from last year's freshman composite ACT of 25.5.
"We are excited that more students are enrolling at LSU and getting their degrees than ever before," President F. King Alexander said. "While we have a record-setting number of students, we've also extended resources to ensure that they graduate. With the state's highest graduation rate among public universities, our students will successfully earn their degrees and join LSU alumni who are outpacing many of our peers nationally in both starting salaries and mid-career earnings."
This year's 6,126 students in the freshman class surpasses last year's record-breaking class of 5,809 freshman enrolled. In comparison to last year's freshman class, the diversity of the incoming class has increased by more than 7 percent.
Overall enrollment sits at 31,761, and these students are enrolling at LSU at a time when outputs and return on investment have never been better.
The university is graduating its largest, most diverse classes each year, and these students are graduating with lower debt loads than many of LSU's peers. In addition, once LSU graduates complete their degrees, their success in starting salaries and mid-career earnings have placed LSU among the top of the SEC and above the national average.
LSU's Roger Hadfield Ogden Honors College saw a record-breaking incoming class of 789 freshmen enrolled – the largest entering class ever for the Honors College. In addition, the average ACT of the entering class rose from 31.4 last year to 31.6 this year.
In keeping true to its mission as Louisiana's Flagship University, LSU has increased the number of Louisiana freshman students enrolled as well, welcoming an historic record 4,720 freshmen from Louisiana.
"Unlike many institutions, we have been able to grow our population without sacrificing our in-state enrollment," Alexander said. "While we currently have a record number of out-of-state students, LSU is also educating more Louisiana residents than at any other point in history."
During the September Board of Supervisors meeting, Alexander also announced that for the first time ever all LSU campuses across Louisiana have enrolled more than 50,000 students combined.
LSU's stellar enrollment numbers come at a time when the university is being recognized nationally as one of the top colleges in the nation in recently released rankings by various groups.
In the recently released Wall Street Journal/Times Higher Education Rankings, LSU has climbed 148 spots in the overall ranking list since these were introduced three years ago. LSU is ranked #84 among public universities and is ranked #33 among flagship peers.
LSU made a significant jump in the latest Washington Monthly 2019 College Guide and Rankings, climbing nearly 20 spots to #71 among public universities nationwide. In addition, LSU moved up six spots to #24 among flagship universities this year. LSU also remained Louisiana's highest ranked university and once again is ranked in the top half of the SEC.
In U.S. News & World Report's 2020 edition of Best Colleges, LSU ranked in the top tier for "Best National Universities" for the 12th-straight year, and the undergraduate petroleum engineering program ranks 3rd overall.
LSU ranked 72nd among public universities – ahead of public peers such as Kansas State University, Colorado State University and Oklahoma State University – and is ranked 36th among flagship universities nationwide – ahead of other flagships such as West Virginia University, University of Rhode Island and the University of Nevada. LSU remained as the highest ranked public university in Louisiana, and in the SEC, LSU is tied with the University of Alabama and the University of Arkansas at 153rd overall.
In the recently released Payscale 2019-20 College Salary Report, a student who earns a bachelor's degree from LSU has early-career earnings of $54,800 and mid-career earnings of $102,900 – the highest among all public universities in Louisiana. This is an increase from early-career earnings of $51,800 and mid-career earnings of $98,800 in last year's Payscale report.
When considering all alumni who attended LSU, graduates have early-career earnings of $55,900 and mid-career earnings of $105,400 – also the highest among Louisiana public universities. This is an increase from early-career earnings of $52,700 and mid-career earnings of $100,400 in last year's Payscale report.
Contact Ernie Ballard
LSU Media Relations
225-578-5685
eballa1@lsu.edu