LSU Senior Louis Gremillion Wins Hidden Heroes Award
Gremillion, a native of Baton Rouge, was selected for his work securing an online voter registration program on campus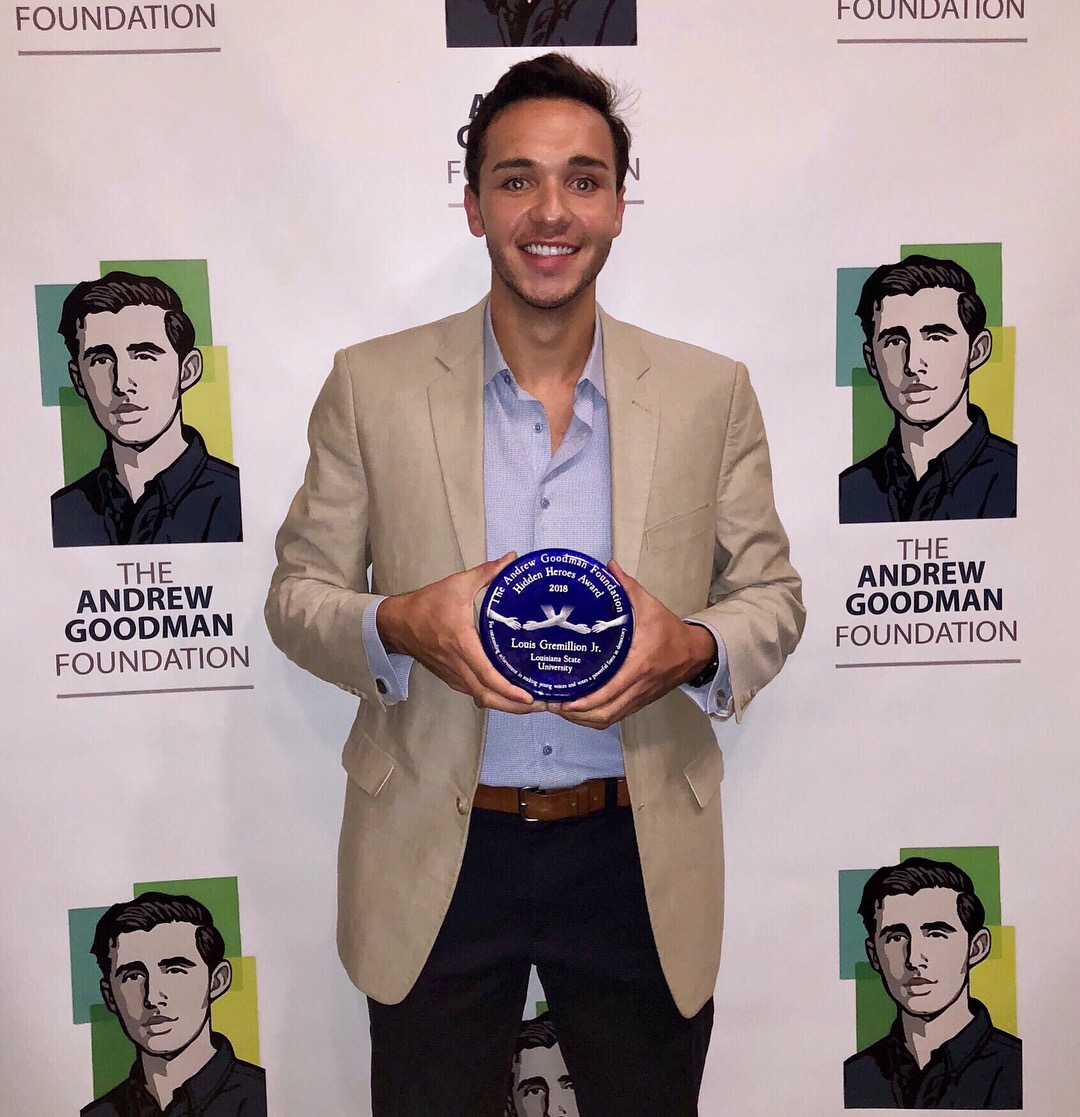 BATON ROUGE – LSU senior Louis Gremillion, a native of Baton Rouge, was one of five students nationwide who received the Andrew Goodman Foundation's 2018 Hidden Heroes Award. The recipients were recognized at the foundation's fourth annual National Civic Leadership Training Summit on July 13 at Ramapo College in Mahwah, N.J.
The Hidden Heroes Award recognizes exceptional Vote Everywhere Ambassadors and Puffin Democracy Fellows for their devotion to the mission of The Andrew Goodman Foundation, "to make young voices and votes a powerful force in democracy." Award recipients have demonstrated outstanding commitment to expanding civic engagement and defending democracy on their campuses and in their surrounding communities.
"As in the past, this year's five awardees stand out in their commitment to enhancing voter access through a variety of initiatives on the campus, local, and state levels," said Sylvia Golbin-Goodman, executive director of The Andrew Goodman Foundation.
Gremillion, who graduates with a bachelor's degree in political science this summer, was selected for his work in procuring and implementing TurboVote, an online voter registration program, on campus. In Spring 2018, Gremillion and the Geaux Vote LSU team successfully lobbied LSU Student Senate for TurboVote funding. They then worked with Residential Life, the Office of Orientation and the Office of the President to have voter registration implemented for incoming students and to make voter registration more accessible across LSU.
"We want to make sure that we're, one, doing all we can to inform students about issues that affect them," said Gremillion. "And, two, that we continue to do our part to make civic engagement as easily accessible as possible."
Gremillion is continuing his education at LSU in the fall. He is beginning the Master of Public Administration program with a focus on public policy. Gremillion plans to stay involved in local issues, and get involved in advocacy on the state and local level.
Additional Links:
The Andrew Goodman Foundation
Geaux Vote LSU
Contact Beth Carter
LSU Media Relations
ecart13@lsu.edu
or
Rachel Campbell
Geaux Vote LSU Vice President
rcamp28@lsu.edu
or
Ernie Ballard
LSU Media Relations
225-578-5685
eballa1@lsu.edu