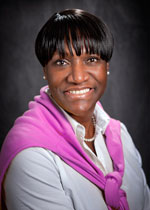 Linda Smith Griffin
Associate Librarian and Head of Cataloging, Middleton Library
Phone:
(225) 578-4685 |
Fax:
(225) 578-6535
Office:
5 Middleton Library
Education
Bachelor's Degree(s):
1984, B.S., Human Ecology, LSU
Master's Degree:
1996, Master of Library and Information Science (Beta Phi MU), LSU
Area of Interest
African American Women Civil Rights Workers (Louisiana); African American Resources for a Core Collection
Awards & Honors
President's Outstanding Dedicated Service Award, Black Faculty and Staff Caucus at LSU
Award of Merit, Black Faculty and Staff Caucus at LSU
Distinguish Speaker Award, LSU University College
Black Student Union (BSU) faculty member of the year
Service Award of Appreciation from the North American Serials Interest Group (NASIG)
Selected Publications
"A Descriptive Bibliography of Selected African and African American Periodicals for a CORE Collection." Handbook of Black Librarianship. Lanham: Scarecrow P, 2001. 369-384.
"What Happened to the Serials Cataloger: Copy Cataloging of Serials." Serials Librarian, 36 no.3/4(1999): 401-405.
Griffin, Linda Smith and C. F. Thomas. "Who Will Create the Metadata for the Internet?" First Monday 3, no.12 (Dec. 1998), http://www.firstmonday.dk/issues/issue3_12/index.html
"Implementing Diversity Initiatives: The LSU Libraries Experience." LLA Bulletin 60, no.2 (Fall 1997): 56-60.
"At Issue: Dimensions of Seriality in an Electronic World: ALCTS Conference Report." Serials Review 23, no. 3 (Fall 1997): 82-85.
Notable Activities
American Library Association (ALA)
Association of College and Research Libraries (ACRL)
Association for Library Collections & Technical Services (ALCTS)
Black Caucus of the American Library Association (BCALA)
North American Serials Interest Group (NASIG)
Admissions, Standards, and Honors (ASH) Committee, LSU Faculty Senate
MLK Commemorative Committee, Faculty Advisor
Black Faculty and Staff Caucus at LSU, President
African and African American Studies (AAAS) Program, Executive Board
ESSENCE (Encouraging Student Scholarship and Excellence through Native-Centered Education), Advisory Board